A 5% rent increase would push 2,000 Angelenos into homelessness, study warns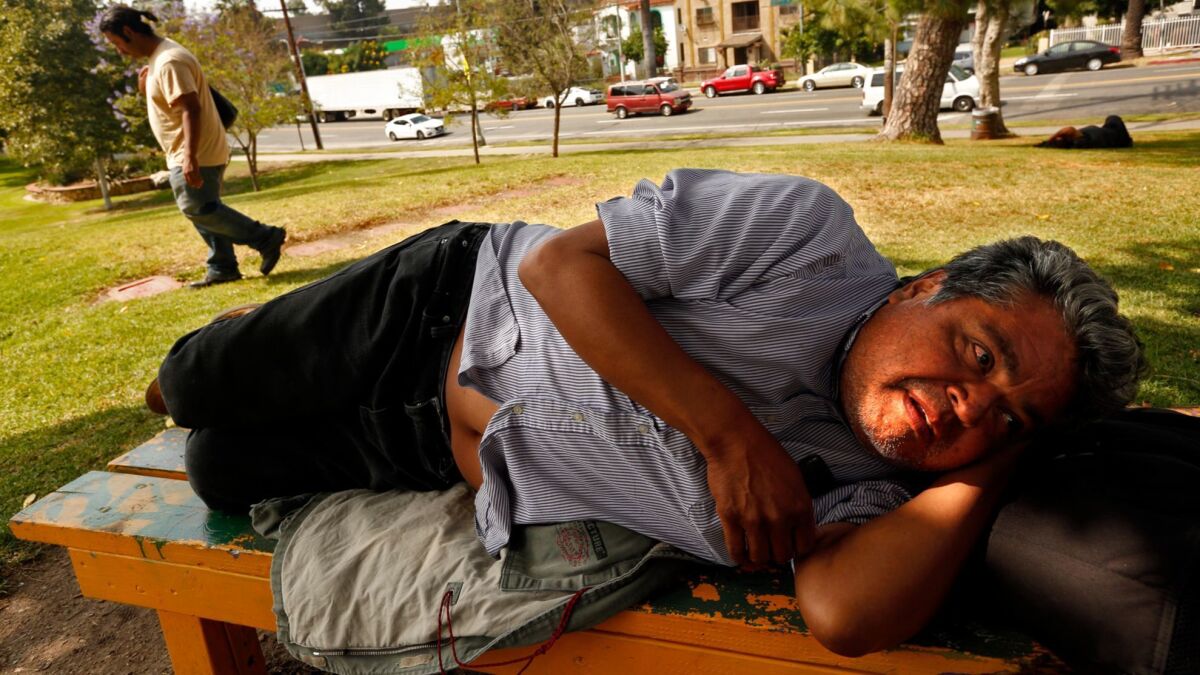 A 5% rent hike in Los Angeles County would push 2,000 more residents into homelessness, a study of the effect of rising housing costs warns.
The study was conducted by the real estate firm Zillow using census figures and homeless counts for the 25 largest U.S. metropolitan areas.
Research has shown that rising rents drive up homeless rates, particularly in cities with severe housing shortages such as Los Angeles. Zillow said it applied its own rental rate data to the established formula reflecting the connection to come up with new estimates.
The study, citing research that shows weaknesses in street and shelter counts, also said that L.A. County's homeless population was more than 61,000 in January, compared with the 58,000 reported by local officials after the annual count held that month.
Lending urgency to its findings, Zillow has forecast a 4.5% rent increase in Los Angeles for the coming year.
"If Greater Los Angeles isn't able to add housing, the pressure is going to continue to build," Zillow senior economist Skylar Olsen said in an interview.
Dennis P. Culhane, a professor and homelessness researcher at the University of Pennsylvania, said the company's rental data was better than that used in earlier analyses of rent hikes' effect on homelessness.
"I thought it was an excellent study," said Culhane, who reviewed the Zillow report. "Few people have access to rental market data like Zillow."
Olsen said the study found that rent increases are closely tied to burgeoning homelessness in Los Angeles, Seattle and New York City, where there is little low-income housing for people priced out of gentrifying neighborhoods to retreat to.
Los Angeles' rental vacancy rate is 2.6%, lower than New York's or San Francisco's, the Los Angeles Homeless Services Authority reported this spring.
In metropolitan areas with higher vacancy rates, such as Houston and Tampa, the connection between rent increases and homelessness is weaker, Olsen said.
The L.A. Homeless Services Authority blamed rent increases for a 26% surge in homelessness from 2016 to 2017.
More than a quarter of Los Angeles residents spend more than 30% of their income on housing, the agency said. While the median rent, adjusted for inflation, jumped 28% from 2000 to 2014, renter income declined 8%, it reported.
Both Olsen and Culhane said rent increases work indirectly as well as directly to drive poor people into the streets. Those who give much of their income over to landlords can't save for unexpected medical bills or job losses. So when the crisis hits, they lose their homes.
"It's not personal vulnerabilities of drug use or illness driving homelessness," Culhane said. "It's a lack of access to housing. If there were lots of available housing, all of these vulnerabilities would be hidden."
Twitter: @geholland
ALSO
Pilots of jet that nearly smashed into aircraft on San Francisco airport taxiway said they didn't see the planes
10-acre wildfire burning near UC Berkeley triggers voluntary campus evacuations
The stories shaping California
Get up to speed with our Essential California newsletter, sent six days a week.
You may occasionally receive promotional content from the Los Angeles Times.