Encino man charged with threatening to shoot Boston Globe employees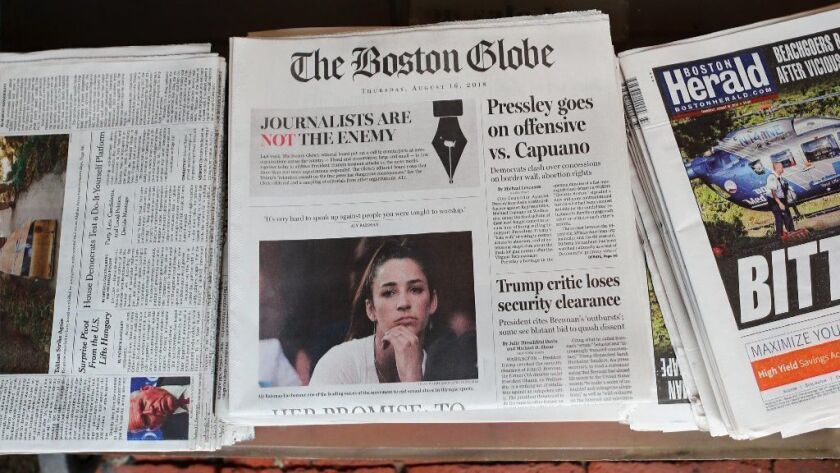 A 68-year-old Encino man was arrested and charged Thursday with threatening to shoot employees at the Boston Globe after the newspaper's editorial board pushed back against President Trump's frequent attacks on the press.
About two dozen federal agents in tactical gear and an armored vehicle arrived at the stucco single-story home of Robert D. Chain just before 6 a.m. Neighbors said they heard small explosions, like the bursting of flash-bang grenades, before Chain was led from his house dressed only in a pair of shorts.
Chain was charged with one count of making threatening communications and appeared in federal court in Los Angeles on Thursday afternoon, according to the U.S. attorney's office in Massachusetts. He was released on $50,000 bond and is scheduled to appear in federal court in Boston on Sept. 24.
Chain began making phone calls threatening to travel to the Globe's offices and shoot employees shortly after the paper announced Aug. 10 that it was launching a coordinated campaign with other newspapers to publish editorials calling on Trump to end his rhetoric about the news media, prosecutors said.
Chain made 14 threatening calls, both from his home phone and his wife's cellphone, to the newspaper between Aug. 10 and Aug. 22, according to prosecutors. He called the Globe "the enemy of the people" — repeating one of Trump's most-used phrases for attacking the media — and threatened to kill newspaper employees, prosecutors said.
In one profanity-laced call made Aug. 13, Chain said, "We are going to shoot you … in the head, you Boston Globe…. Shoot every … one of you," according to court documents.
On the day the editorials ran in newspapers across the country, Chain called the Globe newsroom and threatened to shoot Globe employees in the head "later today, at 4 o'clock," prosecutors said.
Court documents indicated Chain was recorded on Aug. 16 saying: "You're the enemy of the people, and we're going to kill every ... one of you. Hey, why don't you call the F? Why don't you call Mueller? Maybe he can help you out, buddy."
Local law enforcement responded to the Globe's offices that day and maintained a presence outside the building.
Chain owns several firearms and bought a new 9-millimeter carbine rifle in May 2018, according to documents in the case.
"Everyone has a right to express their opinion, but threatening to kill people, takes it over the line and will not be tolerated," Harold H. Shaw, special agent in charge of the FBI in Boston, said in a news release Thursday.
"Today's arrest of Robert Chain should serve a warning to others, that making threats is not a prank, it's a federal crime. All threats are taken seriously, as we never know if the subject behind the threat intends to follow through with their actions. Whether potentially hoax or not, each and every threat will be aggressively run to ground."
The Encino street where Chain lives, just north of the 101 Freeway, was lined with TV news trucks Thursday morning as neighbors tried to make sense of the charge against him.
Shadi Pezeshki, 47, the daughter of his next-door neighbor, said Chain had recently become a grandfather and once had helped take her father to a hospital. But she said his anger issues were known around the neighborhood.
On occasion, she said, he would shout and scream — sometimes even at flowers — but he would soon calm down.
"Sometimes anger gets the better of you," she said, adding that she thought Chain "would never harm anyone."
Law enforcement sources not authorized to discuss specifics of the case said the investigation has not tied Chain to any other specific threats against media organizations. The two sources said the investigation has thoroughly examined Chain's activities.
Federal agents removed several long rifle cases, boxes of ammunition and unmarked boxes and loaded them into an SUV after conducting a search of Chain's home.
Trump has made attacking journalists and the media a cornerstone of his political persona. He has mocked reporters, derided media outlets as "fake news" and called the media "the opposition party."
Earlier this month, Trump called reporters "very dangerous & sick."
On Thursday morning, the president unleashed a torrent of tweets attacking television news networks and the media at large.
"Truth doesn't matter to them, they only have their hatred & agenda," he tweeted.
The charge of making threatening communications in interstate commerce has a sentence of up to five years, one year of supervised release and a fine of $250,000, according to the U.S. attorney's office.
---
UPDATES:
5:35 p.m.: This article was updated with details of Chain's appearance in federal court.
2:55 p.m.: This article was updated with details on the arrival of federal agents at Chain's home.
2:30 p.m. This article was updated with information from law enforcement sources and tweets from the president.
12:40 p.m.: This article was updated with information from the daughter of one of Chain's neighbors.
10:10 a.m.: This article was updated with additional details from court documents.
This article was originally published at 9:05 a.m.
---
The stories shaping California
Get up to speed with our Essential California newsletter, sent six days a week.
You may occasionally receive promotional content from the Los Angeles Times.