Rescuers work to untangle gray whale caught in net in Channel Islands Harbor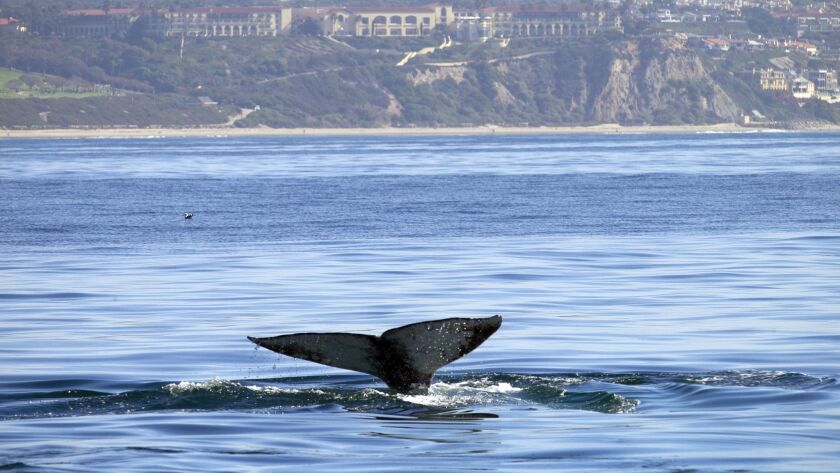 Rescuers were still working to untangle a gray whale caught in a buoy net near Channel Islands Harbor in Oxnard a day after the animal was first reported as being in a fix, the U.S. Coast Guard said Monday.
Passengers aboard a boat spotted the entangled 20-foot-long whale near the harbor and reported it to the U.S. Coast Guard about 2:30 p.m. Sunday. A crew responded and tried to keep people away while approaching the mammal on a boat, but the whale kept swimming away, spokesman Mark Barney said.
"Every time we tried to get close to it, the whale would get scared and dive underwater, taking the buoy with it," Barney said.
Coast Guard officials said it was unclear how much of the whale was entangled or whether the animal was in distress. They have called National Oceanic and Atmospheric Administration officials for assistance.
"We don't even know if it's injured or how long it has been tangled," Barney said.
NOAA has yet to arrive on the scene.
Elsewhere over the weekend, a gray whale washed up on a Malibu beach. The hulking corpse was beached on the sand Sunday, surrounded by surfers and beachgoers.
Officials cordoned off the dead animal with yellow tape to keep passersby away. A necropsy was scheduled for Monday.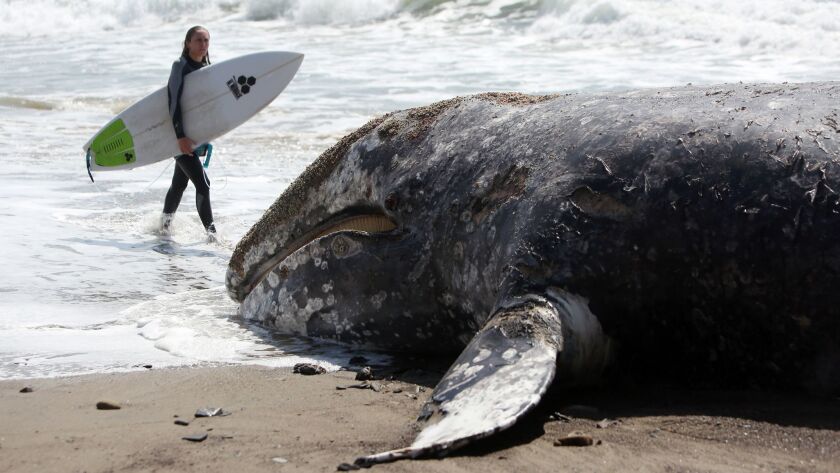 alejandra.reyesvelarde@latimes.com
Twitter: @r_valejandra
---
The stories shaping California
Get up to speed with our Essential California newsletter, sent six days a week.
You may occasionally receive promotional content from the Los Angeles Times.