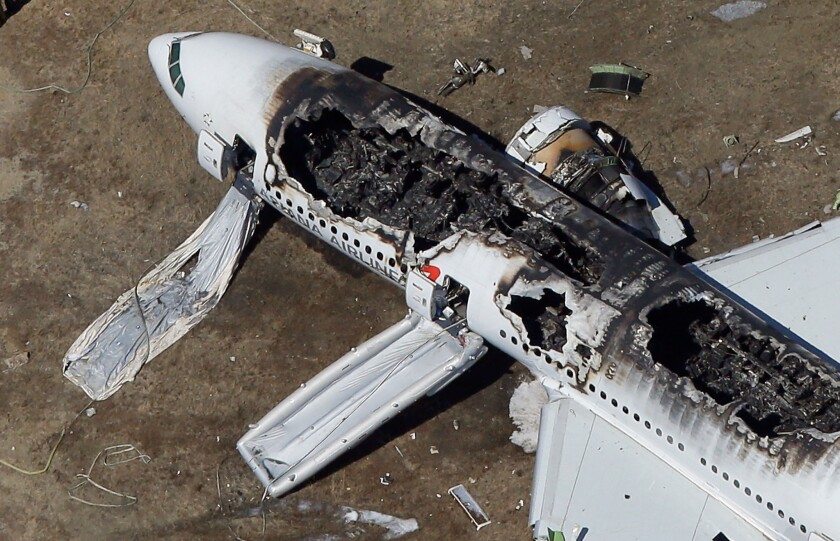 SAN FRANCISCO -- Federal investigators are trying to determine whether a piece of airport equipment out of service Saturday played any role in the crash of the Asiana Airlines jet at San Francisco International Airport, killing two passengers.
The flight data recorders were flown to the the National Transportation Safety Board's laboratory in Washington, where the data were examined, a spokeswoman said.
Deborah Hersman, NTSB chairman, said the runway's glide slope indicator, equipment that pilots can use to help determine their altitude on approach, was out of service because of a construction project. But she said it's not yet clear if that played a role in the accident.
"The glide slope had been out since June," Hersman said, speaking on CBS' "Face the Nation." "We're going to take a look into this to understand it. But what's important to note is there are a lot of tools that are available to pilots."
"We'll be looking at what the crew might have been using to get in," she said. "But everything is on the table right now."
The head of Asiana Airlines apologized Sunday for the crash.
"I sincerely apologize over the accident, and to the passengers on board and their families," Yoon Young-doo, Asiana's president, told reporters at a televised news conference in Seoul.
He described the pilots involved as "skilled" and said it could take time to determine what went wrong.
On Saturday night, all 307 on board had been accounted for, authorities said. A total of 182 people had been transported to hospitals, including 49 in serious condition. Among the passengers were 77 Korean citizens, 141 Chinese, 61 Americans and one Japanese, according to South Korea-based Asiana.
Seoul-based Yonhap News Agency said the two passengers killed in the crash, both 16 years old, were from China. Asiana Flight 214 originated in Shanghai and stopped in Seoul before flying to San Francisco International Airport.
The bodies of the teens were found on the runway, said San Francisco Fire Chief Joanne Hayes-White. It was not clear whether they had been pulled from the plane or ejected.
The cause of the crash was unclear. Federal investigators were looking into whether the plane clipped a seawall separating the runway from San Francisco Bay, according to a person involved in the investigation who did not want to be named because the investigation was continuing. Officials said there was no indication that terrorism was involved.
Flight 214, like all aircraft landing in San Francisco on the sunny clear morning, was using visual flight rules, an airport spokesman said. FBI Special Agent in Charge David Johnson said his agency will be assisting the NTSB to determine the cause of the accident.San Francisco General Hospital treated 52 crash victims Saturday, including 10 who arrived in critical condition. Five of those were upgraded Saturday night to serious condition, said Rachael Kagan, a hospital spokeswoman.
The hospital set up tents outside the emergency room to accommodate additional patients from the crash who didn't require trauma care, said Kagan.
The Boeing 777 is a twin-engine jetliner and one of the world's most popular long-distance planes, often used for flights of at least a dozen hours, carrying passengers from one continent to another.
The most notable accident involving a 777 happened in January 2008 at London's Heathrow Airport, when a British Airways jet made a hard landing about 1,000 feet short of the runway, breaking the landing gear. There were at least dozens of injuries, but no fatalities. An investigation into that crash said the formation of ice crystals blocked fuel from reaching the jet's engines.
Thousands of passengers were stranded at San Francisco International Airport after Saturday's crash, which shut down its runways for much of the afternoon.
ALSO:
Victims identified as 16-year-old Chinese girls
Asiana Airlines president apologizes for accident
Investigation begins into San Francisco plane crash
Romney and Nelson reported from San Francisco. Contributing to this report were Times staff writers Maria L. La Ganga, Jill Cowan, Kate Mather and Victoria Kim in San Francisco and Kurt Streeter, Andrew Blankstein, Ari Bloomekatz, Samantha Schaefer, Carlos Lozano, Harriet Ryan and Martha Groves in Los Angeles.
---