L.A. judge reverses order that media not publish courtroom photos of accused killer
A Los Angeles judge on Thursday reversed his order barring journalists from publishing courtroom photos of a Houston man charged with killing multiple homeless people in recent weeks.
Superior Court Judge Gustavo N. Sztraicher's reversal came after The Times and the Associated Press challenged his order, characterizing it as an unconstitutional prior restraint on speech "at odds with the basic purpose of the First Amendment."
The original order came Wednesday during an arraignment for Ramon Escobar. Sztraicher initially told journalists he had approved a request to photograph the hearing.
But as journalists from The Times, the Associated Press and a television news station began to photograph or film the hearing, Escobar's attorney objected, telling the judge it could cause an "identification issue." Sztraicher then ordered the journalists to stop filming and photographing the proceeding and also told a sketch artist to stop drawing.
When a Times reporter and several other journalists asked for clarification about the images captured before Sztraicher told them to stop, the judge said publication of any photographs, videos or sketches of Escobar from the hearing would be considered a violation of a court order.
Defense attorneys often argue that publishing their client's image before trial could improperly sway witnesses, and state court judges in California have broad discretion over who — if anybody — is photographed in their courtrooms. Once photographs have been taken legally, however, a judge typically can't bar news outlets from publishing them.
In a motion asking the judge to vacate his initial order, Dan Laidman, who represented The Times and Associated Press, argued that "because prior restraints are so antithetical to the First Amendment, they are presumptively unconstitutional."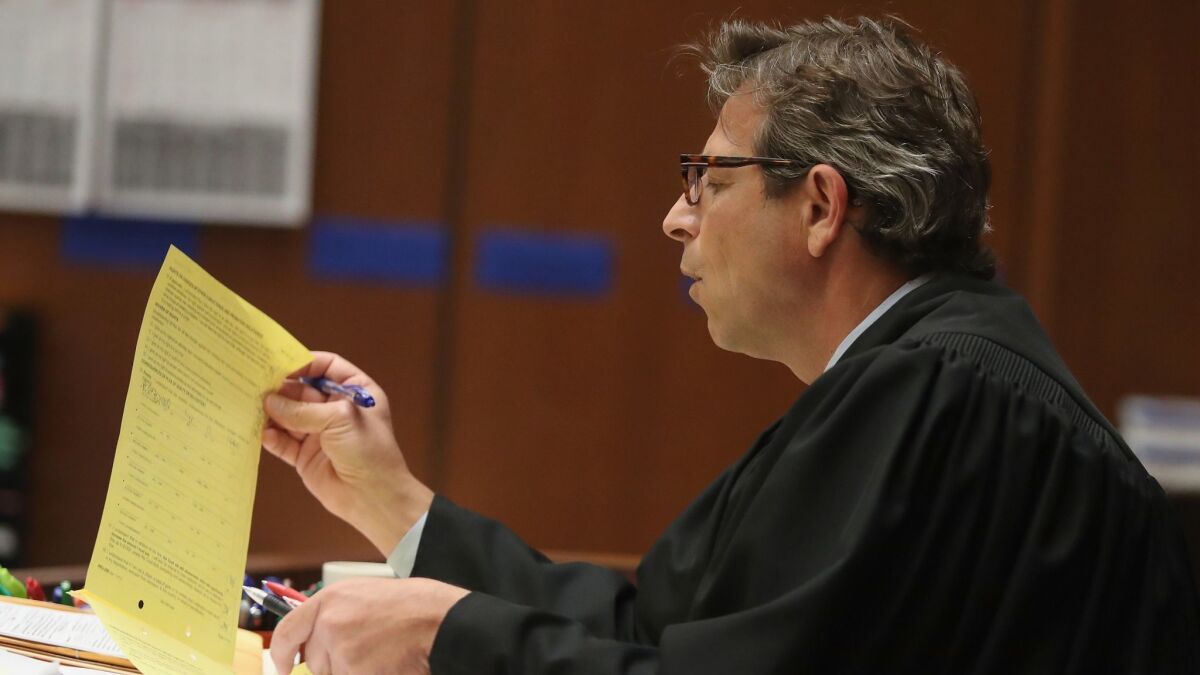 Repeatedly over several decades, Laidman argued, the U.S. Supreme Court and the California Court of Appeal have struck down prior restraint orders limiting coverage of criminal proceedings. The courts have concluded, Laidman wrote, that prior restraint should be considered "only in the rarest of circumstances," such as to block the release of information about the location of troops during wartime or to "suppress information that would set in motion a nuclear holocaust."
During a hearing Thursday, Laidman told the judge that even before Wednesday's hearing, media outlets had already published photographs of Escobar. Laidman added that the journalists' actions a day earlier came after getting the judge's blessing.
"They were acting with the court's approval," Laidman said. "They had permission to take photos."
Deputy Public Defender Jennifer Friedman argued that photographs and video taken of Escobar at Wednesday's hearing were "actually unlawful," noting that the judge hadn't signed a written copy of a media request to photograph the proceeding.
"There was no lawfully signed order," she said.
Sztraicher acknowledged in court Thursday that he had given oral approval to the journalists during the arraignment, noting that he viewed any photographs or video captured before he ordered them to stop as "lawfully obtained."
Toward the end of the hearing, the judge said he had considered the matter carefully.
"The court now vacates its order," he said.
Escobar, 47, is charged in three killings and five other assaults of men sleeping outside in Los Angeles County this month between Sept. 8 and Sept. 24. Police allege Escobar sneaked up on the sleeping victims and bludgeoned them, sometimes with a wooden baseball bat or a pair of bolt cutters.
Times staff writers Jaclyn Cosgrove and James Queally contributed to this report.
The stories shaping California
Get up to speed with our Essential California newsletter, sent six days a week.
You may occasionally receive promotional content from the Los Angeles Times.