Air quality district sues battery recycler Exide for $40 million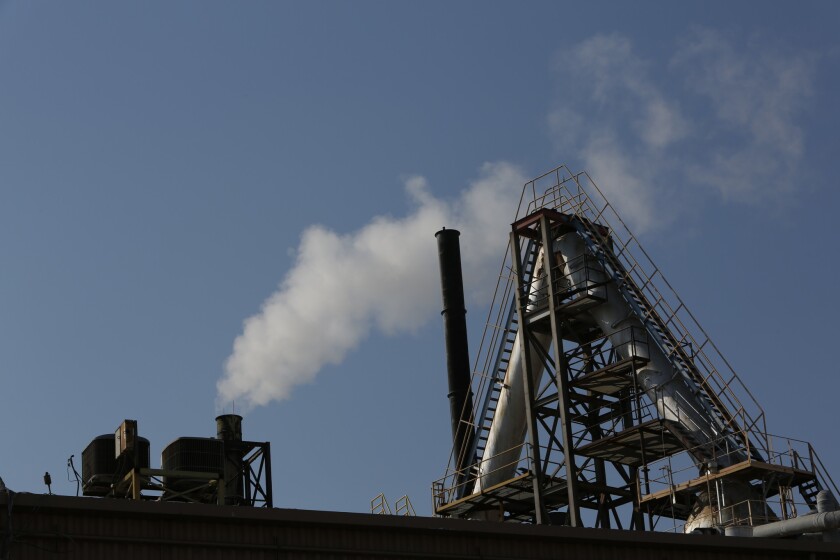 Air district officials filed a lawsuit Thursday seeking up to $40 million from a Vernon battery recycler accused of posing a health risk for emitting too much lead and arsenic.
The South Coast Air Quality Management District sued Exide Technologies in Los Angeles County Superior Court, accusing the company — one of the world's largest manufacturers and recyclers of lead-acid batteries — of exposing tens of thousands of people to cancer-causing chemicals and failing to take timely action to address problems with pollution control systems.
"Exide has had a steady stream of operational problems that have resulted in excess toxic emissions," said air district executive officer Barry Wallerstein.
"These toxic emissions have exposed more than 100,000 residents to an unacceptable cancer risk and for that reason we are seeking to recover a significant penalty from them."
Exide officials could not be reached for comment.
State Sen. Kevin de Leon (D-Los Angeles), who represents many residents in the area affected by the emissions, praised the move.
"Human beings are being exposed to appalling levels of cancer-causing poisons caused by Exide," he said in a statement. "Cleaning up the company is long overdue."
The suit opens yet another front in the air district's push to control emissions from Exide, which has become a focus of community rage since a health risk assessment in March revealed that the plant was posing an elevated cancer risk to 110,000 people living from Boyle Heights to Huntington Park.
The air district has also petitioned its hearing board to temporarily suspend operations at the plant until Exide can improve its air pollution control systems. That petition is under review.
And last week, the air district's governing board adopted the nation's toughest regulation limiting arsenic emissions from lead-acid battery plants.
Exide operates one of two lead-acid battery plants west of the Rockies. The plant, opened in the 1920s, smelts about 25,000 batteries a day.
---
The stories shaping California
Get up to speed with our Essential California newsletter, sent six days a week.
You may occasionally receive promotional content from the Los Angeles Times.