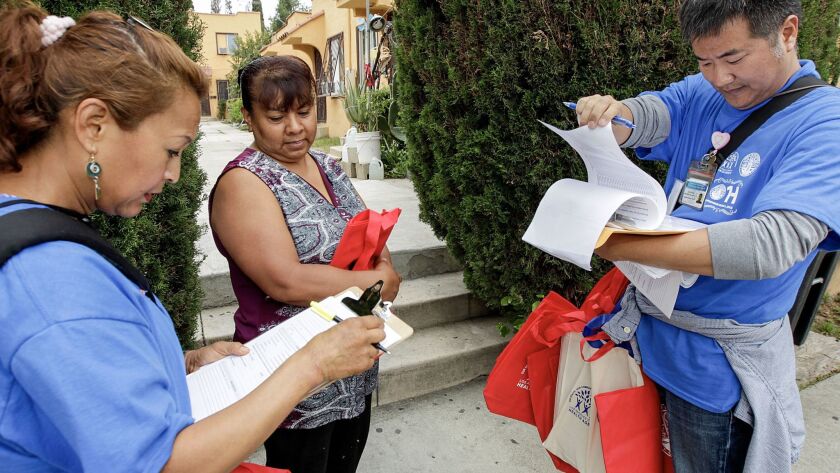 Many people living near a closed battery-recycling plant in southeast Los Angeles County are not satisfied with progress on a massive state-led cleanup of lead-contaminated homes, a survey by health officials has found.
Of the households surveyed near the former Exide Technologies plant, 55% said they have not received results from soil testing completed in their yards, according to a report released Friday by the L.A. County Department of Public Health.
And while 3 out of 4 households are concerned about getting cancer or lead poisoning from living near the facility, two-thirds said no one in their home had their blood tested for lead.
The conclusions are based on an unscientific door-to-door survey of more than 4,000 households across Bell, Boyle Heights, Commerce, East Los Angeles, Huntington Park, Maywood and Vernon. Workers and volunteers visited residents and asked a list of 15 questions during a health department outreach event June 10.
A statement from the county health department said the results "establish that residents have a high level of concern for their health, a need for greater medical services, and a dissatisfaction with the progress of the cleanup."
"The survey highlights the need to act with urgency to prevent exposure to continued high levels of lead," said Barbara Ferrer, director of the county health department.
A spokeswoman for the California Department of Toxic Substances Control, which is overseeing the lead sampling and remediation project spanning more than 10,000 residential properties, saw the survey differently, saying in an email that it "shows that about half of the respondents who know about the contamination and cleanup are satisfied with the progress to date."
The department has mailed results to about 4,850 of 8,200 parcels sampled to date, and is sending the remaining results on a weekly basis, DTSC spokeswoman Abbott Dutton said.
Tests have found elevated lead levels in the soil of thousands of residential properties near the plant. But community members, lawmakers and health officials have long complained of a slow response by toxic waste regulators.
For decades the Vernon plant melted down old car batteries, and state regulators allowed it to continue operating with only a temporary permit despite a history of air pollution and hazardous waste violations. The toxic substances department now blames the facility for spreading lead contamination across the soil of seven communities within a 1.7 mile-radius.
Exide agreed to close the facility permanently in March 2015 to avoid federal criminal charges.
The survey highlights the need to act with urgency to prevent exposure to continued high levels of lead
Barbara Ferrer, director, Los Angeles County Department of Public Health
Lead is a potent neurotoxin that is most dangerous to children under age 6, who can ingest it in contaminated soil or dust. Even small amounts of lead can cause permanent problems, including learning and developmental deficiencies and lower IQs.
About 235 homes were cleaned through June 2016. Cleanup then stood at a standstill for months, with regulators arguing they could not remove tainted soil from any properties until a yearlong environmental review was completed this summer.
Then, in January, the department announced an expedited cleanup program for the highest-risk properties. Some 21 additional parcels have been cleaned since then, said Rosanna Westmoreland, a toxic substances department spokeswoman.
The department expects to release a final cleanup plan in the next few weeks, she said. After that, a new wave of cleanup will begin on 2,500 of the most contaminated properties.
The effort, being paid for with more than $180 million in public funds, is the largest residential cleanup of lead contamination in California history, according to the toxic substances department.
The county health department estimates the cleanup area includes about 21,000 households because some properties have multiple homes and families. It also oversees a free blood-testing program, funded by Exide, that over the past three years has screened over 3,000 people near the Exide plant, including about 300 children.
In a statement, Georgia-based Exide said it was committed to upholding its obligations, including "ongoing blood testing in the area" and will continue "addressing the need for cleanup of industrial and residential properties to the extent they were impacted by the facility's former operations."
Exide has argued that lead emissions from its facility did not extend into residential areas. The company has blamed other industrial pollution sources, lead-based paint in older homes and past lead emissions from vehicle exhaust.
---