Expo Line, meet the real world: A car on tracks, a broken-down train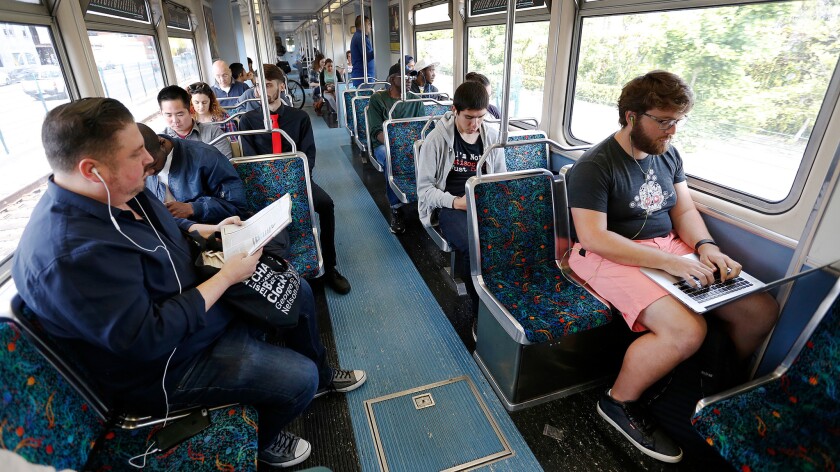 Los Angeles County commuters who woke up early Monday morning to ride the new Expo Line extension quickly encountered one of the ugly realities of the Los Angeles public transit system: its proximity to traffic.
At 5 a.m. Monday, just before the start of morning rush hour, a driver in a Toyota sedan crashed through a fence and onto the light-rail tracks, which run at street level along Exposition Boulevard.
The Metropolitan Transportation Authority hastily assembled buses to shuttle commuters past the crash. But the accident, which blocked eastbound and westbound trains for two hours, snarled schedules on the first morning that 9-to-5 commuters — many of them new transit riders — could take advantage of the $1.5-billion extension.
"The timing is a little ironic," Metro spokesman Dave Sotero said, laughing. "You just have to shake your head and say, 'Geez, why does this keep happening when it does?' "
The crash echoed a similar incident three months ago, the day after the debut of the Gold Line extension to Azusa, when a truck crashed through a barrier on the 210 Freeway and burst into flames, damaging a stretch of tracks in Pasadena.
Monday, some commuters joked about cars taking revenge on the rapid spread of rail lines across Los Angeles County. On social media, others echoed the popular refrain, "This is why we can't have nice things."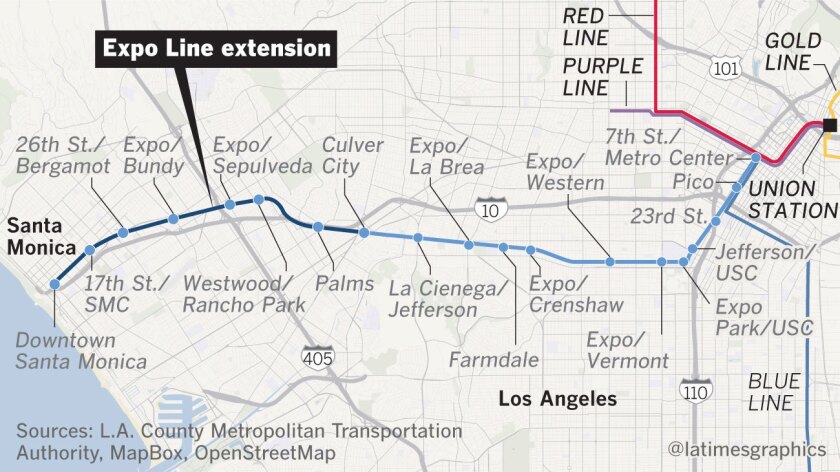 Jason Slagle, 44, of Jefferson Park arrived at the Expo/Crenshaw station just after the crash. Normally, only 10 to 20 people wait for trains at 5 a.m., he said. Monday, there were nearly 100 commuters — and many of them looked confused.
"It's unfortunate timing, because there are going to be people who tried today and won't do it again," said Slagle, who commutes by Metro and Metrolink to Burbank. "The attitude will be, 'I tried it, there were delays, I was late to work, I'm not going to do that again.' "
I've always said commuting here is a soul-sucking endeavor.
Josiah Davis, 31, a new Expo Line commuter
Metro spokesman Jose Ubaldo said the agency worked as hard as it could to minimize more delays, adding that he hoped new riders would give it another shot.
After all, officials said, the rest of the morning went more smoothly on the 6.6-mile extension, which connects the line's previous terminus in Culver City to West Los Angeles, Sawtelle and Santa Monica.
For every frustrated commuter who shared a photo of a packed car or a full platform, another posted a selfie grinning next to an Expo Line sign or with a bicycle, rejoicing over getting to work without a car.
"I've always said commuting here is a soul-sucking endeavor," said Josiah Davis, 31, who set up a mobile hot spot and opened his laptop as the Expo Line zipped through Culver City.
Davis spent years trying "all the extremes" to improve his commute from a seaside apartment in Long Beach to a Santa Monica start-up. He tried a bicycle, a motorcycle, a 5:15 a.m. drive and a trek involving two trains and a bus that could take three hours.
"I've literally been counting the minutes until I could make this trip," Davis said. On Monday, he started the timer on his watch, then boarded a Blue Line train in Long Beach and transferred to the Expo Line in downtown L.A.
When he alighted in Santa Monica, the timer said one hour, 27 minutes.
A few riders sighed about long waits for trains, and long lines to add money to their fare cards — a common hiccup with new lines, particularly those that draw riders who are new to transit.
Later in the morning, a train broke down near the Pico station and stayed there for 15 minutes, delaying trains behind it. That trip from Santa Monica to Los Angeles, advertised as 48 to 50 minutes, took just over an hour.
A couple on vacation from Madrid tutted as the train slowed to a stop near USC and waited for nearly five minutes before continuing on.
But for the most part, riders took it in stride, and marveled over the change to their commutes.
Armando Cobian, 21, of Exposition Park used to ride his bicycle 12 miles each way to reach Santa Monica, where he goes to community college and pedals tourists to Venice Beach in a pedicab.
His commute took an hour each way — 45 minutes, if he was really hurrying — "but now, it's perfect," Cobian said.
By 9:30 a.m., the Expo Line was empty enough that he could rest his bike next to him, and gaze out the window as the train zipped toward the Pacific Ocean.
For more transportation news, follow @laura_nelson on Twitter.
ALSO
Trains are packed as Metro's Expo Line extension to Santa Monica opens
Scenes from the first train from Santa Monica to downtown L.A. in 63 years
Column: Why the Expo Line to Santa Monica marks a rare kind of progress in American cities
---
The stories shaping California
Get up to speed with our Essential California newsletter, sent six days a week.
You may occasionally receive promotional content from the Los Angeles Times.