L.A. turns away federal grant to combat extremism amid concerns of unfairly targeting Muslims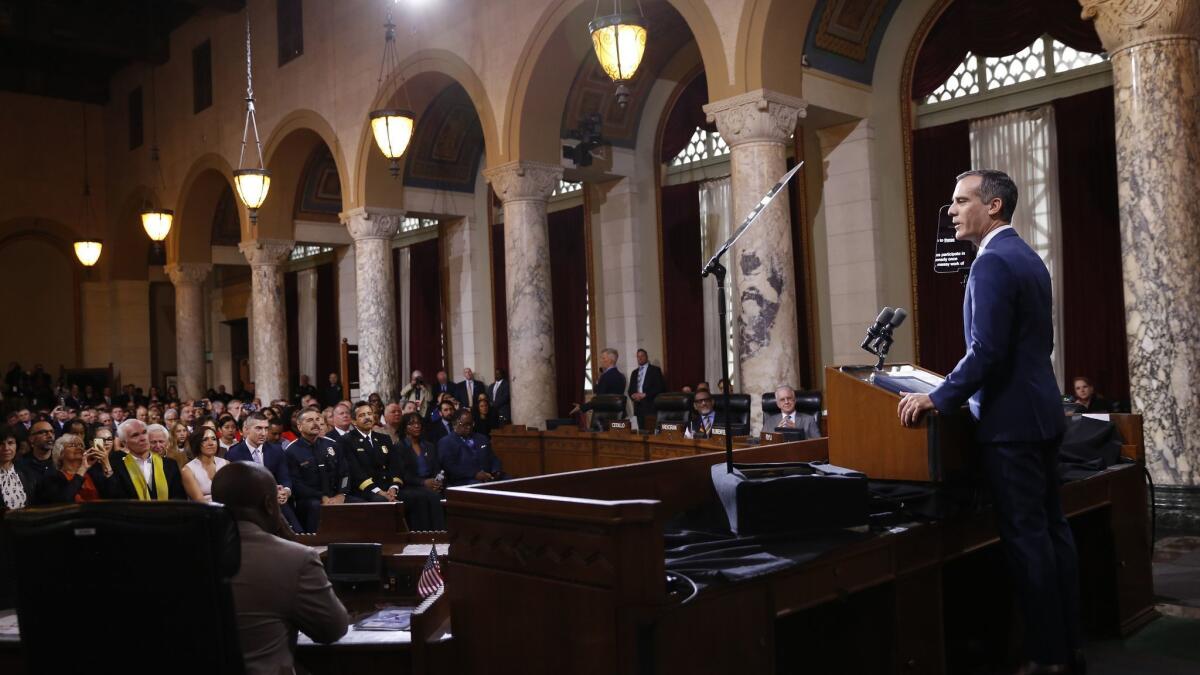 Los Angeles is relinquishing $425,000 in federal money after council members stalled on whether to take the funding from the Department of Homeland Security.
The City Council had held off on accepting the grant money amid a roiling debate over whether taking the federal money to counter violent extremism would lead to improperly targeting Muslims. Last month, after a brief back-and-forth among council members, the decision was shunted back to a committee for more discussion.
Aides to Mayor Eric Garcetti said those delays had left too little time for community groups to move forward with their plans for the grant money, which was supposed to be spent between Aug. 31, 2017, and July 31, 2019.
In a letter this week to the Department of Homeland Security, Deputy Mayor Jeff Gorell said that as a result of the delays, "we are no longer confident that we can perform the grant goals and objectives as awarded."
Under the grant, L.A. had planned to enter into contracts with local groups to foster "proactive efforts to build healthy communities," address hate and promote youth leadership, according to a city report.
Garcetti had supported the plan. His aides said the money would pay for supportive services and programs assisting a wide range of communities, including a group focused on curbing the influence of white supremacists, and would combat Islamophobia and other forms of hatred.
"In light of the tragedy in Charlottesville and events in other places, it is especially important now that we do everything possible to work toward the day when none of our young people are at risk for falling under the sway of violent extremism," Garcetti spokesman Alex Comisar said in a statement Thursday.
But the plan troubled the American Civil Liberties Union of Southern California and other groups, which charged that the federal program was rooted in faulty theories of radicalization that unfairly criminalize Muslims. They said their worries about the grant program, initiated under the Obama administration, had only grown under President Trump.
"These programs identify individuals as potential targets of radicalism if they adhere too closely to particular strands of the Muslim faith. If they exhibit certain political ideologies. If they hang out with the wrong crowd," ACLU staff attorney Mohammad Tajsar told The Times earlier this year. "All things that are protected and lawful."
The decision had divided council members before they held off on voting on whether to take the money. Comisar said it was unfortunate that "a significant amount of misinformation" had caused delays that made it impractical for community groups to move forward, but that the city would continue to explore ways to assist local organizations.
Laboni Hoq, litigation director for Asian Americans Advancing Justice-Los Angeles, called turning away the money "the right decision."
"It is definitely a program that the community was opposed to for good reason," Hoq said, and if the city plans to continue to pursue it in other ways, "we want to know."
Her group joined the ACLU and other organizations to sue the city earlier this summer, alleging that it had failed to fully answer public records requests about such programs.
Twitter: @AlpertReyes
Sign up for Essential California for news, features and recommendations from the L.A. Times and beyond in your inbox six days a week.
You may occasionally receive promotional content from the Los Angeles Times.