A fire that broke out in a commercial building in downtown Los Angeles early Thursday damaged three clothing businesses and triggered a large response from city firefighters.
The blaze was reported at 4:19 a.m. in a row of single-story buildings in the 1200 block of Wall Street that house children's clothing stores, authorities said.
When Los Angeles Fire Department crews arrived, the blaze was already raging and the businesses were locked, Capt. Cody Weireter said. Firefighters forced their way inside to try to determine the fire's origin but were quickly driven out by flames, he said.
"Because of the fire load and the clothes that were burning, it pushed us off the roof and out of the building at the time," Weireter said.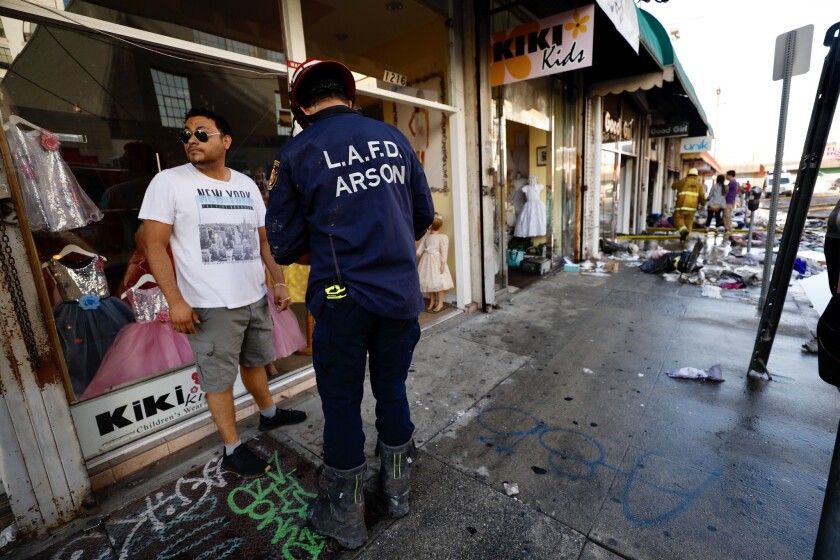 Firefighters instead took a defensive stance, battling the blaze from the roofs of adjacent buildings and on ladders extended above the structure.
Plumes of thick smoke billowed from the building, blanketing nearby businesses. Flames, which appeared to be contained to one area of the structure, leapt through the roof as firefighters blasted water at the business.
It took more than 100 firefighters nearly two hours to knock down the blaze. No injuries were reported. It is not clear how the fire started.
The area in downtown L.A. is known for its mix of wholesale clothing stores. By midmorning, shop owners had gathered on the sidewalk while firefighters continued to hose down the walkway.
Peter Pyun, who owns a children's clothing store nearby, said smoke from the fire damaged dresses in his store.
He said fires are rare on this block.
"It's the first time in this area," Pyun said.
Times staff writer Dakota Smith contributed to this report.
Twitter: @Hannahnfry
---