Flu stays mild in California, but officials expect an increase in cases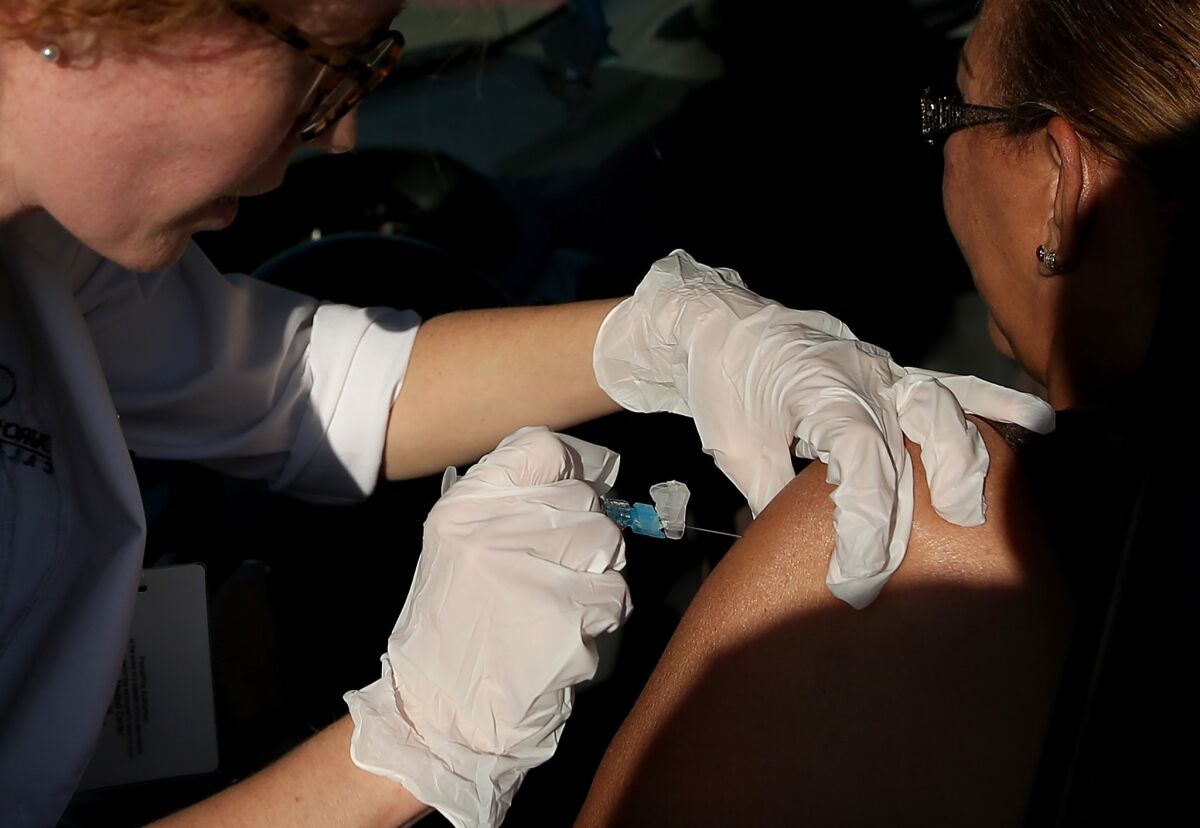 More Californians are falling sick with the flu this month, but the season looks to be far less dangerous than those of past years.
As of the first week of February, 11 Californians under the age of 65 had died from the flu since the season began in October. At this time last year, there had been 25 flu deaths, and two years ago, there were 202.
------------
FOR THE RECORD:
Flu cases: In the Feb. 13 California section, an article about flu deaths said that there had been 11 flu-associated deaths nationwide and two in California. In fact, there have been 11 flu-associated deaths among children nationwide and two flu-associated deaths among children in California.
------------
Health officials say that could be because this year's flu season may peak this month, while the last three seasons peaked in December. February is the most common peak for the flu season, which can continue all the way through May.
See the most-read stories this hour >>
The new data reported Friday includes flu information through Feb. 6.
Across the country, case numbers are low, though federal health officials said Friday that they expect increases in the coming weeks.
Three states had moderate or high flu activity -- meaning many more people were showing up at urgent care clinics and emergency rooms with the flu than during an average week -- as of last week. At this time last year, 29 states had moderate or high flu activity, including California.
Experts say that large numbers of people probably aren't falling sick from the flu because most of the strains circulating are the same as last year's. That means that people who were infected last year still have some immunity against the virus.
See more of our top stories on Facebook >>
In Los Angeles County, 852 people had tested positive for the flu as of last month, compared with 2,795 at the same time last year.
Testing by the Centers for Disease Control and Prevention shows the most common strains of flu infecting people this season are H1N1, H3N2 and some B viruses. Researchers found they match those included in the available vaccine -- meaning that this year's flu shot is probably providing strong immunity.
As of Feb. 5, 146.2 million doses of the vaccine have been administered nationwide. Though at this time last year more people had gotten the flu shot -- 147.8 million -- that vaccine ended up being only 23% effective, because the strain that dominated that flu season emerged too late to be included in the vaccine.
Public health officials recommend that everyone over 6 months old get a flu shot. It takes about two weeks for the vaccine to begin offering protection.
Though the season hasn't been severe yet, the officials warn that outbreaks are unpredictable, and that the current death toll is likely much higher than reported, since it only includes people under 65.
Federal health officials said Friday that there have been already been 11 flu-associated deaths among children this season, two of which were in California.
Follow @skarlamangla on Twitter for more health news.
ALSO
New app uses your cellphone to detect earthquakes
Sorry, L.A. Marathon runners: Weekend heat will near 90s before cool-off next week
'Bay Boys' surfer gang cannot block access to upscale beach, Coastal Commission says
The stories shaping California
Get up to speed with our Essential California newsletter, sent six days a week.
You may occasionally receive promotional content from the Los Angeles Times.