L.A. fire chief raises concerns about 'divisive' workplace incidents involving firefighters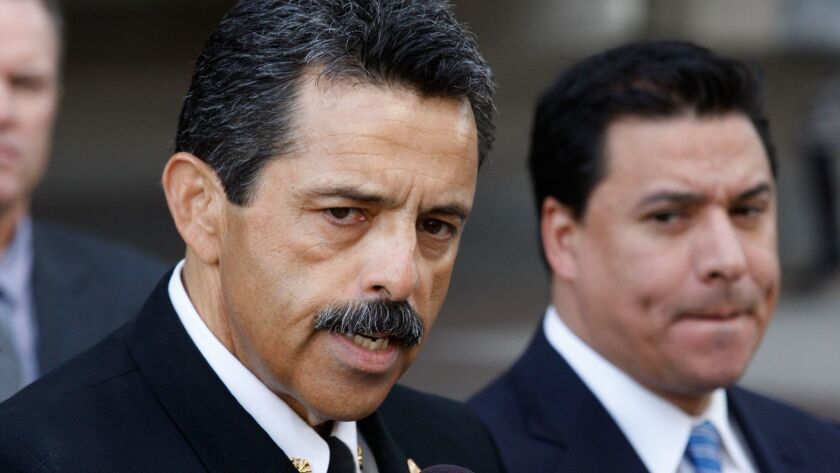 The Los Angeles Fire Department has experienced a series of "divisive" workplace incidents in recent months, including at least one debate between firefighters over protests by NFL players, according to a letter to the agency's employees.
In a two-page letter posted Friday, Fire Chief Ralph M. Terrazas said his agency has experienced "on-duty heated discussions regarding the perception of a lack of patriotism by NFL players" who have kneeled during the national anthem.
In a separate incident, firefighters from different ethnic backgrounds had a "near physical altercation" after someone showed up late to work, Terrazas wrote. In yet another, the department received complaints about "a perceived lack of sensitivity" toward non-white firefighters during an investigation.
"These types of issues and incidents are divisive and can erode our ability to accomplish our collective mission to protect the lives and property of the people of Los Angeles," the chief said in his letter.
Terrazas wrote that he expects every firefighter to behave in a way that "fosters a professional and respectful workplace free of discrimination, harassment, retaliation and hazing." He also reminded the department's nearly 3,600 employees that they must use the title firefighter, not fireman.
The letter, posted on the department's internal messaging system, drew praise from Fire Commission President Delia Ibarra, who said it offered a reminder to employees to "treat each other respectfully" when discussing politics.
"It all sort of relates to the Trump effect, because people in workplaces are having political conversations with each other," said Ibarra, an appointee of Mayor Eric Garcetti. "It's important that Chief Terrazas remind them about being civil. It's all about civility and camaraderie."
In an interview, Terrazas said he knows of only one argument that broke out at a fire station over the NFL protests, which were initiated by Colin Kaepernick, the former San Francisco 49ers quarterback. Kaepernick sparked a nationwide debate by kneeling instead of standing during the national anthem before games, a move aimed at drawing attention to racial injustice and the shooting of black men by police.
Those protests spread to other teams but were repeatedly criticized by President Trump, who said kneeling players should be suspended or fired.
"In light of all the conversations happening at the national level, I wanted to address proper behavior in the fire station before things got out of control and things escalate," Terrazas said in the interview. "It's always better to be proactive and address these issues while they're still small."
Terrazas is not the first high-level department official to raise concerns about exchanges between firefighters about the NFL protests.
Assistant Fire Chief Roy A. Harvey, one of the department's highest ranking African Americans, sent Terrazas a memo in October saying that black firefighters had experienced "openly hostile and disrespectful comments in person and on social media" from their colleagues on the topic.
"I cannot speak for other ethnic groups, but I can assure you that it is highly offensive for me to hear comments about 'ungrateful millionaire black athletes' and what an appropriate way to protest is," Harvey wrote in the memo. "It is even more offensive to hear people mistakenly define what is being protested, and decide what a person must do to prove patriotism."
In his memo, Harvey said Fox News is "the channel of choice in 80% of the fire stations."
Harvey said in an interview that he wrote his letter to the chief to ensure the department does not return to the days when it was divided along racial lines. "Some of the things I was seeing, it kind of reminded me of things in the '70s and '80s," he said. "I didn't want to see things go that way."
Over the last dozen years, allegations of workplace discrimination within the Fire Department have resulted in some costly payouts for the city.
In 2007, the City Council voted to award $1.5 million to a black firefighter who was served a meal laced with dog food by his colleagues. Three years later, the council paid $2.5 million to two white fire captains who were punished over the incident — and said they too faced racial discrimination.
Since he took office, Garcetti has made it a priority to diversify the workforce at the Fire Department, promising to introduce more women and minorities into the ranks of an agency that is primarily white and overwhelmingly male. Garcetti temporarily suspended the department's recruiting process in 2014 amid concerns about nepotism within the hiring process.
As of last week, the Fire Department's workforce was 47% white, 11% black, 32% Hispanic and 9% Asian, according to numbers provided to The Times.
Peter Sanders, a spokesman for the department, declined to discuss details on the near physical altercation and the department investigation mentioned by Terrazas in his letter. Both situations are being investigated by the department's Professional Standards Division, Sanders said.
Twitter: @DavidZahniser
---
The stories shaping California
Get up to speed with our Essential California newsletter, sent six days a week.
You may occasionally receive promotional content from the Los Angeles Times.