Watch as the Santa Barbara fire jumps Highway 101 and firefighters seek shelter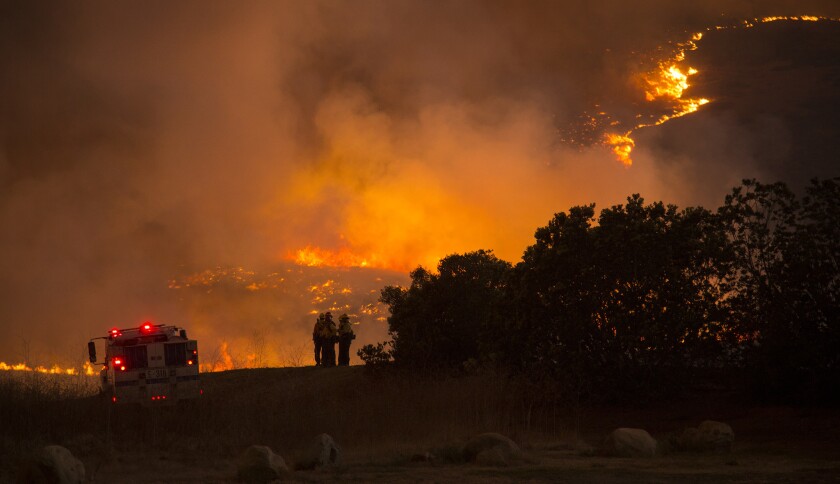 There were tense moments Thursday night after a fast-moving fire jumped Highway 101 in Santa Barbara County.
Images on social media showed firefighters seeking shelter behind their vehicles and a helicopter dumping water on the highway.
The Sherpa fire grew in size overnight as sustained 40 mph winds pushed the blaze across areas that hadn't burned in 60 years, officials said. It has burned more than 4,000 acres.
The Santa Barbara County Sheriff's Office said mandatory evacuations for El Capitan, Refugio, Venadito and Las Flores canyons north of Santa Barbara remained in effect, while residents of neighboring communities such as Las Llagas, Gato, Las Varas, Dos Pueblos and Eagle canyons received evacuation warnings.
There were no reports of injuries on the 101.
The fire is burning in steep, chaparral-covered terrain in Los Padres National Forest and spreading east where there are no roads and few trails, Santa Barbara County Fire Chief Eric Peterson said.
On Thursday, DC-10 air tankers bombarded the blaze with fire retardant. The jets were among a number of aircraft that fire crews were using in the battle. More than 400 firefighters are involved, officials said.
The 101 remained closed Friday.
---
UPDATES:
7:45 a.m.: This story has been updated with new acreage figure for fire.
The article was originally published at 4:30 a.m.
---
The perils of parenting through a pandemic
What's going on with school? What do kids need? Get 8 to 3, a newsletter dedicated to the questions that keep California families up at night.
You may occasionally receive promotional content from the Los Angeles Times.