Nearly $12 billion in insurance claims have been filed due to California wildfires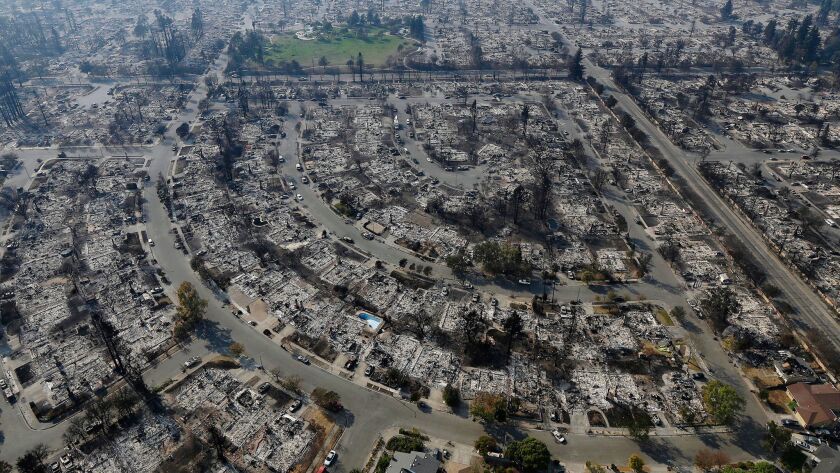 Insurers in California have received more than $11.7 billion in claims from wildfires that ripped across Northern and Southern California last year, the state insurance commissioner announced Wednesday.
"If you treat these October and December fires as a combined incident, these insured losses represent one of the most damaging natural catastrophes in California history," said state Insurance Commissioner Dave Jones.
The series of fires that killed dozens of residents in California's wine country in Napa, Sonoma and Mendocino counties in October and destroyed thousands of homes generated nearly $10 billion in claims alone, Jones said.
Two months later, when dry desert winds parched the Southern California landscape and drove fires in San Diego, Riverside, Los Angeles, Ventura and Santa Barbara counties, hundreds of homes were lost. The biggest of the fires, the Thomas fire, spread across more than 280,000 acres and became the largest on record in California.
The Southland fires generated more than $1.7 billion in insurance claims, Jones said.
Together the fires generated about $11.77 billion in claims.
"We no longer have a fire season in California, fires are year-round," Jones said. "The fires were unprecedented for their severity and disastrous consequences. Whole neighborhoods were wiped out."
The fires on both ends of the state spanned 14 counties altogether, he said. In response, Jones issued a formal notice asking insurance companies to waive requirements for policyholders that they provide a detailed inventory of their losses to pay up to 100% of the claim.
Nearly all insurance providers have agreed to Jones' request, he said.
In Southern California, the fires in December were followed by a historic storm cell in January that triggered a deadly mudslide in Montecito on Jan. 9. It is too early to tally the claims from that disaster, Jones said.
But, he said, since it appears that the mudslide's "proximate cause" was the Thomas fire – which most homeowners were covered for – companies should pay out claims for mudslide damage even if they didn't have flood insurance. He issued a formal notice telling companies as much on Monday.
"California law provides that when a covered peril is in effect the proximate cause of an uncovered peril, then insurers should pay claims with the uncovered peril," he said. "If the fire is covered by the policy and is the proximate cause of the mudslide which is not, insurers should pay claims."
It was not immediately clear when an official connection between the Thomas fire and the Montecito mudslide would be determined, but Jones said that insurers should "take appropriate steps to assess the claims" in the meantime.
For breaking California news, follow @JosephSerna on Twitter.
---
The stories shaping California
Get up to speed with our Essential California newsletter, sent six days a week.
You may occasionally receive promotional content from the Los Angeles Times.