No pipe bombs found in Rosemead apartment fire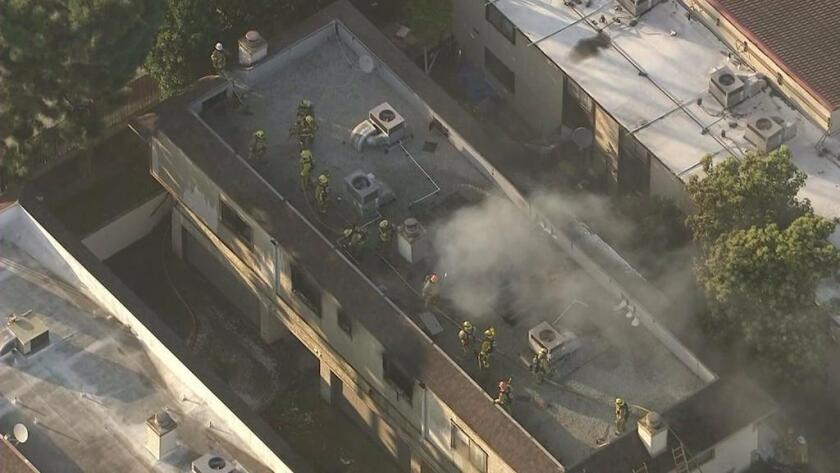 Investigators are trying to determine what sparked a fire Tuesday that destroyed three apartments at a multi-unit complex in Rosemead, authorities said.
Witnesses reported hearing an explosion about 4 p.m. before the blaze erupted in the 4200 block of South Walnut Grove Avenue, said Inspector Randall Wright of the Los Angeles County Fire Department.
Fifty county firefighters, along with crews from the nearby Arcadia and San Gabriel fire departments, battled the fire, which was knocked down at 5 p.m., Wright said.
One firefighter suffered minor burns and was taken to a hospital. No residents were injured.
About 150 residents in the complex's 36 units were evacuated, but by 7 p.m. some residents were given permission to return to their homes.
Three units were damaged or destroyed, and the Red Cross and city officials are working to provide shelter and other assistance to those displaced by the fire, Wright said.
While fighting the blaze, firefighters discovered what they thought could have been a few pipe bombs inside the apartment complex, said Lt. Jim Dexter of the Los Angeles County Sheriff's Department.
Sheriff's investigators later concluded there were no pipe bombs or other explosives on the premises, said Sgt. Ed Mackenzie.
For breaking news in California, follow @MattHjourno

---
The perils of parenting through a pandemic
What's going on with school? What do kids need? Get 8 to 3, a newsletter dedicated to the questions that keep California families up at night.
You may occasionally receive promotional content from the Los Angeles Times.