Death toll in wine country fires rises to 41 as driver of water truck dies in rollover accident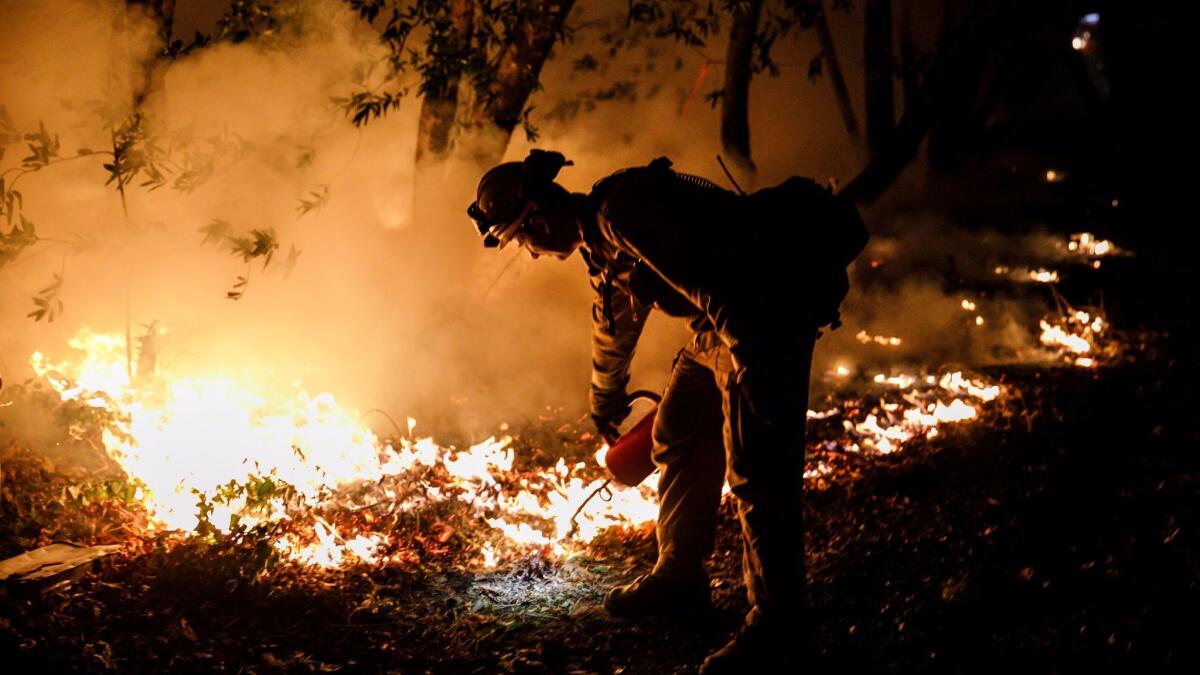 The death toll climbed to 41 Monday when the driver of a water tender truck died in a rollover crash while helping to battle a series of wildfires ravaging Northern California, according to officials.
A private contract driver was delivering a tank full of water to help fight the Nuns fire when the large vehicle rolled over on Oakville Grade in Napa County about 7 a.m. Monday, killing the driver, according to Cal Fire and California Highway Patrol officials.
"He was helping to fight the fires and do the right thing," said CHP Capt. Mike Palacio. "Unfortunately, at this point, we don't know what happened."
In the last week, the fires have scorched more than 200,000 acres, destroyed or damaged more than 5,500 homes, displaced 100,000 people and killed at least 41.
"This has been the deadliest week that we've experienced here in California… from wildfires," Cal Fire spokesman Daniel Berlant said Monday.
Taken separately, the Tubbs fire ranks third on the state's list of deadliest fires, claiming at least 22 lives, and the Redwood fire, responsible for eight deaths, ranks 10th.
Sunday appeared to be a turning point as firefighters benefited from winds that were weaker than expected to increase containment on the fires, even allowing some evacuees back into their homes. Still, more than 40,000 people remain under evacuation orders.
Firefighters were looking forward to light winds Monday, but high morning temperatures combined with low humidity could be a challenge for those battling the flames, Berlant said.
"We definitely will take that over the strong winds that we've experienced last week," he said.
In Sonoma County, the 36,390-acre Tubbs fire is 70% contained; the 51,064-acre Atlas fire is 68% contained; and the 11,889-acre Pocket fire is 40% contained. More than 4,000 firefighters from across California are battling the blazes.
"The conditions have been pretty favorable, the winds have been less than expected," Sonoma County Sheriff's Deputy Brandon Jones said Monday morning. Sunday night was the "second night in the row where we had some reasonably decent production," he said.
Crews gained a greater foothold against the 48,627-acre Nuns fire, which is now 50% contained. But a smaller blaze adjacent to the Nuns fire that ignited Saturday near the Oakmont neighborhood of Santa Rosa continues to cause trouble.
Overnight, the 875-acre blaze jumped over bulldozed fire breaks, and merged with a corner of the Nuns fire burning near Sugarloaf Ridge State Park, Cal Fire officials told firefighters at a morning briefing at the Sonoma County Fairgrounds. The fire, called the Oakmont branch, is 15% contained.
"We've got ahold of this horse, but it's bucking us still in some areas," incident commander Bret Gouvea said Monday morning.
Some residents in the Oakmont area have not left their homes, Santa Rosa Fire Chief Tony Gossner said. Local law enforcement will be moving house to house Monday, knocking on doors.
"We're going to do our best to get people out who don't want to come out," Gossner said.
The area where the Oakmont branch is burning is relatively sparsely populated, but if the fire moves west, it could threaten more than 2,000 homes west of Los Alamos Road, Gossner said.
Authorities dealing with the Tubbs fire, which has leveled much of Santa Rosa, lifted evacuation orders on about 200 to 300 houses, including portions of the Larkfield and Wikiup neighborhoods just north of the community.
"Those were neighborhoods where the Tubbs fire came down to the backside," Jones said. Families were allowed to return to unburned houses in the Larkfield-Wikiup neighborhoods Sunday afternoon, and a number of other evacuations around the county were lifted Monday afternoon.
"Today, the theme word is patience," Sonoma County Sheriff Rob Giordano said Monday afternoon. For residents whose homes were burned, or who live in burned areas, it will be "days or weeks before you can get back in."
Hours after police lifted evacuation orders for a small area of the Larkfield-Wikiup area, dozens of residents sped through the darkened streets to check their houses for damage, or to see what was left to salvage. For some, trying to return home was traumatic.
Police officers erected barricades across Carriage Lane and checked residents' identification before allowing them to enter on foot. They hoped that barring cars from the area would discourage residents from spending the night in homes that still don't have electricity.
Kimberly Flinn emerged from the darkness of Carriage Lane late Sunday night, her shaking hands illuminated by the flashing blue and red lights of a police car.
Flinn and her partner, Jaiden Campbell, had just returned from a tour of their house in Wikiup — their first visit since they evacuated Monday morning.
"It's gone," Flinn said, crying. Campbell grabbed her hand. "We knew it was gone, but we… it's gone."
Flinn and Campbell said that during the days they were out of the house, they saw a satellite photo of their street, showing every house obliterated. It still didn't prepare them for the extent of the damage. One car was half melted. Little was left standing beyond the house's major support beam.
In the wreckage in their frontyard, Flinn found a white ceramic butterfly she had placed in a planter to commemorate a little boy who was killed in an accident. Butterflies, she said, were reminders that friends and family who have died are thinking of you.
The butterfly came out of the fire sooty but unscathed.
Napa County officials allowed residents back into the town of Calistoga on Sunday afternoon, after clearing everyone out last week in fear that flames would hit the city..
"The most active portion of the [Tubbs] fire is still the northeastern portion around Red Hill and Mount Saint Helena. The fire continues to make short uphill runs around to the north side of the peaks," according to a Cal Fire incident report Sunday night.
Firefighters battling the Atlas fire on the hills east of the Napa Valley continued to gain ground on the blaze overnight, officials said at a briefing Monday morning.
Much of the interior of the fire's footprint — a swath of forest between Lake Berryessa and Green Valley in Solano County — is cold.
Light southerly winds that could push the fire north are the main concern for firefighters. Dangerously dry air continues to make flying embers a concern because they can start fast-moving grass fires in a flash.
Many of the crews headed out to the fire Monday morning were tasked with mopping up hot spots and shoring up containment lines established overnight.
As the incident transitions into recovery mode, with utility crews lining the narrow winding streets around Atlas Peak repairing power lines, officials have been able to better assess the damage from the deadly blaze, said Capt. Carlos Munoz of the Chico Fire Department. Cal Fire officials said 342 homes have been destroyed and 50 more damaged.
Officials in Napa County have changed their tone in talking to the community, even though some evacuation orders remain in place.
No longer are they emphasizing the risk of potential devastation to more homes. Instead, they're pleading for patience while they mop up the fire's hot spots and have crews clear out scorched debris, fallen trees and repair roads.
Napa County Fire Chief Barry Biermann described the Atlas Peak area as a "moonscape" with nothing left. Six people have been confirmed dead from the Atlas fire.
"It burned everything," he said at a community meeting Sunday.
Atlas Peak remains closed. Every road sign, from a posted speed limit to a cautionary "Slow Down" sign around a curve, has to be replaced before the roads are deemed safe for the public to travel, said County Supervisor Diane Dillon.
Public health director Karen Relucio said the water in the area is safe to drink but the air is still considered hazardous. A new batch of thousands of face masks were expected to arrive in Napa County on Monday, officials said.
Cheryl Lynn de Werff said she was certain her Napa County house was going to burn when she was forced to flee as a massive fire sped toward her Circle Oaks community.
It was 1 a.m. and she had just gone to sleep in her second-story bedroom when a sheriff's deputy pounded on her door. It was so loud there was no way she could miss it.
"So I came running to the door and he says, 'Get out! Get out now, there's a fire coming!'
She said she grabbed a fresh load of laundry, threw it in her turquoise 2001 Thunderbird and took off.
In the week since, De Werff, 65, and hundreds like her have lived on edge about the fate of their homes in Circle Oaks, a mountain community on the east side of Napa County and in the path of the Atlas fire.
But at a community meeting Sunday attended by about 60 people at the Napa Valley Unified School District Auditorium, De Werff and her neighbors got the best kind of news possible: All of their homes were safe.
In Mendocino County, where eight people have died, the Redwood fire was at 35,800 acres and 50% contained Monday morning.
Many of the mandatory evacuations in Mendocino and Lake counties were lifted Sunday.
Reach Sonali Kohli at Sonali.Kohli@latimes.com or on Twitter @Sonali_Kohli.
ALSO
They survived six hours in a pool as a wildfire burned their neighborhood to the ground
A family of four tried to outrun the firestorm — only three made it
Inseparable for 75 years, couple perishes in Napa fire together
---
UPDATES:
1:40 p.m.: This article was updated with information from a Sonoma County news conference.
11 a.m.: This article was updated with details about the water truck driver's death.
10:10 a.m.: This article was updated with information about Monday's weather forecast and fatality information.
8:35 a.m.: This article was updated with the latest fatality counts, burned acreage and containment estimates, and more information about firefighting efforts.
This article was originally published at 7 a.m.
Sign up for Essential California for news, features and recommendations from the L.A. Times and beyond in your inbox six days a week.
You may occasionally receive promotional content from the Los Angeles Times.