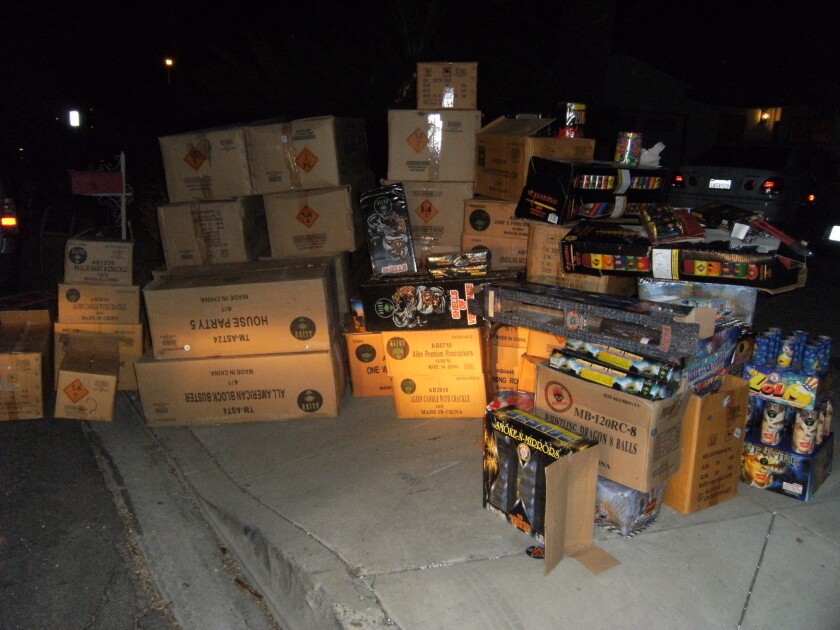 Los Angeles County sheriff's deputies seized 3,000 pounds of illegal fireworks stashed in a residential garage in the San Gabriel Valley, authorities said Thursday.
The department said patrol deputies from the Industry sheriff's station's violent crime enforcement team saw three men setting off what appeared to be illegal fireworks in the street in the 1400 block of Sandia Avenue in unincorporated West Puente Valley.
The deputies then saw an open garage containing what appeared to be many boxes of illegal fireworks.
After getting a search warrant, they seized the fireworks and arrested the three men. The department said it was not yet releasing the names of the suspects because the investigation was continuing.
The county fire department carted off the fireworks.
ALSO:
LAPD finds no evidence of Hollywood shooting threat
Exodus ministry to shut down after apology to gay community
USC-Coliseum deal robs museums of parking and money, critics say
Twitter: @jeanmerl
---