L.A.'s first married same-sex couple eats wedding cake to celebrate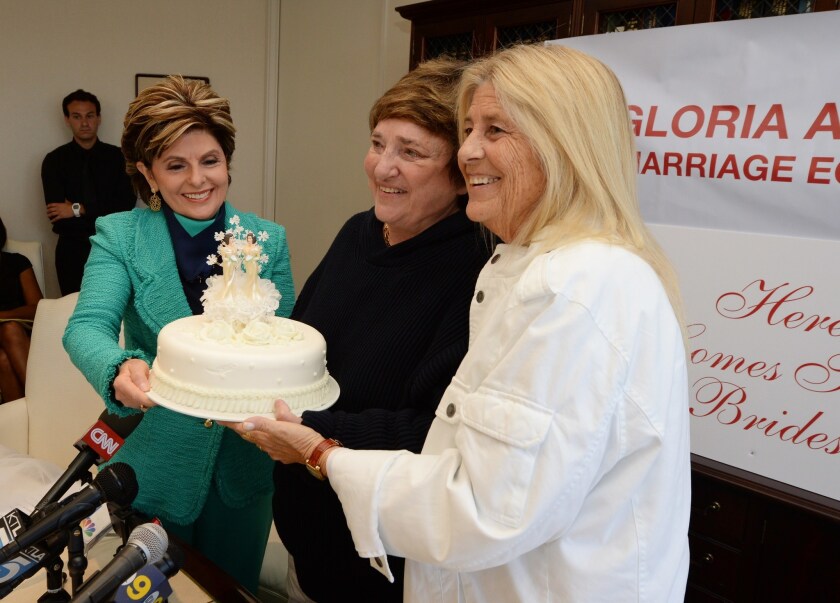 The first same-sex couple permitted to be married in Los Angeles County, Robin Tyler and Diane Olson, ate a celebratory piece of white wedding cake and cheered the Supreme Court decision that paved the way for gay marriages in California to resume.
"It's like being married all over again," Tyler said, clutching the cake decorated with a figurine of two women on top.
The couple spoke to the media at a news conference Wednesday morning at attorney Gloria Allred's office.
For Tyler and Olson, the battle for same-sex marriage in California has been many years in the making.
In 2004, Allred announced she would file a lawsuit on behalf of Tyler and Olson to challenge California's ban on same-sex marriage, Allred explained. Because they were first to challenge the ban, Tyler and Olson were the first to be married in 2008 when the California Supreme Court found the ban unconstitutional.
Tyler and Olson's marriage remained valid in spite of the later passage of Proposition 8, which banned marriages unless they were between a man and a woman, but Tyler expressed gratitude that all same-sex couples in California probably now will have the same opportunity.
Tyler stressed she hopes other states will follow.
She said Wednesday's Proposition 8 ruling, in addition to the strikedown of a key part of the Defense of Marriage Act, should serve as the impetus for further work toward establishing the right to same-sex marriage nationwide.
"Justice is not about 'just us,' " Tyler said, explaining she wanted friends in Mississippi and Florida to have the same rights to marry as she and Olson had. "I wish that the Prop. 8 decision had been a wider decision and that it had included all of the other states in the 9th Circuit."
Allred called the rulings "important steps forward" for same-sex couples, but said she believed much remains to be done.
In particular, Allred called for an amendment of the state's Family Code to define marriage as between "two unmarried persons who are not otherwise disqualified, or capable of consenting to and consummating marriage."
Tyler and Olson had been watching the actions of the Supreme Court every morning this week in anticipation of the decisions, Tyler said. When they heard the decision on DOMA on Wednesday morning, they started to cry, recalled Tyler, once again teary-eyed.
On the way to Allred's office, she said they realized they were now going to save $2,400 every year because of changes in taxes they are required to pay on their health insurance.
Tyler and Olson will celebrate their 20th anniversary this September. Although they announced plans for divorce last year, they reconciled, Allred said. The couple held hands as Allred addressed the media Wednesday.
Following the news conference, Tyler suggested to Allred, whom she called a heroine of the gay marriage movement, that she join her and Olson in West Hollywood to celebrate.
"We're asking you for a date now," she said, laughing.
ALSO:
Kamala Harris calls for same-sex marriages to resume 'immediately'
Prop. 8: Lt. Gov. Gavin Newsom avoids 'vindication' as he smiles
Prop. 8: John Roberts' lesbian cousin 'absolutely' proud of ruling
Twitter: @emfoxhall

emily.foxhall@latimes.com
---
The perils of parenting through a pandemic
What's going on with school? What do kids need? Get 8 to 3, a newsletter dedicated to the questions that keep California families up at night.
You may occasionally receive promotional content from the Los Angeles Times.