Flooding, stranded livestock and at least 4 dead as storms hit Northern California: 'They can't handle any more'
A Guernville resident walks down steps toward the foodwater surrounding his home.
(Justin Sullivan / Getty Images)
A portable toilet is submerged in floodwaters at a vineyard in Forestville.
(Justin Sullivan / Getty Images)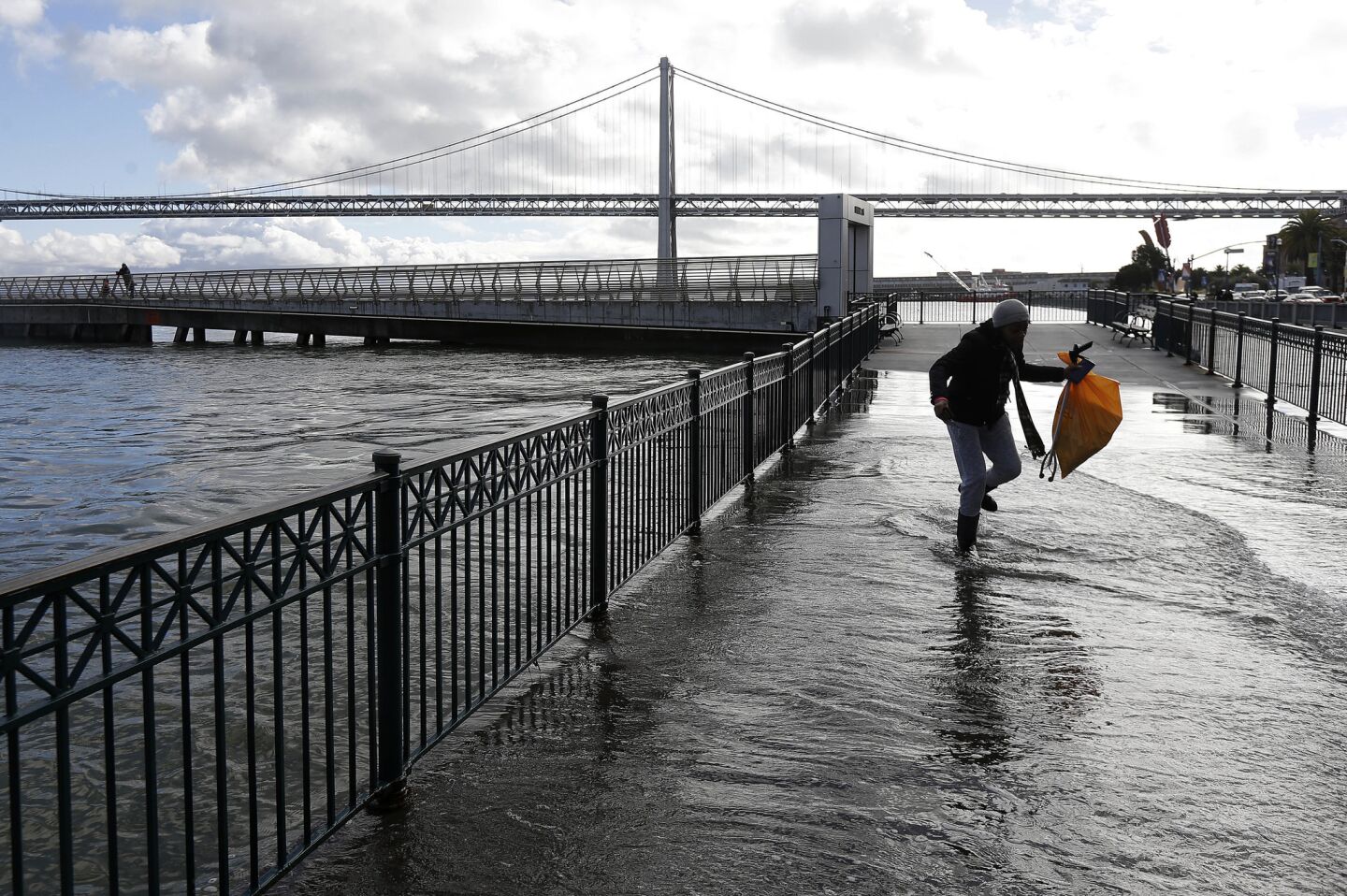 A woman walks through water from a king tide that flooded onto the Embarcadero in San Francisco on Wednesday.
(Jeff Chiu / Associated Press)
Kevin O'Neill's phone rang about 2 a.m. Wednesday, about two hours earlier than he'd expected.
The Pacheco Creek had flooded about 8 miles north of Hollister, Calif., and dozens of rural homeowners and their livestock in San Benito County were trapped.
"We knew the creek was going to peak … but we didn't anticipate it to this level," said O'Neill, the county's emergency services manager. "I think it was just too much rain up in the mountains for the creek to handle."
With the help of the San Jose Fire Department, authorities spent Wednesday morning rescuing nearly 60 residents from their flooded homes while another 50 were able to make it out of town on their own, O'Neill said.
Some homes were inundated with up to 3 feet of water. Cows were stranded on grassy islands surrounded by floodwaters.
It was that kind of day across Northern California as officials began assessing the damage from the most powerful series of storms in recent years.
The storms drenched the Bay Area and created blizzard conditions in parts of the Sierra Nevada over the last week. The storms dramatically boosted the Sierra snowpack — a key source of water for California — to 158% of normal and made a significant dent in the state's six-year drought.
But the weather systems also left a path of destruction. The storms are being investigated as likely causes of at least four deaths.
Numerous Northern California and Nevada rivers flooded, forcing thousands to flee their homes. While the storms were beginning to taper off Wednesday, officials said they are still on high alert.
"The ground is saturated," said Edan Weishahn, a meteorologist in the National Weather Service's Reno office. "They can't handle any more water, so any more we get, it's all runoff into the streets."
In Guerneville in Sonoma County, the Russian River flooded from the combination of melting snow and more than 12 inches of rain that have fallen since early last week across the region. Hundreds of Sonoma County residents were displaced as the waters peaked at 37.7 feet, said Jennifer Larocque, a spokeswoman for Sonoma County's Transportation and Public Works department.
The last time the Russian River eclipsed that level was during a major storm that began on New Year's Eve 2005 and sent rain onto the Rose Parade in Southern California days later.
In Sacramento, a tornado ripped across a suburb for about half a mile early Wednesday morning, damaging trees and homes but not injuring anyone.
In the northern Sierra Nevada, where some mountain peaks have received 12 feet of snow in a week, residents were told to stay indoors Wednesday as heavy snowfall was again expected overnight. In Washoe County on the Nevada side of Lake Tahoe, a "snow emergency" was issued for the first time in a decade, and residents were told to stay inside, the National Weather Service said.
"We haven't had a break between our very wet weather that we got early this week and another round of precipitation we had last night. At this point, it just seems like they're all running together," Weishahn said.
Snow piled high snapped tree limbs, knocking out power to some Lake Tahoe residents for more than a day amid the strongest storm seen in years.
Even Southern California felt some impacts from the wet weather. On Wednesday afternoon, the patio on a hillside home in Laurel Canyon collapsed amid the rain.
The earth underneath the home, in the 8100 block of Gould Avenue, was saturated and gave way, sending a 9,000-pound slab of concrete and a retaining wall sliding 20 feet down to Laurel Canyon Boulevard, the Los Angeles Fire Department said.
No one was injured, but the building was red-tagged, displacing the residents, officials said. Homes on either side of the property were yellow-tagged by the Los Angeles Department of Building and Safety, meaning residents can stay in the homes but can't go into the backyards until the city determines it's safe.
Though it was raining Wednesday, inspectors said it's too soon to determine if the patio collapse was caused exclusively by the weather, said Building and Safety Department spokesman Dave Lara.
"It doesn't appear that other portions of the property have had that kind of issue with the rain, but we're going to have one of our soil engineers take a closer look," he said.
The situation closed Laurel Canyon Boulevard, creating a traffic nightmare.
While 38 of California's 58 counties were under a flood watch or warning Wednesday, some parts of Northern California are beginning to recover.
On Wednesday afternoon, Caltrans announced that about 30 miles of Interstate 80 cutting through the Sierra Nevada had reopened after crews managed to clear several feet of snow and broken tree branches from the Donner Pass.
About 63 miles of Highway 49 that have been closed could be reopened on Friday, said Caltrans spokeswoman Liza Whitmore.
In Sonoma County, the Russian River's waters are expected to recede by 8 p.m. Thursday, Larocque said. About 90 county roads have been closed since the rainy onslaught began over the weekend, and 40 have already reopened, she said.
"We are already preparing for the recovery phase and debris removal," Larocque said.
In Yosemite National Park, Highway 140 reopened Wednesday.
Another storm isn't forecast for Northern California until early next week, according to the National Weather Service.
The series of storms dumped hundreds of billions of gallons of water into the state's reservoirs and built up the Sierra Nevada snowpack above its historical average. California is on pace for one of its wettest years in history, though forecasters caution one long dry spell could diminish these early months of gains.
For breaking California news, follow @JosephSerna on Twitter.
ALSO
Will a surf gang allow the integration of Palos Verdes Estates' waves on Martin Luther King Jr. Day?
Southbound 15 Freeway in Riverside area closed after shots fired during pursuit
Did developer-linked donations violate campaign finance laws? State watchdog agency will investigate
---
The stories shaping California
Get up to speed with our Essential California newsletter, sent six days a week.
You may occasionally receive promotional content from the Los Angeles Times.