Couple accused of sex crimes at South L.A. school are arrested in Florida after 17 years on the run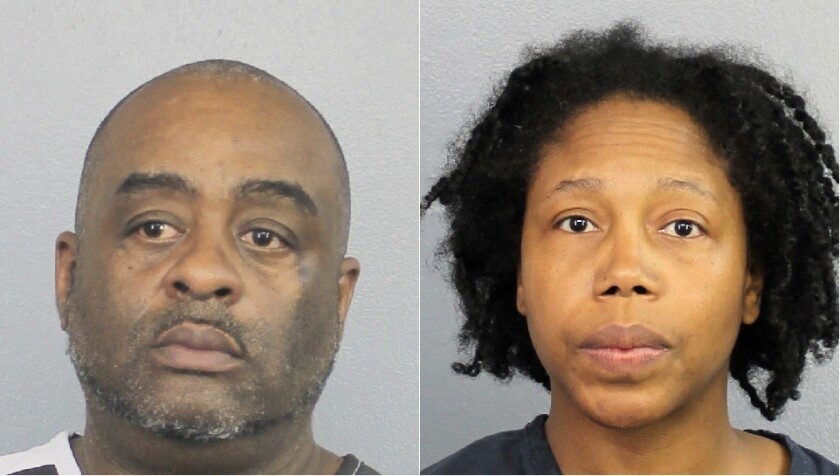 A couple who founded a Crenshaw private school and fled after authorities charged them with 13 sex crimes against minors were arrested by Florida and Los Angeles police Wednesday after 17 years on the run.
Joseph Green, 52, a registered sex offender, and his wife, Chanell Warren, 43, were arrested at 6 a.m. Wednesday at a home in Plantation, a city in the Miami metropolitan area, said Det. Robert Rettig of the Plantation Police Department.
Green is being held in the Broward County Jail on $185,000 bail. Warren's bail was set at $170,000.
The arrests capped a joint investigation by the Los Angeles Police Department and the FBI, Rettig said. The case was featured last month on CNN's "The Hunt with John Walsh: School of Lies." Soon after, investigators discovered that the couple had moved to Florida and assumed false names.
When Green and Warren were charged with sexually molesting a 16-year-old girl in 2000, they were administrators of the Enlightened Minds School, a private, Afrocentric school in South Los Angeles.
The allegations came to light when students on a school camping trip noticed another student sleeping in a room with two adults, according to the Los Angeles Police Department. The victim told several students she was sexually involved with the pair.
Green was a registered sex offender when he co-founded the school with Warren. He was charged with three counts of sexually molesting a minor in 1996, pleaded no contest to one count of sexual battery and was sentenced to two years in state prison in Chino.
In 1998, he and Warren founded the school, saying they wanted to improve educational outcomes for inner-city students. They rented a 10,000-square-foot commercial building on West 54th Street, a busy boulevard with storefront churches and hair salons. The school's inspiring story earned a proclamation from then-Mayor Richard Riordan and won them funding from a national scholarship program.
But as they ran the school of 50 students, they also were posting Craigslist ads soliciting sexual partners as a couple, prosecutors said. In 2000, Los Angeles police charged them with molesting one of their students in a white RV parked at their home. Authorities believed the couple fled in the motor home.
Green used fake names to found the school and evade police detection. He registered as a sex offender in Lancaster, but authorities didn't know he was living in the Mid-City area of Los Angeles under the name Ty Yiyara.
The couple also used fake names and credentials to found and market the school to South Los Angeles parents who were desperate for an alternative to the area's struggling public schools.
Green told parents that he had served in the Air Force and earned a master's degree in social work from Dallas Baptist University. Police found no record of military service, and Green admitted to buying his degree in a catalog.
Nana Gyamfi, an attorney whose son attended the school as a preschooler, said she had mixed feelings when she heard that the couple had been arrested. She's glad the couple are no longer at large, but she says sending them to prison won't fix the harm they caused.
Green and Warren knew that black parents in the neighborhood badly needed an alternative to the public schools and exploited that, Gyamfi said. The school's closure broke the community's trust and hurt the reputations of other alternative, Afrocentric schools. And the damage done to the molested student can't be undone, she said.
"There's a lot of harm they caused. At the same time, there's a lot of restoring that needs to be done. None of that happens with people just getting arrested and going to prison," Gyamfi said.
Times staff writer Alene Tchekmedyian contributed to this report.
---
UPDATES:
8:50 p.m.: This article was updated with additional details about the investigation.
2:05 p.m.: This article was updated with bail amounts for the couple.
This article was originally published at 12:50 p.m.
---
For reporting and exclusive analysis from bureau chief John Myers, get our California Politics newsletter.
You may occasionally receive promotional content from the Los Angeles Times.