L.A. schools' iPad initiative could be hard to keep paying for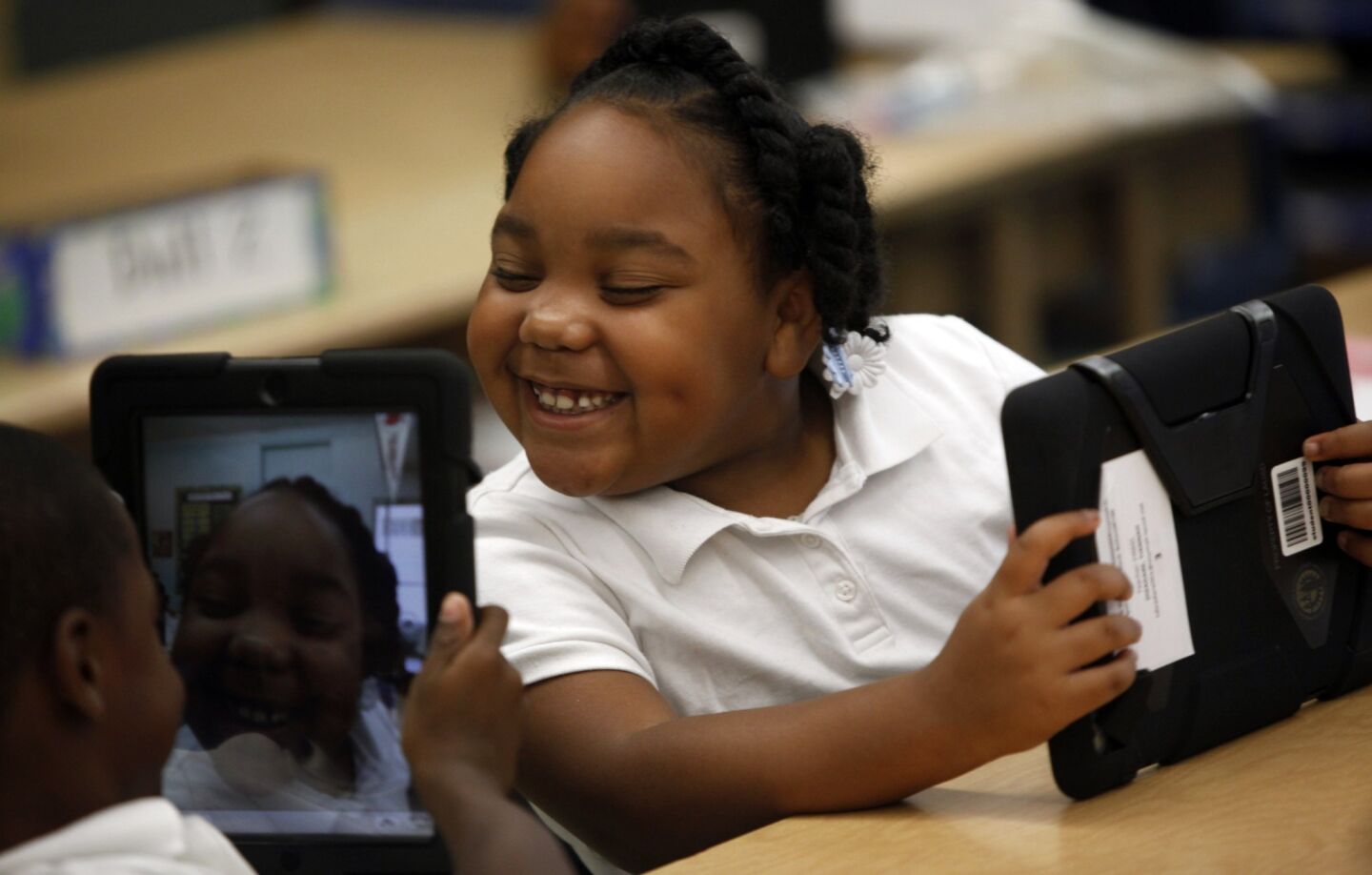 Tiannah Dizadare smiles as she works with classmate Avery Sheppard as they explore their new LAUSD-provided iPads.
(Bob Chamberlin / Los Angeles Times)
King Shelton, left, and Zylan Giles work with their new iPads at Broadacres Avenue Elementary School in Carson.
(Bob Chamberlin / Los Angeles Times)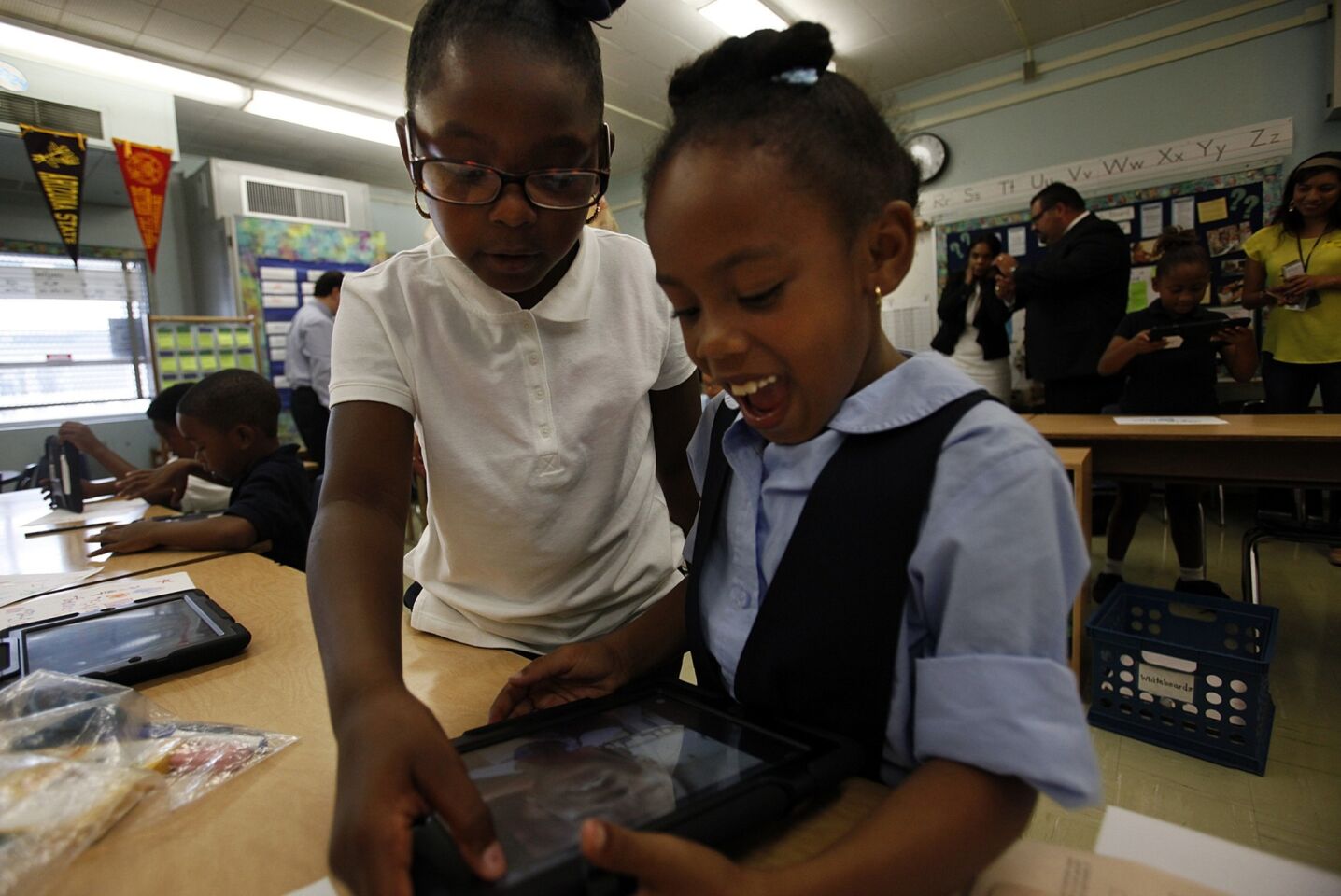 Jadah Manning, left, and Zaryah Robinson explore a new iPad in Karen Finkel's class at Broadacres Avenue Elementary School.
(Bob Chamberlin / Los Angeles Times)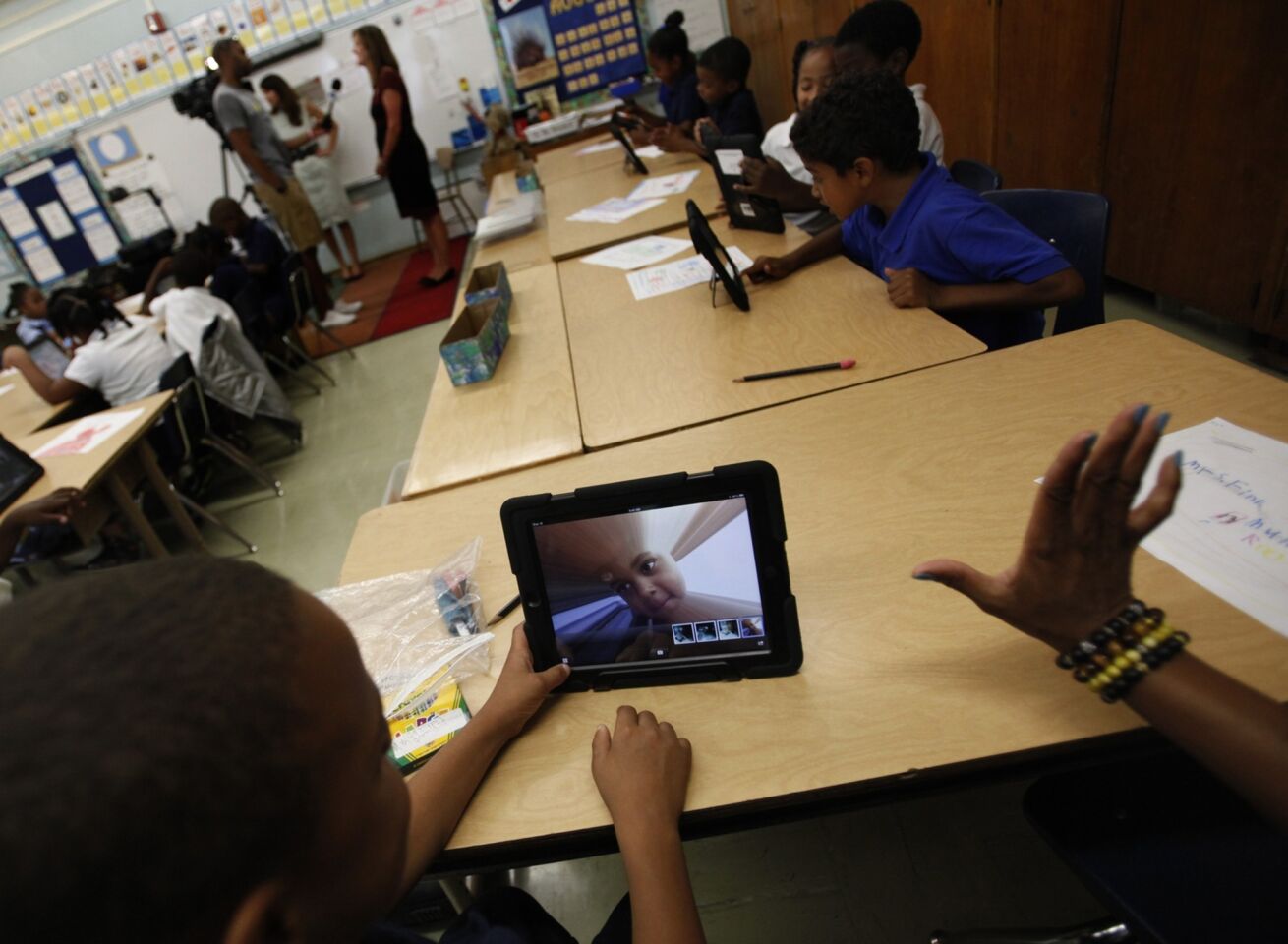 Muhammad Nassar Jr. takes a picture of himself as Karen Finkel's class explores the possibilities of their new LAUSD-provided iPads at Broadacres Elementary.
(Bob Chamberlin / Los Angeles Times)
Beautiful Morris smiles as she works on her new iPad, provided by the Los Angeles Unified School District.
(Bob Chamberlin / Los Angeles Times)
A $1-billion plan to put an iPad into the hands of every Los Angeles student and teacher could prove difficult to sustain financially after about three years, based on figures provided by the L.A. Unified School District.
The district's analysis, which describes future funding options, will be a subject of discussion during a special Board of Education meeting Tuesday morning at district headquarters. The school board is scheduled to vote in December on final approval for the project. So far, iPads have gone out to about 40 schools.
The effort is being funded overwhelmingly by school construction bonds, a portion of which are set aside for technology. Some critics have questioned the wisdom of using bonds paid back over about 25 years to fund devices with a guaranteed life of three years.
District officials have insisted they are on solid legal ground and note that some other school systems also have used bonds for iPads. But until this week, they have not addressed what happens after three years.
Officials set forth four funding scenarios, and each has potential problems.
The first is to use funds left over from other bond projects. But L.A. Unified already lacks enough bond money to fix up and maintain its schools, according to members of a committee appointed to oversee bond spending.
The second and third options envision voters helping at the ballot box, either through a new local bond measure or a statewide technology bond. Neither is guaranteed.
The last option is to set aside $100 per child annually from the general fund, starting in the 2016-17 school year to gather as much as $252 million needed by fall 2018.
Elements of this projection are optimistic. It estimates that future tablets will cost $200 to $400 apiece. That could prove true — computers have consistently dropped in price. Currently, however, the iPads are costing L.A. Unified $768 apiece. (They'll cost $21 less once the district has spent $400 million with Apple, which makes the tablets.)
The projection also doesn't include the expense of updating and expanding electronic curriculum, but officials hope to use textbook funds for that purpose.
The district's main budget will soon have to bear other program costs as well, more than $50 million a year, for such things as technical staff, security software, network maintenance, increased electricity and Web filtering.
L.A. schools Supt. John Deasy has called the technology upgrade an essential academic component and noted that new state tests are supposed to be taken on a computer. His staff has defended the Apple contract as offering the best product at the lowest price. The higher-than-retail cost, they said, relates to features bundled into the deal, such as math and English curriculum, a limited three-year warranty and a protective case.
ALSO:
Preliminary UC plan calls for no tuition hike next year
UC San Diego gets $100-million gift for stem cell research
Tomahawk-throwing champion chases burglar from her home with axhoward.blume@latimes.com
Twitter: @howardblume
---
The stories shaping California
Get up to speed with our Essential California newsletter, sent six days a week.
You may occasionally receive promotional content from the Los Angeles Times.