Success of homelessness and transit measures could give L.A. Mayor Eric Garcetti a boost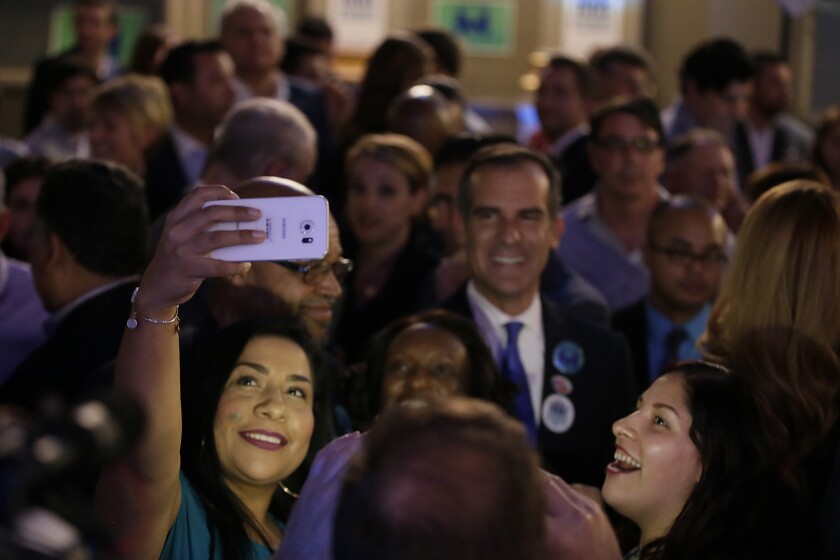 Since taking office three years ago, Los Angeles Mayor Eric Garcetti has sought to win over residents with his vision of the city's future.
Voters this week overwhelmingly backed that vision, approving two ballot measures championed by Garcetti that create a more urban city — a metropolis knitted together with transit lines and denser development, as well as new apartment buildings for some of L.A.'s 28,000 homeless people.
Both Measure M and Proposition HHH, authorizing new taxes to address the urgent issues of traffic and homelessness, cleared the two-thirds bar for approval — legacy-making initiatives for the leader of the nation's second-largest city.
Their passage marks a major victory for the 45-year-old mayor, who faces reelection in March and is expected to explore a run for governor or U.S. senator. (Garcetti's immediate predecessor, Antonio Villaraigosa, said Thursday he will run for governor in 2018.)
"People got it, and put the pieces together," Garcetti said Wednesday at Union Station, crediting a wide coalition of supporters for pushing through the transit tax and homelessness measure.
The victories reaffirmed his governing style: forging ahead locally on issues such as the minimum wage and climate change despite inaction or a lack of money at the federal level.
The theme that Los Angeles isn't waiting around for outside help took on greater resonance as Garcetti's presidential choice, Hillary Clinton, lost to Donald Trump.
The success of the two ballot measures now gives Garcetti vast sums of money to expand transit and build housing for the homeless. Los Angeles already is in the midst of a major development boom, with new high-rise and mixed-use buildings rising from downtown to the Westside. Both measures will add to that rapid remaking of the city.
But Garcetti also faces challenges that could frustrate his political aspirations. The projects have sparked an anti-development backlash in some neighborhoods. Voters in March will decide whether to fully back Garcetti's push for a more urban, dense city when they weigh in on a ballot measure that could halt so-called "mega-developments."
Other issues persist, such as rising crime and tensions between police and activist groups, said Jack Pitney, political science professor at Claremont McKenna College.
"He knows the limits of what a mayor can do," Pitney said. "But if he aspires to a legacy and higher office, he needs accomplishments that he can show in a campaign."
With this week's victories, Garcetti proves himself a politician "who not only talks about progressive causes, but achieves tangible results," Pitney said.
Whatever his political aspirations beyond next spring, Garcetti refuses to discuss them publicly and declined to be interviewed for this article. But he took a leading role in promoting Measure M and Proposition HHH, emerging as the public face for both.
At a rally near skid row in September, Garcetti implored voters to help the city's homeless living in shelters, under freeway overpasses and in sidewalk encampments. He appeared in television ads for Measure M and appeared at the Coliseum last weekend urging Rams fans to support the transit tax.
Measure M will add at least 450,000 jobs — about half in the construction industry — according to a recent Los Angeles County Economic Development Corporation report, while Proposition HHH is expected to create about 50,000 jobs. Both measures also are likely to help Garcetti's long-term goals of adding 100,000 housing units by 2021 and boosting Los Angeles' economy.
Gary Toebben, the president and CEO of the Los Angeles Area Chamber of Commerce, has been a regular critic of City Hall's record on job growth since Garcetti took office. But at a Measure M election party in downtown Tuesday night, Toebben likened both measures to "economic stimulus" packages.
"He championed both," Toebben said of Garcetti. "He staked his reputation on those measures."
Passage of the two measures is "icing on the cake" for Garcetti's reelection bid in March, said Raphael Sonenshein, executive director of the Pat Brown Institute for Public Affairs at Cal State L.A.
Homelessness and traffic relief are more "translatable" to voters than some of Garcetti's earlier achievements, Sonenshein added, such as passage of the city's earthquake retrofitting law and a $15 minimum wage.
Those issues are harder to tout on campaign ads, while new transit lines and housing projects are physical reminders of a politician's mark on a city. Such projects also allow for years of ribbon-cuttings by elected officials.
With the March mayoral election four months away, Garcetti has raised more than $2.2 million, while his announced challengers, who include longtime political operative Mitchell Schwartz and charter school founder Steve Barr, have garnered far less.
Schwartz, a Windsor Square resident, plans to go after the mayor on housing and urban density issues during the campaign.
"If you like the development policies the way they are," Schwartz said Thursday, "you should vote for Garcetti in March."
Twitter: @dakotacdsmith
ALSO
For many Latinos, a historic election turns into a nightmare
Orange County voted for a Democrat for president for the first time since the Great Depression
Trump victory sparks student walk-out at Berkeley High School, angry protests across California
---
UPDATES:
2:55 p.m. Nov. 10: This article was updated throughout with additional reporting.
This article was originally published at 1 p.m. Nov. 9.
---
The perils of parenting through a pandemic
What's going on with school? What do kids need? Get 8 to 3, a newsletter dedicated to the questions that keep California families up at night.
You may occasionally receive promotional content from the Los Angeles Times.