First of Garcetti-backed homeless shelters nears opening, with a $700,000 deck
Several dozen homeless people selected by outreach workers will move into a cluster of new trailers near downtown's historic El Pueblo next month, the first step toward getting them into permanent housing.
For Mayor Eric Garcetti, the move-ins also mark a first step.
Garcetti has committed at least $20 million for more trailers, tents and other temporary shelters across the city. He's rolling out the shelter program as he positions himself as a leader in the national Democratic Party, bringing more attention to his handling of the city's homelessness crisis.
Success at the downtown site could tamp down the type of neighborhood opposition seen in Koreatown and Venice over proposed homeless shelters.
At the same time, unexpected costs and obstacles have held up completion of the El Pueblo site. As additional shelters begin construction, more surprises are expected.
"There's extreme benefit for the mayor if this works," said Stuart Waldman, president of the Valley Industry & Commerce Assn. At the same time, Waldman said, "you can't put the same thing in every community because you don't know what's going to fit."
Garcetti's shelter program comes amid growing national attention to the tents and squalor on L.A.'s sidewalks, alleys and freeway underpasses. For the first shelters, the city is looking to use one of two models — either trailers or a tent — for relief for homeless people.
"This is a new thing entirely," said Matt Szabo, Garcetti's deputy chief of staff. "This isn't a standard shelter. We're creating spaces designed to be as safe and comfortable as possible."
The mayor, who has set a goal of ending street homelessness by 2028, has said at least 6,000 people a year could be served by the shelters, which are planned for each of the city's 15 council districts. New state funds may boost available funds, but the mayor's budget set aside $1.3 million for each of the 15 shelters.
The El Pueblo shelter's cost has far exceeded that amount, with $2.7 million budgeted for construction, according to the mayor's office.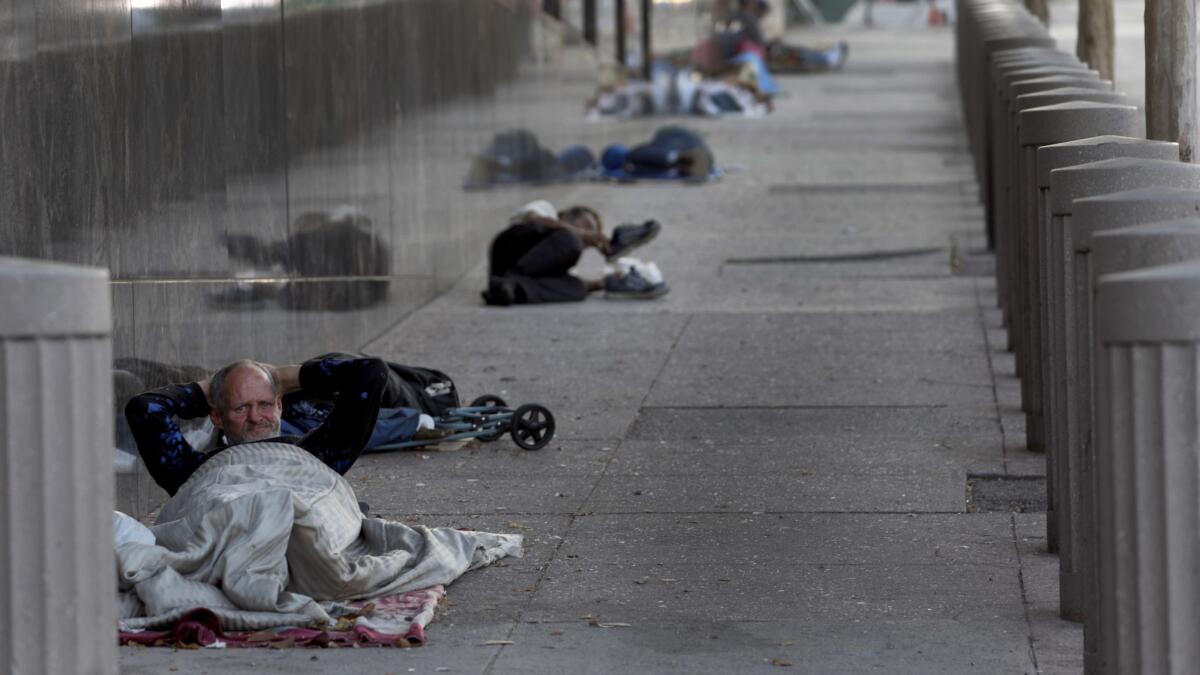 The project, which was supposed to open in June, became more expensive when officials decided it needed a deck connecting all of the trailers — something not part of the original plan, said Los Angeles City Councilman Jose Huizar.
Expedited construction helped boost the cost of the 7,000-square-foot deck to $700,000, said Garcetti spokeswoman Anna Bahr. The triangular shape of the shelter's site — a city-owned parking lot — also made building the deck more costly, she said.
The city originally ordered ramps for each trailer, but later scrapped that in favor of the large deck to connect the structures and "create a welcoming, appealing community space" for residents to use during the day, Bahr said. The updated design was performed at no charge by international architecture firm Gensler, which wasn't involved in the original plan.
Rob Jernigan, co-regional managing principal at Gensler, defended the deck's cost. "It would be hard for us to create an outdoor room for less," Jernigan said.
The city's first plan for the El Pueblo shelter, which sits on a city-owned parking lot abutting the 101 Freeway and several traffic-choked streets, "was almost like, stay in your trailer all day by the side of the freeway," said Huizar, who represents the area.
Another, more minor delay followed the city's discovery that the residential trailers didn't have the right sprinkler systems. There were also unanticipated costs related to the sewer connection at the site.
"We have learned some important lessons from El Pueblo that we're confident will enable us to continue building critically needed bridge housing across the city as quickly and efficiently as possible," said Garcetti spokesman Alex Comisar.
Officials initially hoped to house at least 60 people at El Pueblo, but lowered the number to 45 on the advice of the People Concern, the nonprofit that will operate the site. The nonprofit has found the shelters are more successful when an individual has more space, Bahr said.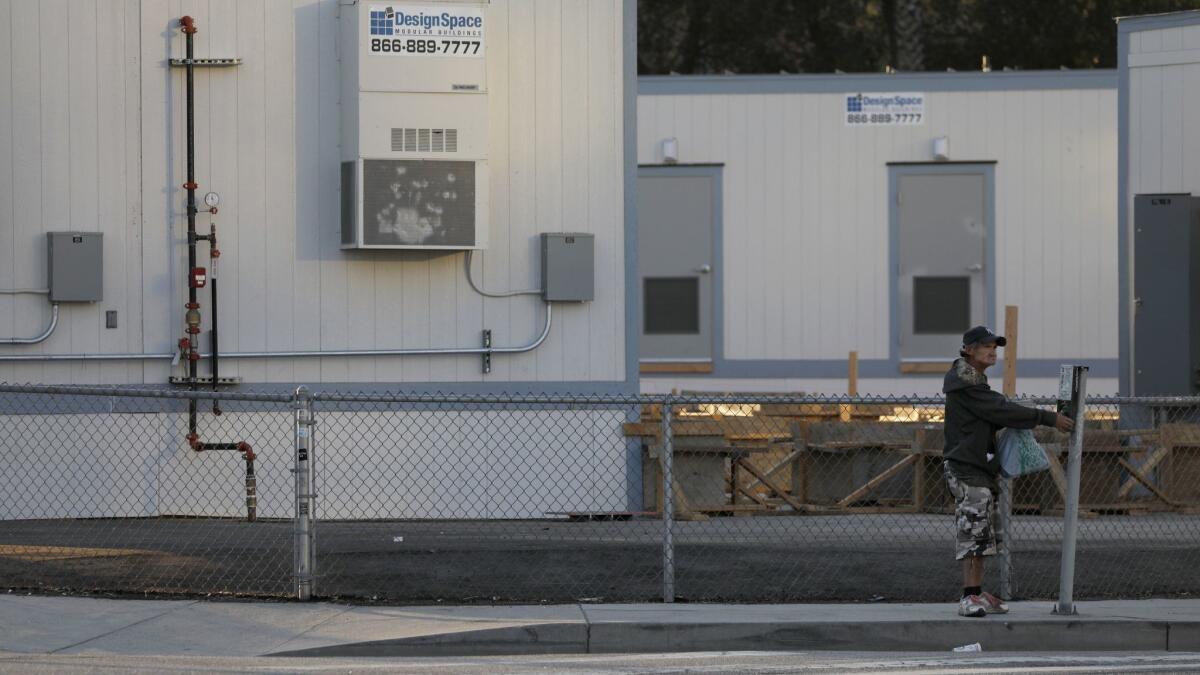 Other council members have also proposed shelters in their districts. Councilmen Joe Buscaino and Marqueece Harris-Dawson submitted addresses to the city earlier this month for possible shelter sites in their respective harbor-area and South L.A. districts. The council last month approved studying several sites in Hollywood, Venice and West L.A.
The latest count from the Los Angeles Homeless Services Authority found that more than 31,000 people are homeless in the city, including more than 23,000 living without shelter.
Garcetti's shelter model is similar to San Francisco's "navigation centers," which also provide short-term housing.
"You can open a shelter and get people off the street, but these are only successful if there's housing as an exit at the end," said Jeff Kositsky, who heads homelessness and supportive housing services for San Francisco, adding that he believes L.A. is well-positioned to provide such units.
Kositsky and other homeless housing experts said the shelters must accomplish several goals to be successful. Entry must be "low-barrier," meaning people can enter with their pets or partners, for instance. Services, including healthcare and job placement, must be offered.
"Our goal isn't to warehouse people," said John Maceri, executive director of the People Concern. "This is about providing an opportunity for people to rebuild their lives."
At El Pueblo, an array of services will be available. Those selected to live there can keep their pets with them and residents don't have to be sober to enter the facility. However, those staying on the site can't use or keep drugs or alcohol on the premises or in the vicinity, he said.
Three trailers will be used to house 30 men and 15 women. Two other trailers will offer showers, bathrooms, laundry, office space and consultation services.
Maceri said that outreach workers have spent the last few months talking to homeless people in the El Pueblo area to identify potential residents. Those with chronic health and mental health issues and who are at risk of dying on the street are being sought, Maceri said.
As the temperature hit 105 degrees on a recent day, several homeless people sat at the shady plaza near Olvera Street, a block from the planned shelter.
Maria Garcia, 74, said the new trailers "looked nice" and she'd consider seeking a bed there.
"It depends on who my neighbor is next to me," said Garcia, who has been homeless for three decades. "If there's something wrong with the woman next to you, if you have a bad hunch, you got to get out."
Waldman, of the Valley industry group, said homelessness is the No. 1 concern of his business members.
Garcetti told reporters last month that he questions business owners and others who oppose his plan for crisis shelters.
"My question I usually ask is, OK, if we don't build this, where do you want people to go to the bathroom?" Garcetti said. "Because right now it's happening on the street in front of your business. And you think that's good for property values?"
Meanwhile, the mayor's acknowledgment that he is considering a presidential run has focused a far bigger spotlight on the city's reaction to homelessness.
As more shelters are proposed, the success rate at El Pueblo will be closely watched.
"We're under the microscope," Maceri said. "We're trying to set the bar very high."
Twitter: @dakotacdsmith
Sign up for Essential California for news, features and recommendations from the L.A. Times and beyond in your inbox six days a week.
You may occasionally receive promotional content from the Los Angeles Times.