Mourning family calls for probe into man's overdose death in home of Democratic donor
The family and friends of 26-year-old Gemmel Moore, who died in the West Hollywood home of a prominent Democratic donor, called this weekend for authorities to do a thorough investigation into his death.
L.A. County Sheriff Jim McDonnell said Monday that homicide detectives will conduct a follow-up investigation into Moore's July 27 overdose death in the Laurel Avenue home of Ed Buck. County coroner's officials initially ruled Moore's death an accident, and a preliminary review by sheriff's deputies found nothing suspicious.
Moore's mother and friends have questioned whether the drugs that killed him were self-administered and whether authorities initially conducted a proper investigation.
Speaking at a candlelight vigil outside the Sheriff's Department's West Hollywood station Friday night, Moore's mother, LaTisha Nixon, said her son's death "just shouldn't have happened."
"He cried out to so many people, and we all failed him," Nixon said. "I just hope that the Sheriff's Department does not fail my son. I'm asking for justice."
Moore, she said, "was more than a young, gay black man. He was my son, and we loved him."
Nixon has said her son worked for a time as an escort and used drugs. Shortly before his death, he told her he had been homeless and struggling.
Sheriff's detectives are searching for people who spent time with Buck, according to two law enforcement officials with knowledge of the case, who spoke to The Times this week on the condition of anonymity because they were not authorized to publicly comment on the case.
Capt. Chris Bergner of the Sheriff's Department Homicide Bureau said detectives want to review a journal found among Moore's possessions.
The Times reviewed pages of the journal, in which Moore purportedly wrote about his use of crystal methamphetamine and made accusations against Buck. Authorities are looking into claims made in the journal, law enforcement sources said.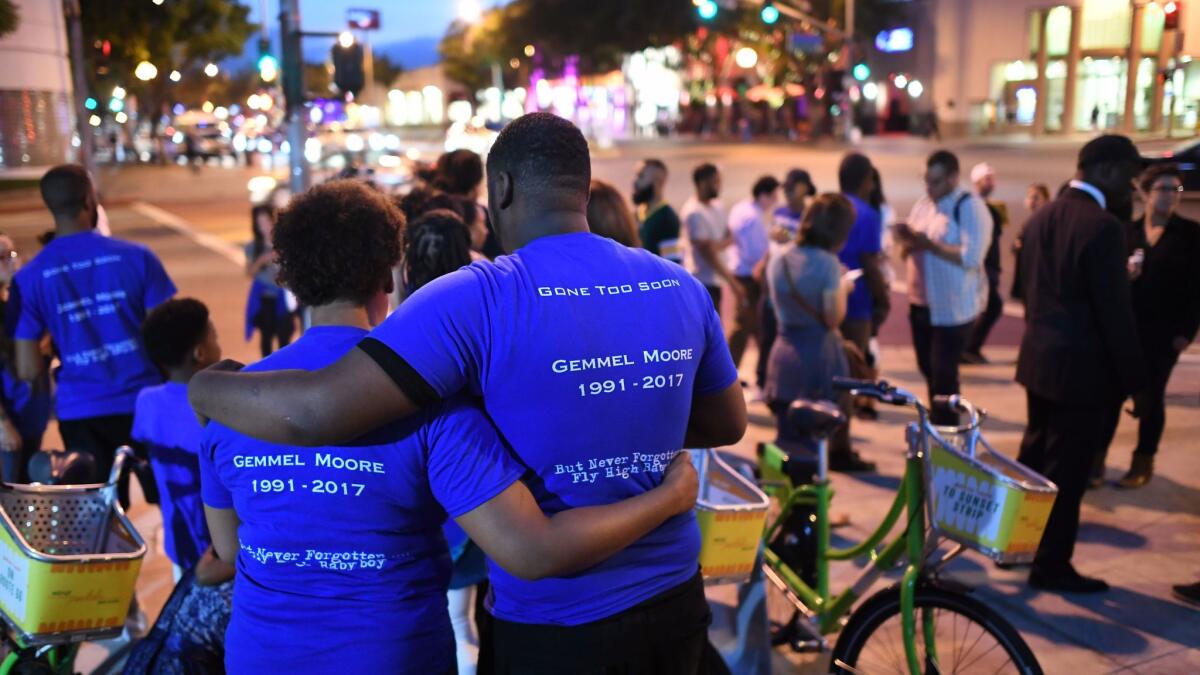 Seymour Amster, an attorney representing Buck, has refuted the claims, saying his client had "nothing to do with this young man's tragic death," which he described as "self-imposed" and "accidental."
Coroner's officials said this week that Buck was inside the apartment at the time of Moore's death and that drug paraphernalia was recovered from the scene.
The Times interviewed another man who said he reported complaints about Buck — similar to those made in the journal — to the West Hollywood sheriff's station on July 4. The man, who asked that he remain anonymous, described himself as a male escort.
Law enforcement sources said detectives were trying to interview the man and were looking into whether he made a report.
Buck, 62, has not returned calls seeking comment. In the wake of Moore's death, the Stonewall Democratic Club requested and accepted the longtime political donor's resignation from its steering committee, the organization said in a statement.
On Friday, U.S. Rep. Karen Bass (D-Los Angeles) said in a statement that she was "stunned by the news of Gemmel's death and the tragic and sad circumstances surrounding it." Bass received a $250 donation from Buck nine years ago but does not know him, she said.
"If there are other victims, they should come forward immediately," Bass wrote. "It is my hope that law enforcement is prepared to investigate and prosecute to the fullest extent of the law."
At the vigil Friday, L.A. City Councilman Mike Bonin said he would be asking the sheriff and district attorney to interview men who may have known Buck.
"This life and this death will not be forgotten and will not go uninvestigated," Bonin said. "The life of a young, gay black man is just as important as a straight, blonde girl. Gemmel Moore's life matters."
Family members said they would remember Moore for the way he made them laugh. He was quiet, they said, but when you got to know him, he was quick with a joke.
Jamisha Morris, Moore's 27-year-old stepsister, said Moore always made sure he looked good before he left the house and would spend a lot of time in front of the mirror, perfecting his hair as he listened to "You Are My Rock" by Beyoncé.
Moore's brother, 26-year-old Derrick Nixon, said Moore was always there for him.
"He was like a guardian angel in my life," he said. "We were taught to look after each other, and he always did that for me. He was always giving."
Moore's family and friends gathered Saturday for a funeral in South L.A. They stood and clapped to acknowledge what they said was a life lived with love.
Twitter: @haileybranson
Times staff writers Richard Winton and Alene Tchekmedyian contributed to this report.
ALSO
USC downplays fundraising efforts of ex-dean at center of drug scandal
Venice rally celebrates diversity as nation struggles with race and politics
'There is no race that's superior': Orange County pastor denounces white nationalists during Harvest festival
Sign up for Essential California for news, features and recommendations from the L.A. Times and beyond in your inbox six days a week.
You may occasionally receive promotional content from the Los Angeles Times.