Must Reads: Why did it take so long to arrest the Golden State Killer suspect? Interagency rivalries, old technology, errors and bad luck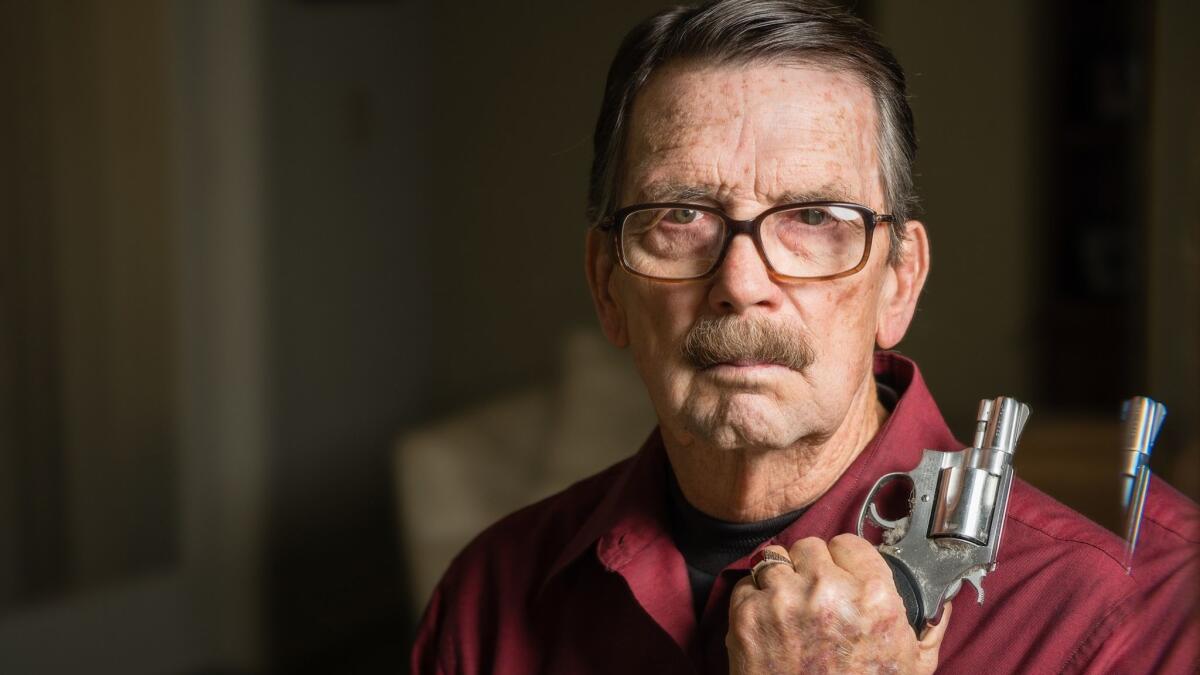 The killer was thought to have law enforcement or military experience. He was believed to stand around 6 feet tall, with an athletic build. He was presumed to live in the Central Valley and Sacramento area at different points in the 1970s.
Joseph James DeAngelo Jr. was a former police officer who served in the Navy in Vietnam. He was 5-foot-11, with a sturdy frame. He worked in Exeter until 1976, before moving to Auburn, a town 30 miles northeast of Sacramento.
Blessed with hindsight, authorities now say that DeAngelo fit their profile for the East Area Rapist, also known as the Golden State Killer. The 72-year-old faces a dozen counts of murder across the state. He is also suspected in dozens of rapes.
The four-decade manhunt sparked multiple law enforcement task forces, spawned an FBI website dedicated to catching the killer and prompted lawmakers to create a DNA database of known and suspected felons. Working off witness testimony and hunches, investigators whittled down the potential pool of suspects over the years. Yet until they pioneered a novel forensic tactic in recent months — running crime-scene DNA evidence against data from genealogy websites — DeAngelo's name never appeared on their list.
In interviews with the Los Angeles Times, retired investigators who hunted the masked assailant said that poor communication between agencies, investigative tunnel vision and antiquated technology all contributed to the Golden State Killer's elusiveness.
"We were in the dark ages back then, especially compared to today," said Richard Shelby, a retired Sacramento County sheriff's detective who investigated the killings in the 1970s.
Authorities chased a trail of rapes and murders up and down the state, waiting for that piece of evidence that would lead them to the perpetrator.
"The Son of Sam got caught off a parking ticket," said Wendell Phillips, a Malibu attorney who once chased the Golden State Killer as a Sacramento County sheriff's deputy. "Sometimes you just have to get lucky. And in this particular case, all the luck went with him."
In 1975 and 1976, police in the town of Visalia were chasing a cunning burglar who took trophies from victims' homes. When detectives there heard about the East Area Rapist attacks in Sacramento, they reached out to the Sheriff's Department thinking their burglar may have graduated to more serious crimes and relocated to the state capital.
"No one was interested in what they had," Shelby said.
When Shelby later combed through the Visalia cases, he noticed a similar modus operandi — but also key differences, including at least one conflicting description of the suspect's age and size. His attempt to draw a connection between the cases was met with indifference from department brass, Shelby said.
Over the years, different investigators worked in isolation trying to capture the Cordova cat burglar, the Visalia Ransacker, the East Area Rapist and the Original Night Stalker. Only decades later did they come to agree these serial crimes were the work of a single perpetrator: the Golden State Killer.
As he moved to new hunting grounds, local law enforcement operated in siloes that kept them from recognizing the scope of the case.
Some of the insularity can be blamed on rivalries between departments and a law enforcement culture that did not prioritize interagency partnerships. But some of the reticence to share information stemmed in part from the theory the attacker was a cop, Phillips said.
"We couldn't be sure about the guy voluntering from the neighboring agencies," Phillips said. "There was concern about sharing information because let's face it, 'loose lips sink ships.'"
Investigators eventually formed a regional task force including Sacramento County sheriff's deputies and city police, along with investigators from Davis and Contra Costa County. New members were given blood tests to ensure they weren't the rapist.
In a way, the group's wariness proved apt — DeAngelo was working as a police officer in Auburn, just a 20-minute drive north up Interstate 80.
Despite their hunch that the killer might have been a police officer, they missed a potential red flag in 1979 when DeAngelo was convicted of and fired for attemping to shoplift a can of dog repellant and a hammer from a hardware store. News of his termination never made it to the East Area Rapist task force.
The rapist's attacks around Sacramento had stopped months earlier, after Brian and Kate Maggiore were gunned down in Rancho Cordova in the killer's first documented slayings, so a petty theft elsewhere may not have been a red flag as much as it seemed in hindsight, Shelby said.
When the crimes shifted south, law enforcement there too approached the investigation in a vacuum.
Between the end of 1979 and summer of 1981, DeAngelo is suspected of killing nine people in Southern California, starting in present-day Goleta with the slaying of Robert Offerman and Debra Manning, who were discovered bound in Offerman's bedroom.
Santa Barbara County Sheriff's Det. Fred Ray was assigned to the case but struggled to solve it without conclusive evidence. Then Lyman and Charlene Smith were killed in their bedroom in Ventura. The perpetrator had tied them up with a drapery cord.
The day after the Smiths were killed, Ray said, he went to the scene and talked to the detectives. He told them that there had been a similar killing in Santa Barbara County and that he suspected the two crimes could be related.
The detectives didn't accept the premise and moved on with their own inquiry.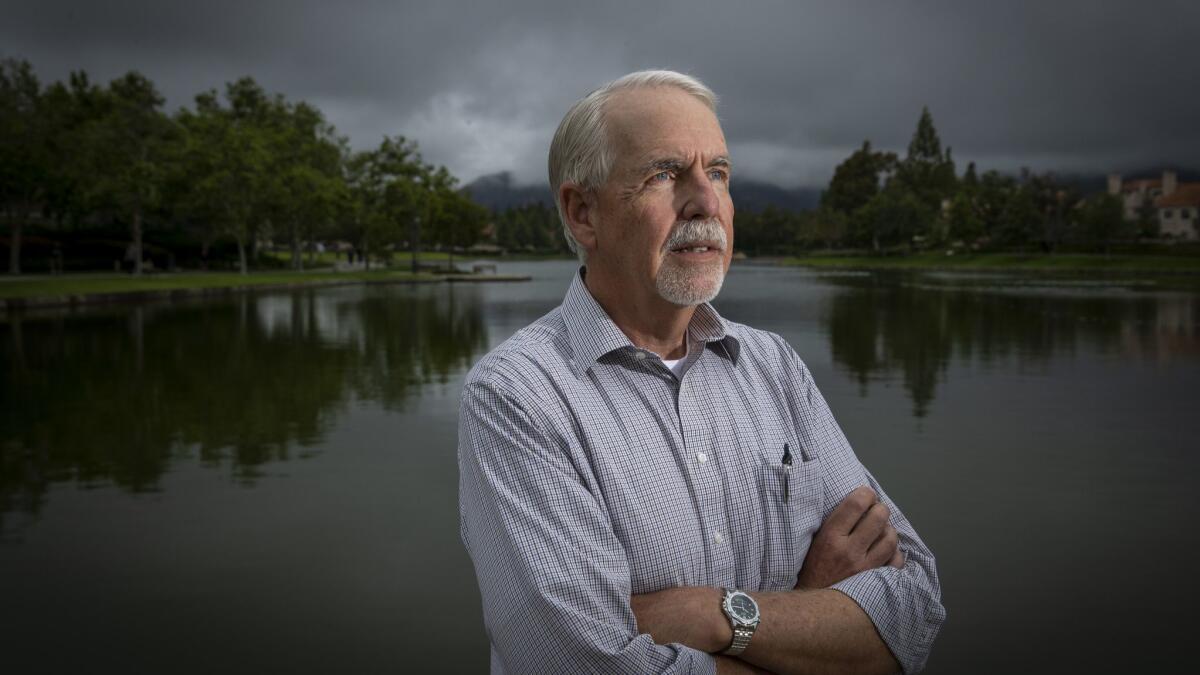 Hampering investigators was the fact the Golden State Killer's crimes shared some similarities but were not identical in execution. Offerman and Manning were tied up and so were the Smiths — but they were killed with different weapons and bound with different types of knots, leading investigators to conclude they were unrelated. The Goleta killings of Offerman and Manning and Cheri Domingo and Gregory Sanchez targeted unmarried couples, steering investigators toward the belief the killer was driven by a moralistic ethos.
As authorities struggled to grasp the evolution of the Golden State Killer's attacks and the range of his geography, other crime sprees and misguided hunches sapped resources.
While DeAngelo was allegedly terrorizing Sacramento County as the East Area Rapist, several other serial rapists were operating in the area, Shelby said. There was the Vampire of Sacramento, who killed, cannibalized and drank the blood of some of his six victims and the Bedroom Basher, who raped and bludgeoned five women to death in Orange County.
Ray, the Santa Barbara County detective, said Ventura detectives brushed off his serial killer hunch because they already had a suspect in mind for the Smith killings.
Because the Smiths' heads were bashed in with a fireplace log in the middle of the night, investigators assumed from the brutish, up-close nature of the crime that the killer must have been someone close to the couple. . Two years later, police arrested Lyman Smith's former business partner. He was ultimately freed after biological testing revealed a lack of evidence.
A similar misstep set back investigators in Orange County, where despite seing some Golden State Killer hallmarks in the 1986 rape and slaying of Janelle Cruz in Irvine, authorities arrested the wrong man.
The case was worked by Larry Montgomery, who five years earlier as a new investigator in the Orange County Sheriff's Department had done the "gopher stuff" for the killing of Manuela Witthuhn, also in Irvine. DeAngelo is accused in that slaying, too.
In both cases, the women were raped and beaten to death.
Despite the parallels, Montgomery could not link the slayings, he said, because Gregory Gonzalez, who met Cruz in drug rehabilitation class, had confessed to an informant to her killing. In the time between Cruz's death and when her body was found, Gonzalez had been arrested on suspicion of a separate attempted rape.
"I wasn't looking for another suspect because it appeared to me to be Greg Gonzalez," Montgomery said. "Therefore there was nothing else to look for. I had a pretty darn good suspect. How often do they confess to it and attempt to do a similar crime two days before?"
Nearly a year after Cruz's death, Orange County prosecutors dropped the charges against Gonzalez despite his confession. Just like the previous case, blood and semen tests revealed he wasn't the attacker.
After the release, Montgomery continued to look for new evidence but struggled to scrounge up new leads.
"I was not thinking: This is a serial killer," he said.
The Smith and Cruz killings may not be the only ones where men were arrested for crimes allegedly committed by DeAngelo. Police in Simi Valley announced they are reviewing the slayings of Rhonda Wicht, 24, who was found beaten, raped and strangled, and her 4-year-old son, Donald, who was smothered in his bed, for any potential links.
A man who had been imprisoned for 39 years, Craig Coley, 70, was recently declared factually innocent of those killings and released and awarded $1.95 million for his time in custody.
Much of the struggle to track the Golden State Killer and link him to the more than 100 burglaries, 46 rapes and dozen murders boils down to the technology and tactics of the time.
Police dogs were more frequently trained to sniff out drugs or explosives than they were people in the 1970s, which is how Phillips believes DeAngelo managed to elude capture.
During one manhunt, authorities had set up a perimeter that they believed trapped their suspect. After he wasn't found and the perimeter folded, detectives combing the area saw that someone had dug a shallow pit under a thick bush and apparently covered themselves with leaves to avoid detection.
In another close call, the Visalia Ransacker shot his way out of a backyard and escaped in the night.
Staples of modern investigative work weren't available at the time. Cellphones weren't around to help authorities retrace a suspect's location through GPS. Home security cameras that would capture a prowler's image weren't as prevalent.
Forensic science was still evolving. Crime scene analysis could pull a blood type or determine whether someone was not a "secretor" — an unusual genetic trait of not secreting blood type in saliva — but little more was available.
Authorities mapped the crimes with corkboards and pins. They relied on guesswork, the occasional stakeout and in one case a trip inside the trunk of a potential victim's vehicle.
At the peak of the East Area Rapist's rampage, Phillips folded himself into a woman's trunk with her permission, then rode inside to her home. He didn't emerge until the garage doors were closed in case anyone was watching. The woman's profile and where she lived fit with the other attacks.
By nightfall, with black grease paint smeared on his face and skin, he set himself up at the end of the hallway steps from the woman's bedroom, facing the window through which the rapist was most likely to enter if he attacked that night.
Then he waited.
"If he came in that window, he wasn't going back out," Phillips said.
But the suspect never appeared.
"If we had the kind of crime pattern analysis that they have today, I think there was a good chance we would've caught him," he said.
Even pulling fingerprints off a victim's body through a method called iodine fuming was relatively new. And in many of the crimes, officials say DeAngelo used gloves.
"In those days we didn't have DNA," said Ray, the former Santa Barbara County detective. "Other than ballistics we had very little evidence from the scene that would connect all the cases."
In Orange County, Ronald Veach, who led the investigation of the Witthuhn case, tried to connect the Irvine and Santa Barbara County killings and the slayings of Keith and Patrice Harrington in Dana Point by focusing on ligatures.
But a test of the fibers used to tie up victims in each case was a dead end, he said.
"There wasn't a week that went by where I didn't think about the case and things I may have missed or didn't see and it went well on into my retirement," he said. "We couldn't say definitively that any cases were tied because we didn't have the DNA at the time to do it. But based on M.O. we felt there were many similarities."
The multiple investigations that failed to identify DeAngelo as a suspect were victims of their time, said Ron Martinelli, a retired San Jose police detective and expert forensic criminologist who was never involved in investigating the Golden State Killer.
"We had no patterning, criminal pscyhological profiling" or strict protocols for maintaining the integrity of a crime scene, he said. "It was just basically a lot of gumshoe and asking questions and trying to gather as much evidence as possible."
DNA technology fully arrived in 2000, and relative to the decades before, the investigation into the Golden State Killer began evolving much more rapidly.
At first came a wave of media coverage announcing that the man who had prowled Visalia was also the man who raped in Sacramento and killed there and in Southern California. His moniker graduated to the Golden State Killer, triggering a wave of national headlines, exposes on true-crime TV and theories about his identity.
Many of the detectives who had been tracking the crimes in isolation over the decades kept tabs on the investigation. Some continued working the case after their retirements.
Investigators regularly searched the usual databases for DNA matches including with the FBI and Interpol, without success. Only recently did they tap into the world of genealogy and family history.
This year, Paul Holes, a Contra Costa County district attorney investigator approaching retirement, compared crime scene DNA with a genealogy website full of family histories and hereditary information.
Within weeks, authorities were surveilling DeAngelo in Citrus Heights, a Sacramento suburb.
In the six days before his arrest April 24, detectives surreptitiously obtained two samples of DeAngelo's discarded DNA.
It was the match they had been waiting for, prosecutors say.
---
UPDATES:
4:35 p.m.: This article was updated to clarify the definition of a secretor.
10:20 a.m.: This article was updated with additional details from a detective.
This article was originally published at 3 a.m.
Sign up for Essential California for news, features and recommendations from the L.A. Times and beyond in your inbox six days a week.
You may occasionally receive promotional content from the Los Angeles Times.