Judge orders ex-Olympic boxing champion Paul Gonzales to stand trial on molestation charges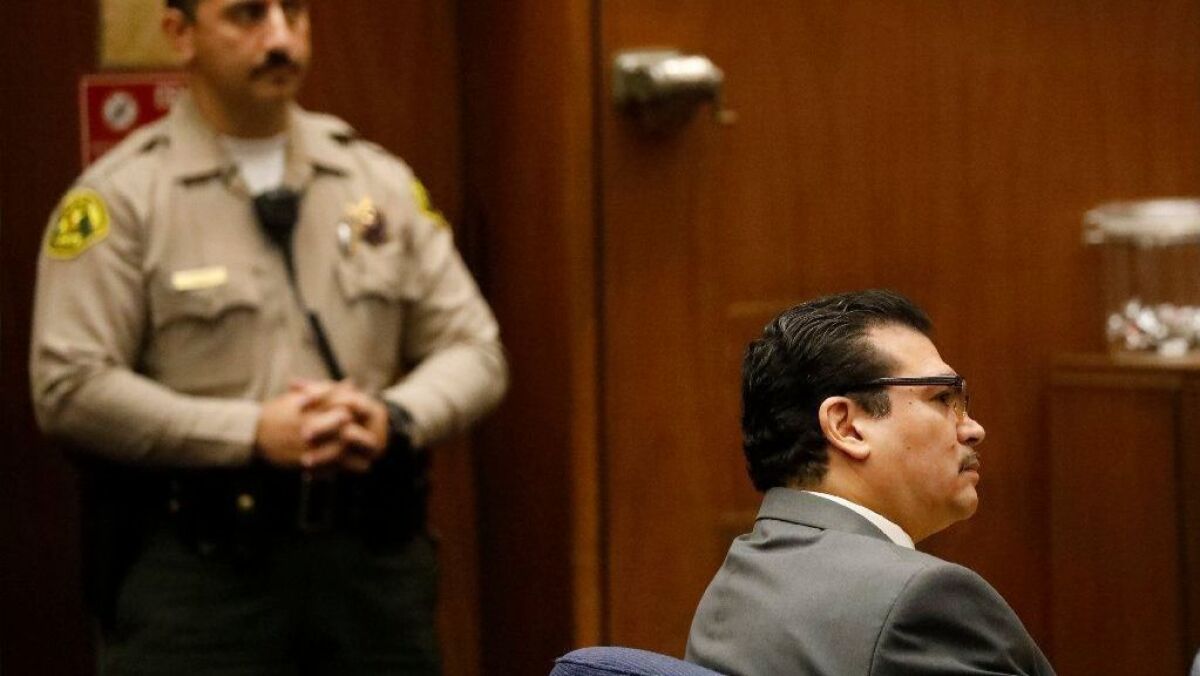 Paul Gonzales, a former Olympic boxing champion accused of molesting a 13-year-old he was coaching, was arrested on his way to what he believed would be a sexual encounter with the girl, an investigator testified in a downtown courtroom Friday.
Los Angeles County sheriff's Det. Max Fernandez, posing as the girl, scheduled the meeting via text messages and waited outside Gonzales' Montebello home in an unmarked vehicle, he said.
When Gonzales was stopped Dec. 29 near his home, authorities found in his pocket an unopened condom and herbal supplements that were intended to be substitutes for Viagra, Fernandez said in his testimony.
Gonzales, a youth boxing coach at Eddie Heredia Boxing Club in East Los Angeles, is accused of "grooming" the young aspiring boxer and engaging in multiple sexual acts after she joined an afterschool program at the county-run gym.
After prosecutor Jennifer Cops and Gonzales' attorney, Joseph Gutierrez, questioned the now 14-year-old girl Thursday and Fernandez on Friday, Judge Ronald Coen ordered that Gonzales, 54, be held over for trial on eight felony counts charges, including four counts of committing lewd acts upon a minor and possession of child pornography. He has pleaded not guilty.
During the hearing, Cops delved into text messages that Gonzales and the girl exchanged between August and December 2017, which included sexually explicit photographs and texts. Fernandez said the girl sent a total of 19 photographs, four of them in which she appeared fully nude.
Cops prompted Fernandez to read aloud text messages in which Gonzales told the girl her body belonged to him, called her his "little wife" and warned her not to talk to others about their exchanges.
"I don't share you with anyone," one text message read. "I will not do anything to jeopardize my career and life."
"I have a lot more to lose than some punk kid you want to send those pictures to. Think about it baby," read another message.
Fernandez also testified that Gonzales attempted to comfort the girl when she expressed fear of becoming pregnant.
"I'm scared, what if it doesn't work?" the girl said in a text conversation about meeting in a hotel room. "I'm scared, I'm scared, I'm scared. I don't want to have a baby, I'm really scared."
In his questioning, Gutierrez highlighted inconsistencies in the investigation, pointing out that the girl did not report several alleged encounters between her and Gonzales in the first three interviews with investigators.
He asked Fernandez to confirm that the girl initially reported only that Gonzales kissed her, lightly patted her buttocks and pulled on her shoulder. He read aloud suggestive and sexually explicit messages sent by the girl, asking Fernandez to confirm that the girl had sent them.
Gutierrez also showed Fernandez photographs of the boxing club, which has wide doors, open spaces, mirrors and frequent in-and-out traffic of students, coaches and family members.
The defense attorney asked Fernandez whether he questioned the girl about why she hadn't disclosed the incidents in the first three interviews. The detective replied that he had.
Cops asked what the girl's response had been when Fernandez asked why she hadn't been fully honest in those interviews.
Fernandez said the girl felt uncomfortable. The interviewers were male, and it had not occurred to investigators that she would feel more comfortable with a woman, so it wasn't until the girl met with a female prosecutor that she opened up, Fernandez testified.
In his closing statements, Gutierrez emphasized the inconsistencies in her statements and the maturity of the messages the girl sent.
"Consistency may not be the hallmark of truth, but it is an indication," he said. "Now what's incredibly telling is there's no other witnesses at the gym...it's a public gym...with large open areas."
The defense attorney acknowledged the girl's young age and vulnerability but argued that she was "sophisticated beyond her years."
"Between the thought and the act, there's a world of a difference," he added.
Gonzales won a gold medal — the first Mexican American to do so — at the 1984 Summer Olympics in Los Angeles. He became an inspiring figure in the Eastside, and the "prince of the barrio" regularly gave motivational speeches in schools.
The former Olympian was hired at the boxing club in 2007 and coached many students ages 8 to 19 daily, said Lt. Todd Deeds, with the sheriff's special victims bureau.
Gonzales' next arraignment is scheduled for Aug. 3.
---
Life is stressful. Our weekly mental wellness newsletter can help.
You may occasionally receive promotional content from the Los Angeles Times.