Gov. Jerry Brown vetoes quake safety bill that aimed to create a tougher construction code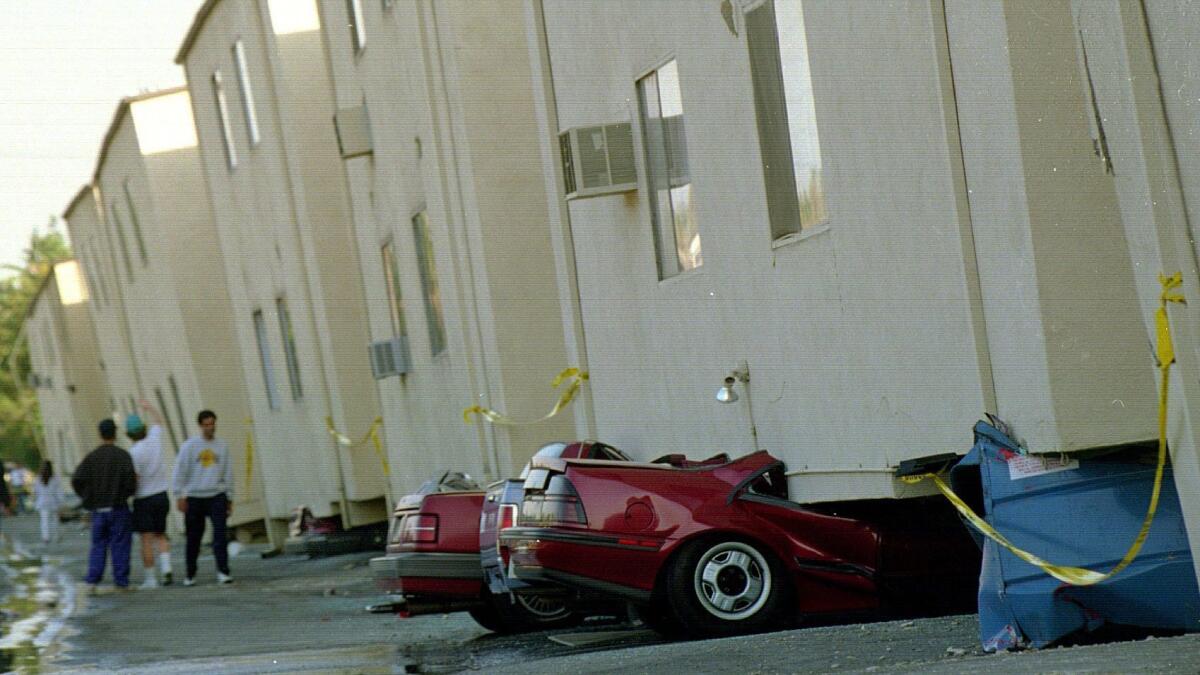 California Gov. Jerry Brown has vetoed a bill intended to draft a tougher construction code to keep buildings usable after a major earthquake.
The state's current minimum requirements for construction allow new buildings to be so severely damaged in a major earthquake that they must be torn down. Quake safety advocates have promoted a new building standard that would have buildings built stronger in the first place, so they can be repaired and reoccupied relatively quickly after a major earthquake.
The proposed law, Assembly Bill 1857, would have established a committee to evaluate whether a tougher building standard should be adopted, and to determine criteria for that standard. The committee also would have been asked to determine whether the new rule should be mandatory or voluntary.
But Brown wrote that the federal government's National Institute of Standards and Technology is in the beginning stages of developing a similar standard for new buildings.
"Instead of duplicating this federal process at the state level, it would be wise to allow the institute to finish its work," Brown wrote in his veto message.
The author of the bill, Assemblyman Adrin Nazarian (D-North Hollywood), expressed disappointment at the veto.
"California cannot place our safety and prosperity in the hands of this federal government that has shown a blatant disregard for science," Nazarian said in a statement. "I will continue to work with my colleagues and our scientific community to develop building standards that save lives, protect property and allow our economy to remain strong."
Several seismic safety advocates had backed the legislation.
Seismologist Lucy Jones, formerly a science advisor for risk reduction with the U.S. Geological Survey, has been a big advocate for increasing California's minimum building standards. Construction costs would only rise 1% to 2%, Jones said earlier this year, citing an estimate from Keith Porter, a University of Colorado Boulder research professor.
Under existing building rules, a large earthquake could render unusable so many housing units that it would trigger a mass exodus much like New Orleans suffered after Hurricane Katrina, Porter wrote in a report.
"We want a resilient society. But we can't have that if our buildings are not operational after an earthquake," Porter said earlier this year. "If you can't go back into your building after an earthquake, it's a disposable building."
The state's current building codes allow for as much as a 10% chance that a new building will collapse in the maximum credible earthquake, Jones said.
"When you look at the economic disruption … it means tenants can't go to work, it means neighbors who can't use their buildings, it potentially means people don't have a home, and it leaves businesses who don't have workers," Jones said. "The financial consequences land on all of society."
Sunday's veto was the second earthquake safety bill Brown has rejected. Last week, Brown vetoed AB 2681, which would have asked cities and counties to create lists of buildings that could be at higher risk of major damage or collapse when shaken.
Backers of the bill said creating a list of possibly vulnerable buildings in the state's most seismically active areas would represent a major step in alerting Californians to whether the buildings they live and work in should receive more study to determine whether they're at risk in an earthquake.
The governor wrote that he was concerned the bill "will not provide the greatest value for the significant investment this enterprise requires." Brown wrote that he would ask the state Seismic Safety Commission and other seismic experts to recommend "an achievable path toward improving the safety of earthquake-vulnerable buildings."
Twitter: @ronlin
Sign up for Essential California for news, features and recommendations from the L.A. Times and beyond in your inbox six days a week.
You may occasionally receive promotional content from the Los Angeles Times.