Wendy Greuel's campaign halts TV ads as cash runs short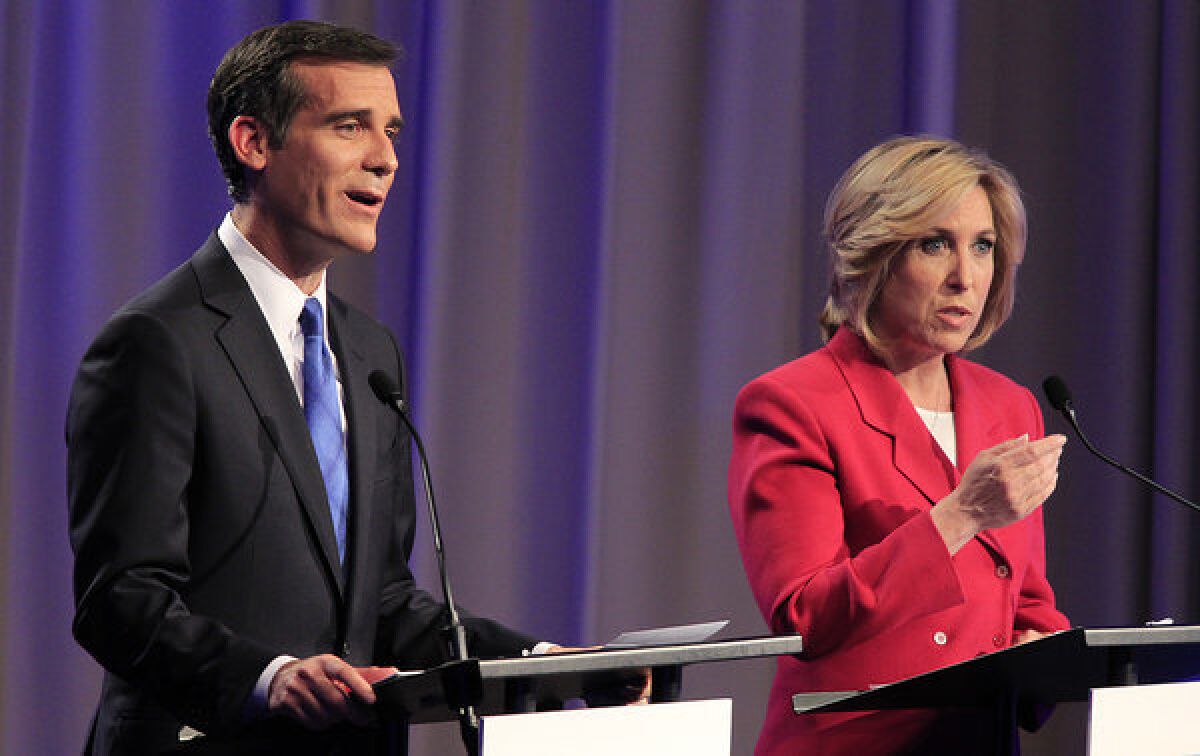 Los Angeles mayoral candidate Wendy Greuel's campaign organization has suspended her TV advertising two weeks before the election, a move that reflects her continuing struggle to raise enough money to compete head-to-head on the airwaves with her rival, Eric Garcetti.
Greuel's cancellation of ad time reserved for Tuesday and Wednesday does not entirely remove her presence from local TV stations. Working Californians to Elect Wendy Greuel, an independent committee controlled by leaders of a union for Department of Water and Power workers, is still running a spot showing former President Bill Clinton talking up her candidacy.
But the cancellation, confirmed by multiple sources who spoke on condition of anonymity, reflects the challenges that Greuel faces in the run-up to the May 21 election as a consequence of raising less money than Garcetti, but spending at a faster pace.
In effect, Greuel's cash shortfall has forced her to leave the most significant aspect of her communication with voters -- TV advertising -- to the DWP union's campaign operation just as Garcetti is making the union's support for her candidacy his main argument against her.
The sole ad that Garcetti is airing this week -- with no response spot from Greuel – alleges that she will burden the city with costly raises for members of the DWP union, the International Brotherhood of Electrical Workers Local 18.
John Shallman, Greuel's chief campaign strategist, declined to explain why Greuel suspended her TV advertising, but hinted that she would resume soon. "Don't drift too far from your TV -- stay tuned," he said.
It is unusual for a Los Angeles mayoral candidate to stop TV advertising two weeks before an election, a time when campaign commercials are typically running at full force. Shallman said Greuel was still reaching voters with extensive mail, phone calls and home visits from canvassers. "We're moving to a little more targeted-style campaign," he said.
Shallman also said that Greuel was holding large fundraisers nightly, including an event she held Monday with basketball star Magic Johnson at the House of Blues. "We're 100% confident we're going to have the resources necessary to win the race," he said.
After canceling the ad time it had reserved for Tuesday and Wednesday, Greuel's campaign had none scheduled on at least three of the broadcast stations that had been running her commercials; that can change on short notice.
Garcetti strategist Bill Carrick said Greuel's campaign had "run out of the capacity to keep funding their campaign's communications budget, even on an emergency day-to-day basis."
"There are now two campaigns on the air in Los Angeles -- the Garcetti for Mayor campaign and the DWP union 'super PAC,'" Carrick said. "The Greuel campaign is literally on the sidelines watching what's going on."
Shallman, however, said the Garcetti campaign's confidence was belied by its airing of a "purely hypocritical nasty negative ad that flat-out lies about Wendy Greuel" and the DWP.
"Eric Garcetti's in free-fall," Shallman said. "And what candidates do when they're in free-fall is they get desperate and start attacking negatively."
ALSO:
3.5 quake strikes near Ventura
Limo fire: Death toll 'beyond words,' CHP official says
Record $2.25-billion fine urged in deadly San Bruno blast
Twitter: @finneganlatimesmichael.finnegan@latimes.com
---
Life is stressful. Our weekly mental wellness newsletter can help.
You may occasionally receive promotional content from the Los Angeles Times.