Hannah Anderson: Teen may be fielding online questions about ordeal
Phillip Garrido enters a courtroom in Placerville, Calif. Phillip Garrido was sentenced to 431 years in prison for Jaycee Dugard's abduction.
(Rich Pedroncelli / Associated Press)
A tent in the backyard of a home in Antioch, Calif., where authorities say kidnap victim Jaycee Lee Dugard lived.
(Paul Sakuma / Associated Press)
Elizabeth Smart addresses the media outside a federal courthouse following the guilty verdict in the Brian David Mitchell trail in Salt Lake City. Mitchell was found guilty in the June 5, 2002, kidnapping of Elizabeth Smart.
(Colin E. Braley / Associated Press)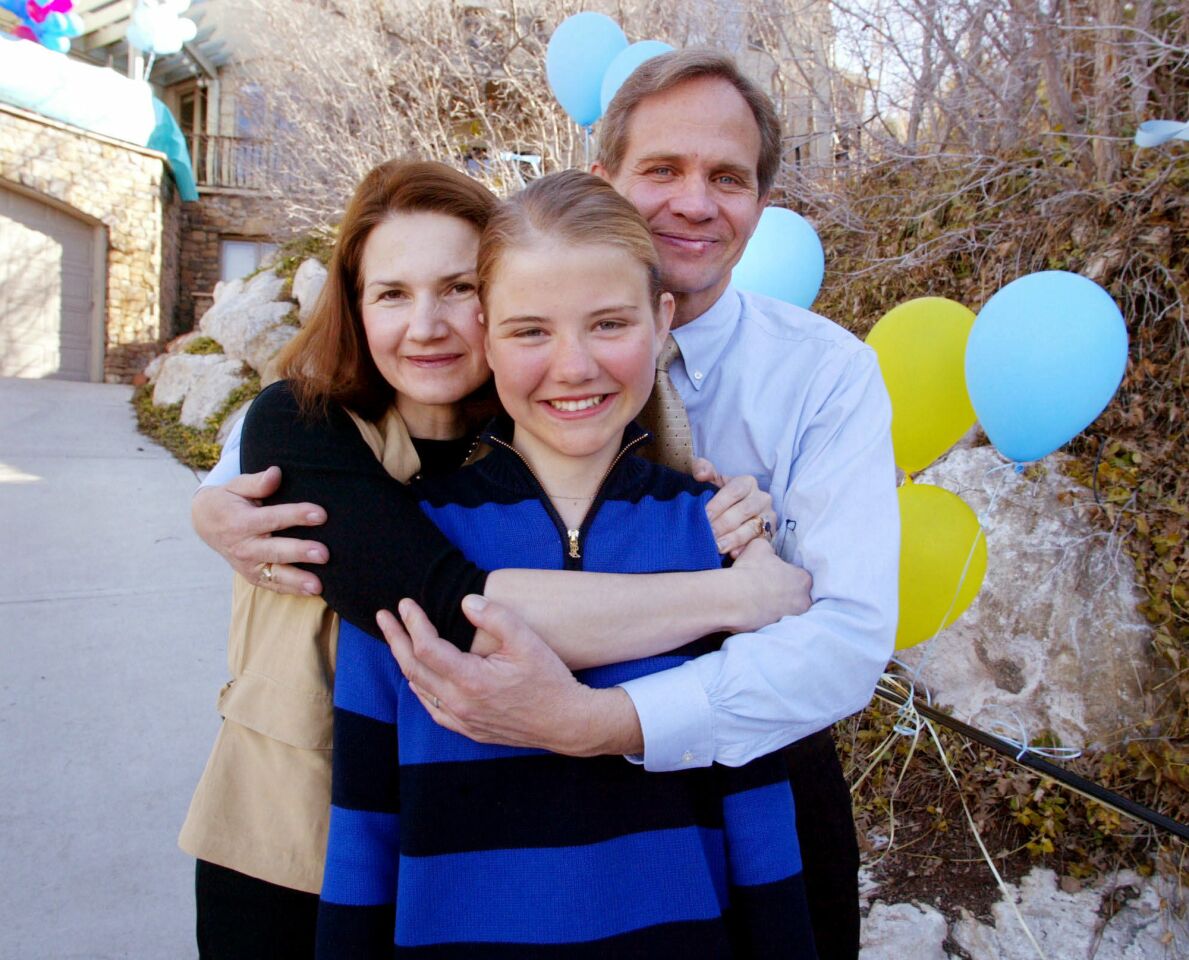 Elizabeth Smart poses with her parents, Lois and Ed, outside their home in 2003. Smart was abducted from her Salt Lake City bedroom in 2002
(Tom Smart / Associated Press)
Brian David Mitchell, Elizabeth Smart's kidnapper, is escorted into the Frank E. Moss Federal Courthouse in Salt Lake City in 2010.
(Jim Urquhart / Associated Press)
Katie Beers, whose kidnapping attracted nationwide headlines in 1992, poses for a photo in Old Westbury, N.Y. The 30-year-old mother of two co-wrote a new book about her ordeal.
(Frank Eltman / Associated Press)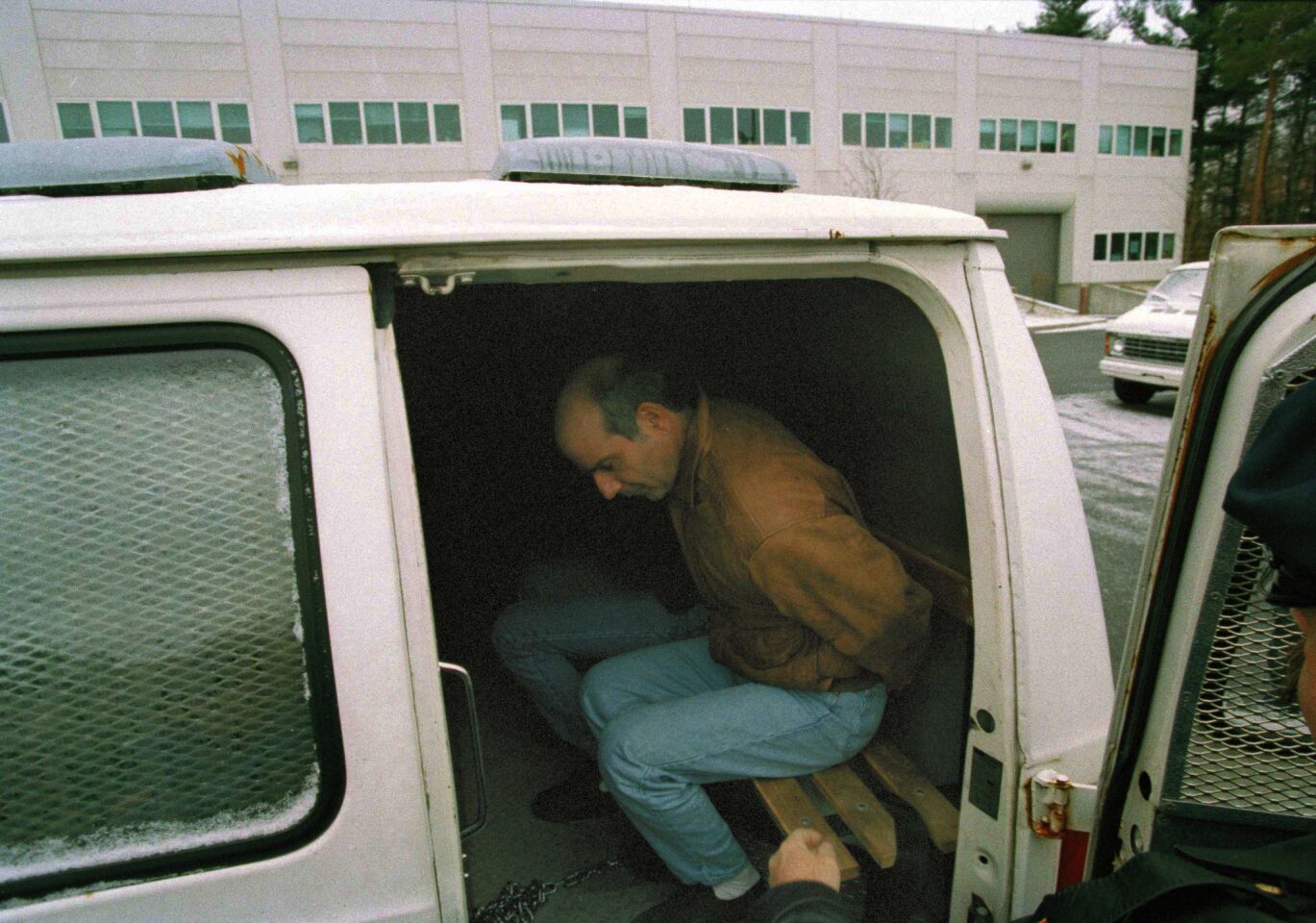 John Esposito sits handcuffed in a van in Hauppauge, N.Y., as he is about to be taken to court for arraignment on charges of kidnapping Katie Beers.
(Michael Albans / Associated Press)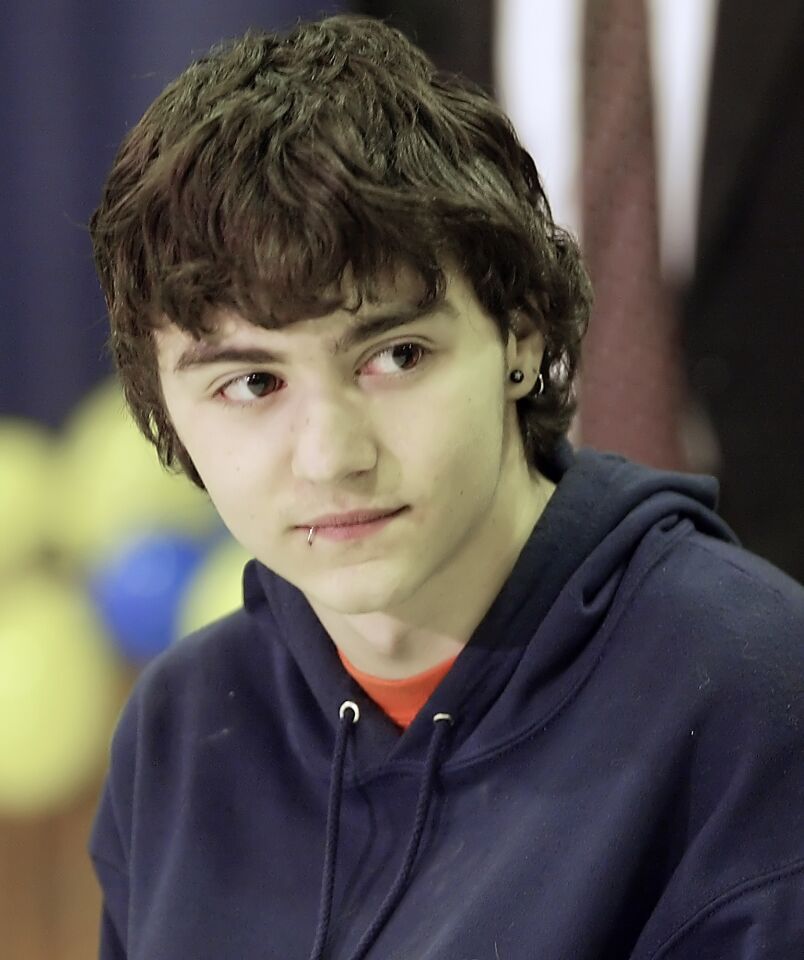 Shawn Hornbeck, 15, watches as his parents Craig and Pam Akers talk to the media in Richwoods, Mo. Shawn, who was missing since Oct. 2002, was recovered in 2007 with another missing boy.
(Tom Gannam / Associated Press)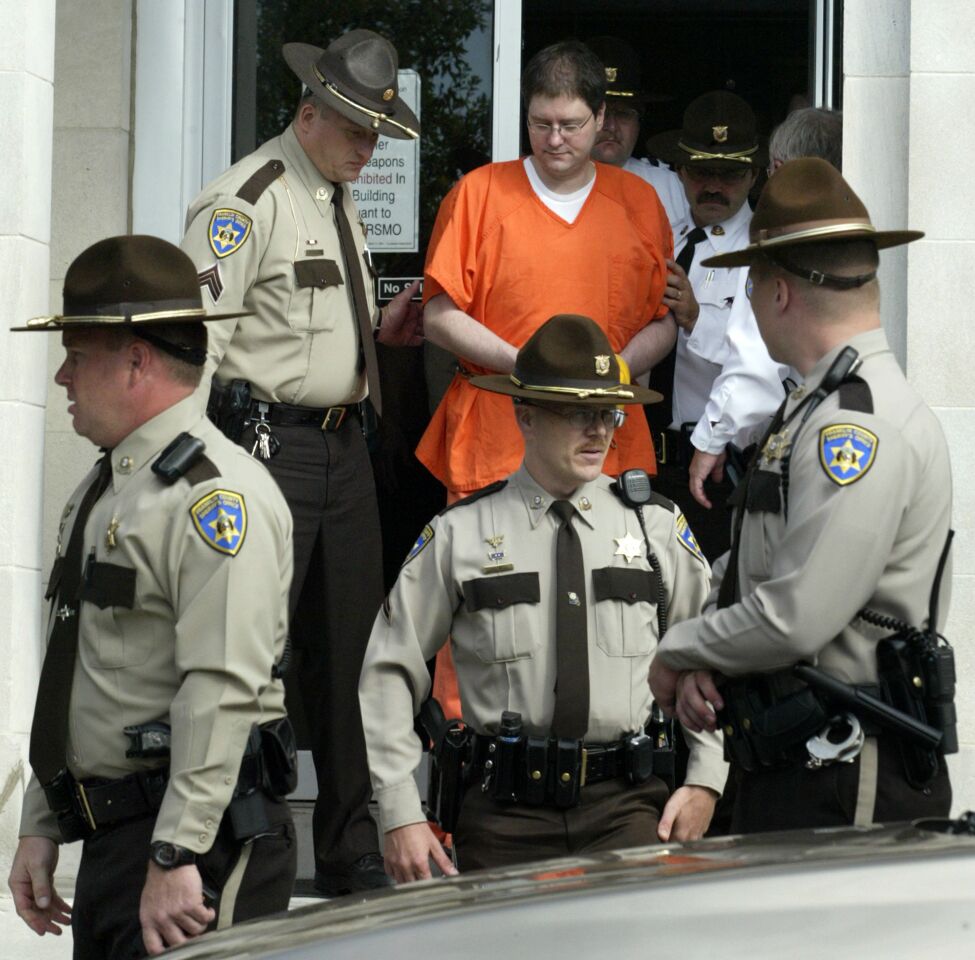 Michael Devlin is escorted out of the Franklin County Courthouse in Union, Mo. Devlin pleaded guilty in Franklin County to one charge of child kidnapping and one count of armed criminal action in the 2007 abduction of 13-year-old William "Ben" Ownby.
(Tom Gannam / Associated Press)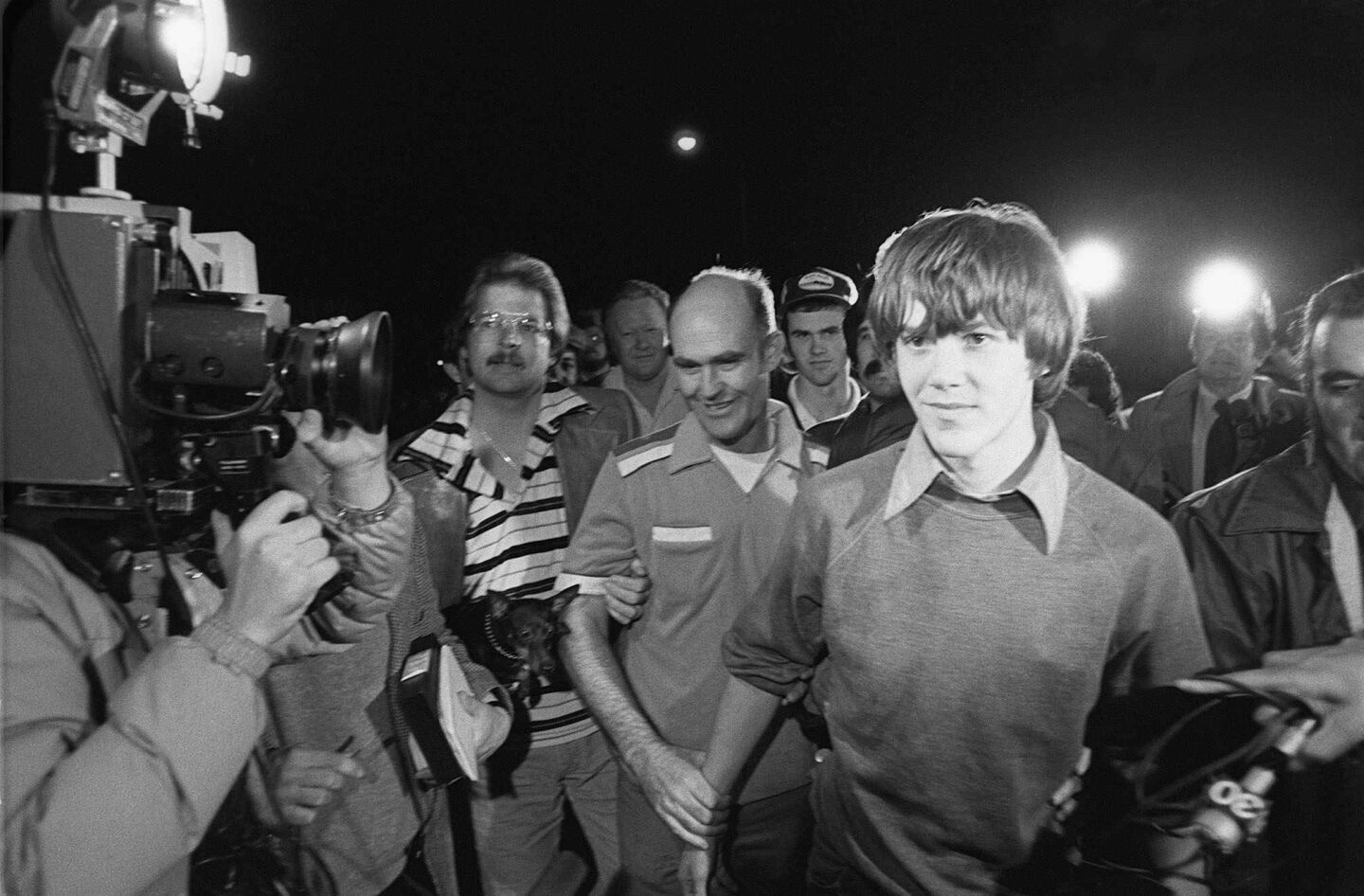 Steven Stayner, right, and and his brother Delbert Stayner walk toward their Merced County home as Steven was reunited with his family following a 7-year kidnap ordeal.
(Ted Benson / Associated Press)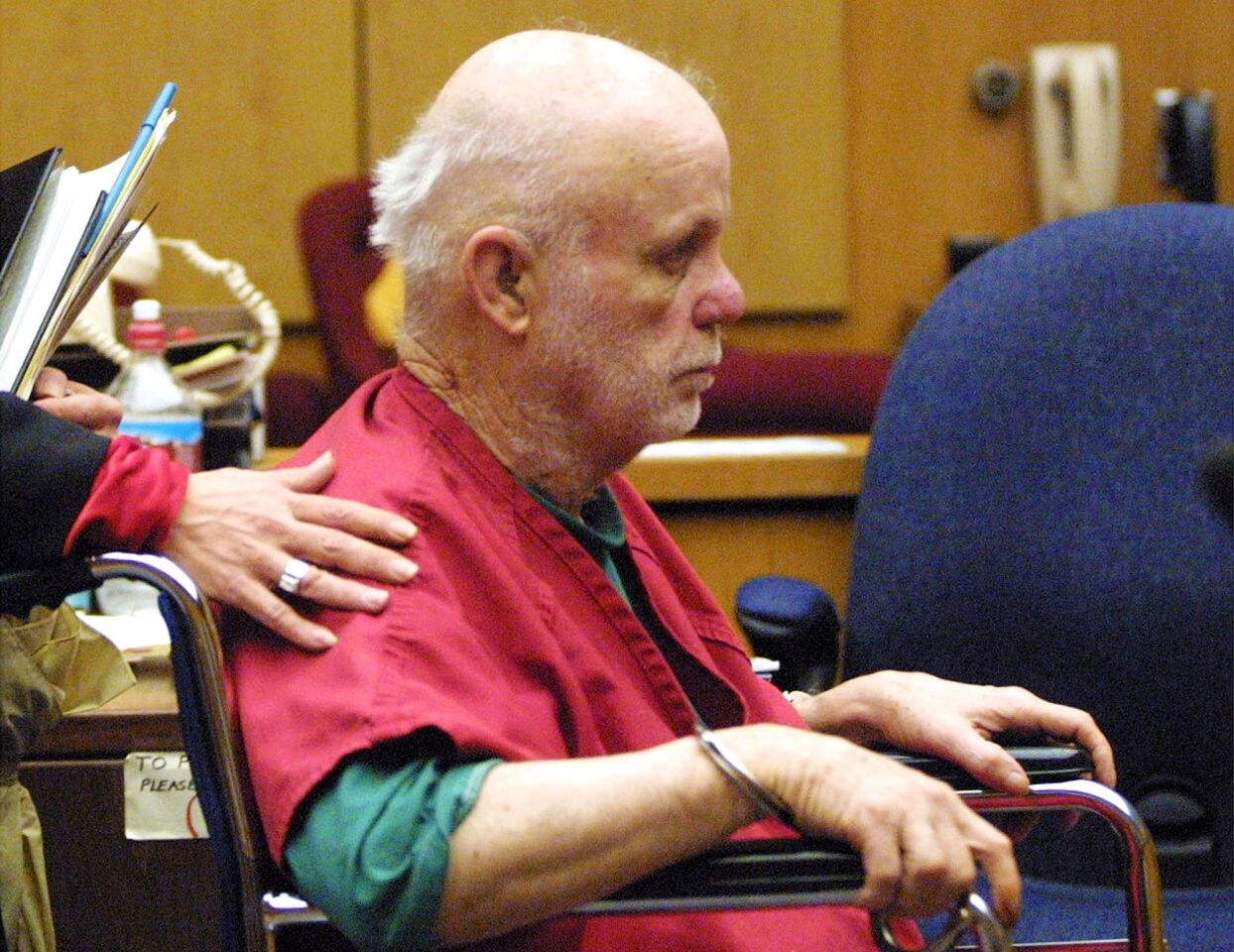 Convicted kidnapper Kenneth Eugene Parnell during a court appearance in Oakland in 2003. Parnell was convicted in the kidnappings of Steven Stayner in 1972 and Timothy White in 1980.
(Nick Lammers / Associated Press)
<i>This post has been updated. See note below for details.</i>
Someone claiming to be 16-year-old Hannah Anderson has answered hundreds of questions on the social media site Ask.fm about everything from the six-day kidnapping ordeal to her favorite song and color.
Officials from the San Diego County Sheriff's Department and FBI declined to confirm that the teen is behind the unusually candid question-and-answer posts. However, both agencies said they are aware of them and in contact with the Anderson family. Neither of the agencies or Ask.fm have removed the postings, which is common on social media when something is determined to be fraudulent.
[Updated at 8:45 a.m. Aug. 14: The account was disabled sometime after 8:30 a.m., but it was not immediately clear who did so or why.]
Family members have not commented on the Internet postings.
Dawn MacNabb, whose son described himself as one of Hannah's closest friends, told the Associated Press that Hannah is behind the online postings. MacNabb said Alan spoke on the phone with Hannah on Tuesday and urged her to delete some of the postings.
"He said she was going to, but I don't know if she will," she said.
Most of the Ask.fm commenters have offered support for the person claiming to be Hannah Anderson, who authorities said was kidnapped by James Lee DiMaggio. DiMaggio is also suspected of killing Hannah's mother and brother and setting his home on fire in the rural eastern San Diego County community of Boulevard. He was shot and killed by FBI agents Saturday in the Idaho wilderness, and Hannah was rescued.
One person posted on the site: "You don't know me and I'm not sure I should say this because I want you to heal. I never stopped thinking about you this past week. The sheriffs did everything they could and I personally thank them for finding them."
Questions apparently posted by reporters were rebuffed. "Please leave me alone," responded the person claiming to be Hannah.
The person told of being scared all the time, rarely sleeping and constantly praying to be rescued. Of DiMaggio, the person claiming to Hannah was succinct: "I hope he burns in hell."
In response to a question about what Hannah would say to her brother and mom, the person replied: "That I'm sorry it ended like that. I wish I could go back in time and risk my life to try and save theirs. I will never forgive myself for not trying harder to save them."
The person also explained why she didn't alert the horseback riders who encountered DiMaggio and Hannah in the Idaho wilderness: "I had to act calm I didn't want them to get hurt. I was scared that he would kill them."
The online poster said she plans to see a therapist and is very upset about the death of her dog.
ALSO:
Sex offender 'person of interest' in federal investigator's death
Hannah Anderson rescued, but gray cat's fate still piques interest
Chris Brown named in suit about alleged altercation over parking spot
Twitter: @LATSanDiego
---
Life is stressful. Our weekly mental wellness newsletter can help.
You may occasionally receive promotional content from the Los Angeles Times.