Hannah Anderson says abductor James DiMaggio 'had a crush on me'
Phillip Garrido enters a courtroom in Placerville, Calif. Phillip Garrido was sentenced to 431 years in prison for Jaycee Dugard's abduction.
(Rich Pedroncelli / Associated Press)
A tent in the backyard of a home in Antioch, Calif., where authorities say kidnap victim Jaycee Lee Dugard lived.
(Paul Sakuma / Associated Press)
Elizabeth Smart addresses the media outside a federal courthouse following the guilty verdict in the Brian David Mitchell trail in Salt Lake City. Mitchell was found guilty in the June 5, 2002, kidnapping of Elizabeth Smart.
(Colin E. Braley / Associated Press)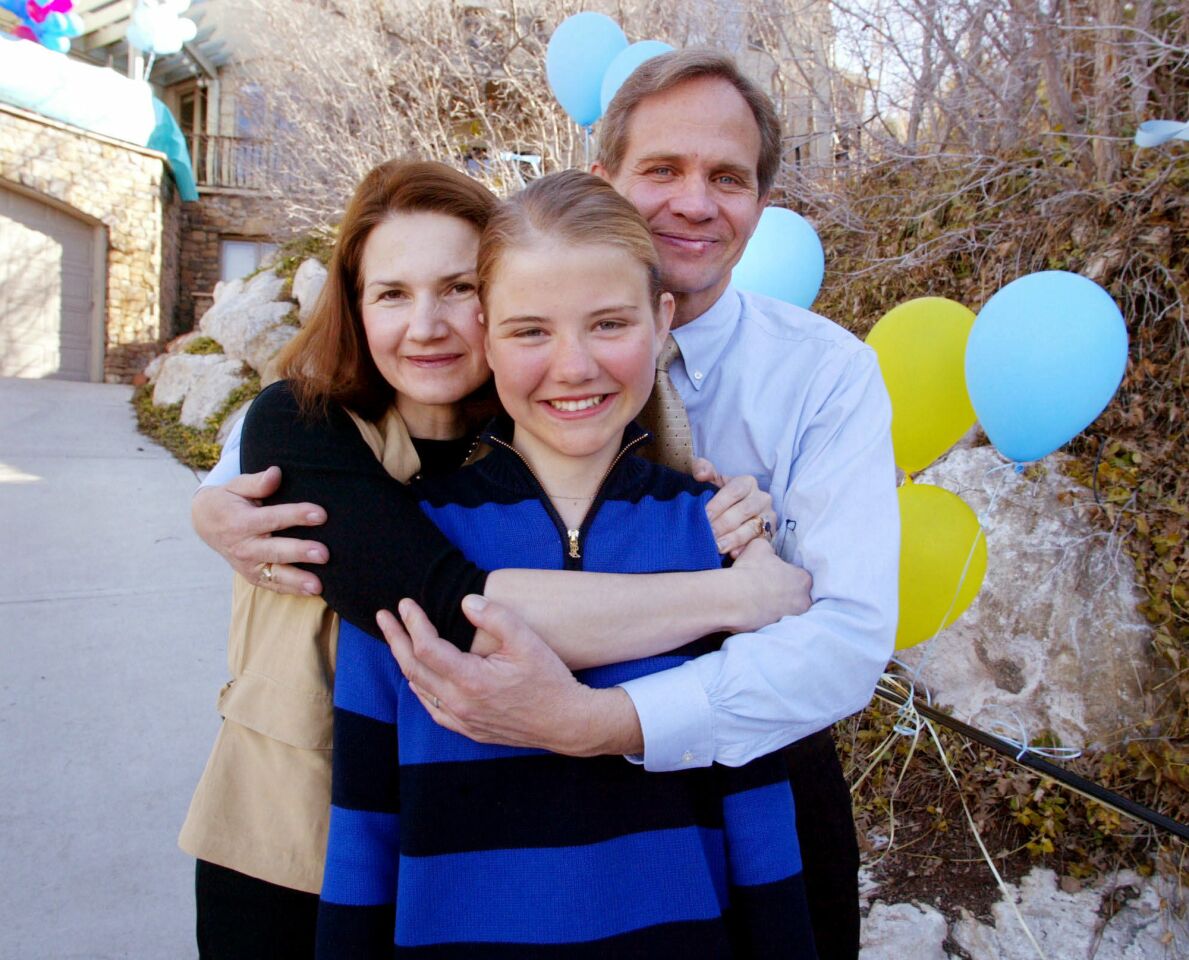 Elizabeth Smart poses with her parents, Lois and Ed, outside their home in 2003. Smart was abducted from her Salt Lake City bedroom in 2002
(Tom Smart / Associated Press)
Brian David Mitchell, Elizabeth Smart's kidnapper, is escorted into the Frank E. Moss Federal Courthouse in Salt Lake City in 2010.
(Jim Urquhart / Associated Press)
Katie Beers, whose kidnapping attracted nationwide headlines in 1992, poses for a photo in Old Westbury, N.Y. The 30-year-old mother of two co-wrote a new book about her ordeal.
(Frank Eltman / Associated Press)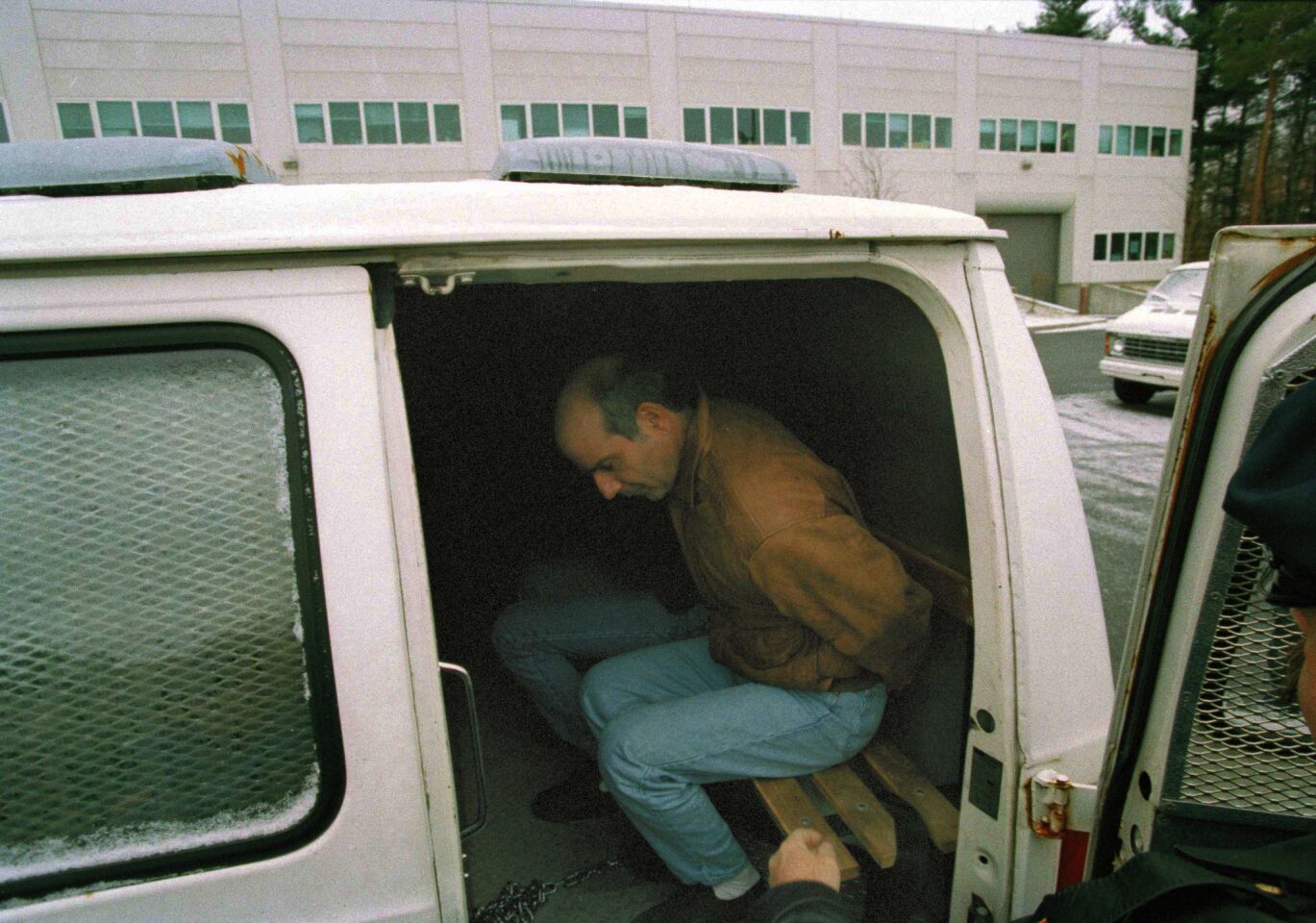 John Esposito sits handcuffed in a van in Hauppauge, N.Y., as he is about to be taken to court for arraignment on charges of kidnapping Katie Beers.
(Michael Albans / Associated Press)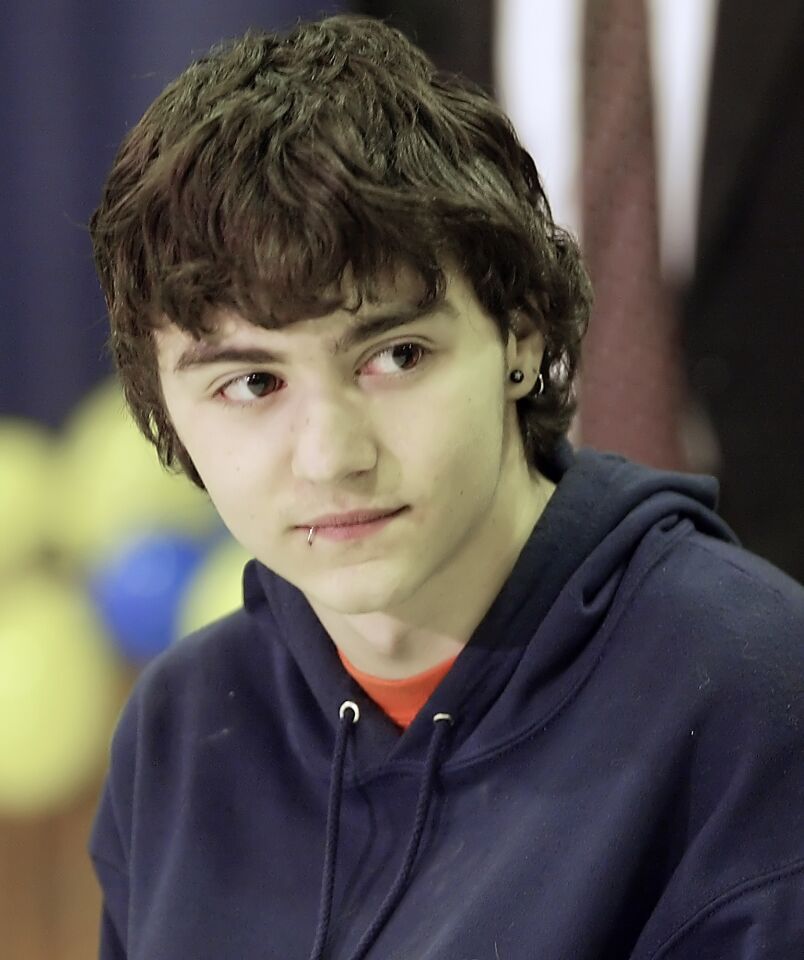 Shawn Hornbeck, 15, watches as his parents Craig and Pam Akers talk to the media in Richwoods, Mo. Shawn, who was missing since Oct. 2002, was recovered in 2007 with another missing boy.
(Tom Gannam / Associated Press)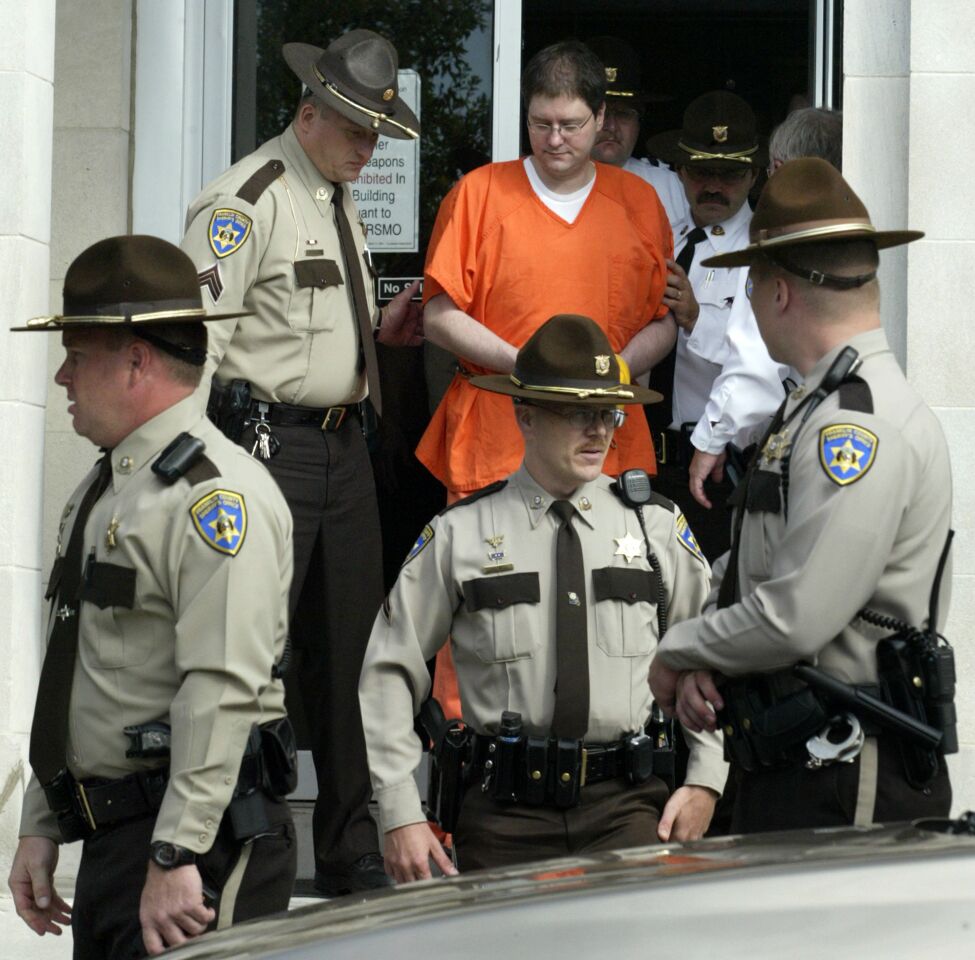 Michael Devlin is escorted out of the Franklin County Courthouse in Union, Mo. Devlin pleaded guilty in Franklin County to one charge of child kidnapping and one count of armed criminal action in the 2007 abduction of 13-year-old William "Ben" Ownby.
(Tom Gannam / Associated Press)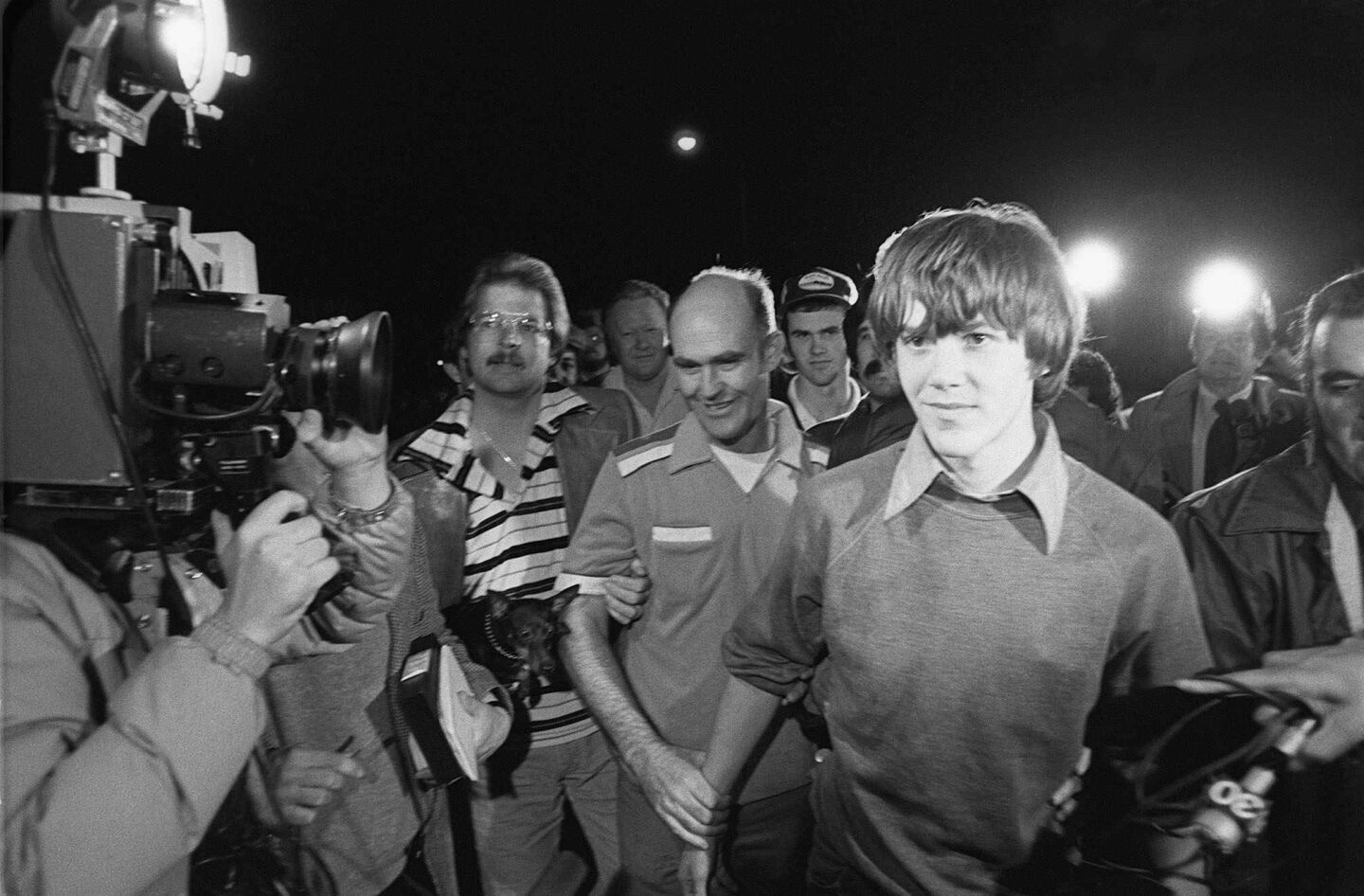 Steven Stayner, right, and and his brother Delbert Stayner walk toward their Merced County home as Steven was reunited with his family following a 7-year kidnap ordeal.
(Ted Benson / Associated Press)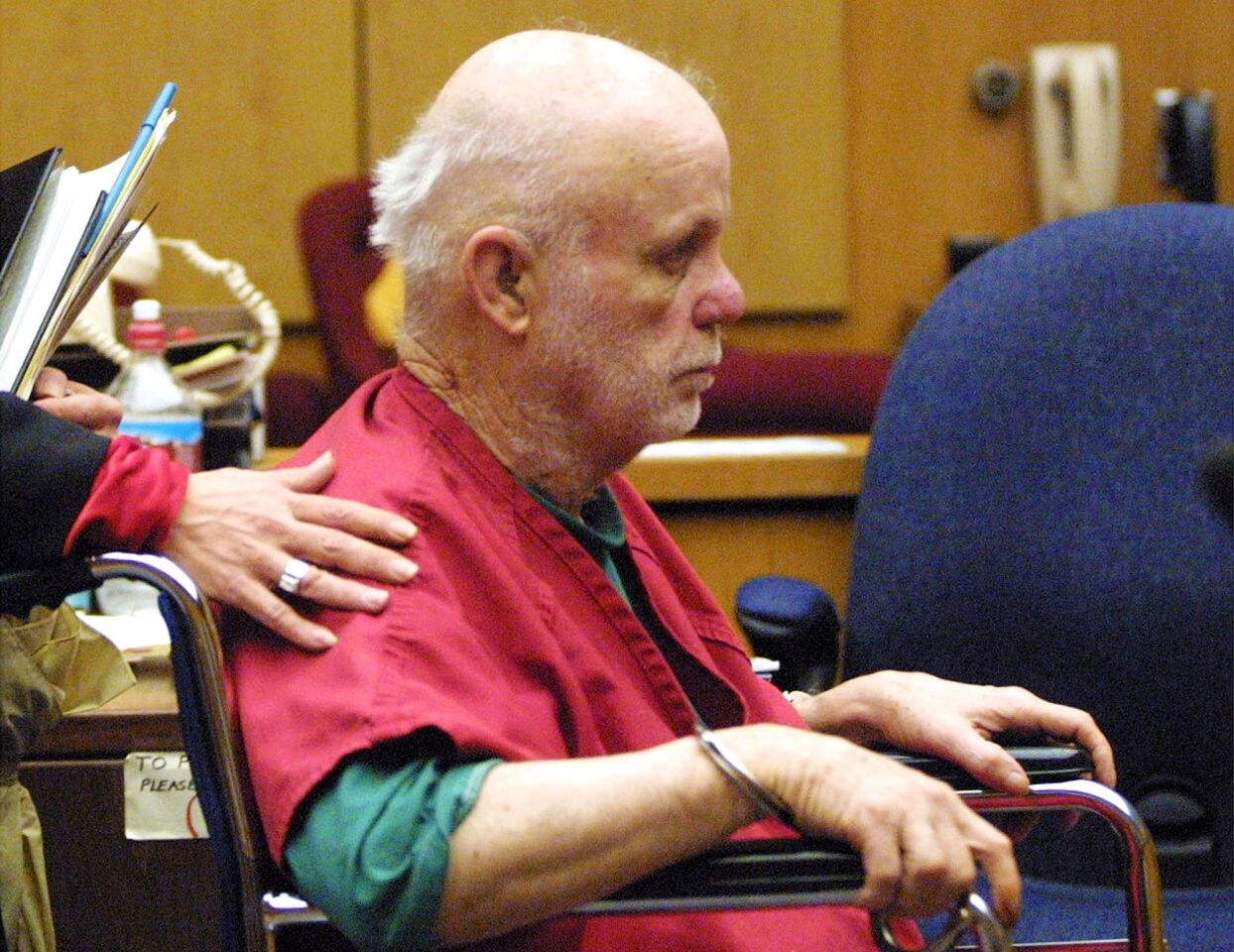 Convicted kidnapper Kenneth Eugene Parnell during a court appearance in Oakland in 2003. Parnell was convicted in the kidnappings of Steven Stayner in 1972 and Timothy White in 1980.
(Nick Lammers / Associated Press)
San Diego County teenager Hannah Anderson says her abductor, James DiMaggio, "had a crush" on her and sent text messages accusing the teenager of trying to avoid him.
Her comments in an interview with NBC's "Today" show that aired Thursday came two months after the 16-year-old was rescued from the remote Idaho wilderness.
Hannah told NBC's Savannah Guthrie that once, after a gymnastics meet, she asked DiMaggio if she could bring a male friend to his house, where she and her friends would sometimes play. She said DiMaggio told her "no" because he had a crush on her and didn't want to see her kissing her friends.
"After that, it just got really awkward around him," she told Guthrie, saying she tried to keep her distance.
"He would always text me and say that I was rude and I was trying to stay out of his life, and basically I was after that, but I couldn't because he was my dad's best friend and he was always there for my mom. So I knew that if I said something she'd be crushed," Hannah said.
But even in the week leading up to the kidnapping -- and the brutal killings of her mother and brother -- DiMaggio seemed fine, Hannah said.
The ordeal began, authorities said, when the 40-year-old DiMaggio lured the Anderson family to his eastern San Diego County home.
Hannah said she realized something was wrong when DiMaggio picked her up from cheer camp on Aug. 3 and didn't see her mother's car parked at his house.
"He said, 'Oh, they're probably next door playing with the kids,' " Hannah told Guthrie. "That's when it all went down from there."
Later, after she was handcuffed and zip-tied on the couch, DiMaggio looked crazy, Hannah said.
"You could tell in his eyes," she said. "It was just really scary."
Authorities say DiMaggio killed Hannah's mother and brother, then rigged his house to catch fire. The search for Hannah and DiMaggio, which included a multistate Amber alert, began after firefighters found 44-year-old Christina and 8-year-old Ethan Anderson's bodies in DiMaggio's burning home.
But before they left, Hannah said her abductor wanted her to play Russian roulette at his home, where she said she could hear her brother, gagged, trying to yell upstairs.
"When we got into the house, after he told me the plan, he made me play Russian roulette with him sitting on the couch," she said.
"With a real gun?" Guthrie asked.
"Yeah," Hannah replied. "And when it was my turn, I started crying and like, was freaking out. And he said, 'Do you want to play?' And I said, 'No.' And I started crying and then he's like, 'OK.' And he stopped."
Hannah said DiMaggio drugged her with what she believes were several Ambien pills before leaving his home. When she awoke, Hannah told Guthrie she was in Idaho and had no recollection of what happened.
"I was out sleeping cold that whole time. So I wasn't awake for any of it," she said.
When the teen asked where her mother and brother were, DiMaggio told Hannah they were tied up in the house, which was scheduled to ignite at 7 p.m. Hannah said DiMaggio told her he put signs on the garage so firefighters would know to rescue them.
Officials said she did not know they had been killed until after she was rescued.
Hannah told Guthrie she was too scared to try to escape because DiMaggio threatened her. He slept with a gun near his head, Hannah said, but the teen was too afraid to act when he left at night to use the bathroom.
"I could have done something, but then I would think, 'What if I, like, missed?'" she said. "I couldn't shoot someone so it's not really a chance."
DiMaggio also threatened to kill a group of horseback riders -- whose tip would eventually lead to Hannah's rescue -- if she signaled to them that she needed help, Hannah said.
On the day of her rescue, Hannah said she remembered DiMaggio trying unsuccessfully to start a fire and told him that she'd read that firing a gun three times into the air signals S.O.S. After DiMaggio fired the second time, Hannah said she heard gunshots and he fell to the ground.
"I, like, kind of looked over and was like, 'Are you OK?' And, like, then a bunch of, like, the FBI people came out telling me to get down and I was just terrified. I didn't know what was going on," she said.
DiMaggio was shot six times in the head, chest and extremities, Valley County coroner Nathan Hess confirmed Tuesday.
For the first time Thursday, Hannah was also reunited on the "Today" show with the four horseback riders who reported seeing DiMaggio and the teenager in a remote stretch of wilderness about 75 miles north of Boise. FBI agents moved into the campsite Aug. 10
The group hugged Hannah and her father one-by-one, calling the girl the "real hero" and a "tough little lady."
Teary-eyed, she thanked them, and they presented her with a cowboy hat from Idaho.
ALSO:
L.A. Fire Chief Brian Cummings to step down, mayor says
Contractor charged with fraud for allegedly taking employees' wages
Homeless man due in court in decade-old Santa Monica strangling cases
Twitter: @Sam_Schaefer |@katemather
---
The stories shaping California
Get up to speed with our Essential California newsletter, sent six days a week.
You may occasionally receive promotional content from the Los Angeles Times.