Hannah Anderson kidnapping totally 'irrational act,' sheriff says
Phillip Garrido enters a courtroom in Placerville, Calif. Phillip Garrido was sentenced to 431 years in prison for Jaycee Dugard's abduction.
(Rich Pedroncelli / Associated Press)
A tent in the backyard of a home in Antioch, Calif., where authorities say kidnap victim Jaycee Lee Dugard lived.
(Paul Sakuma / Associated Press)
Elizabeth Smart addresses the media outside a federal courthouse following the guilty verdict in the Brian David Mitchell trail in Salt Lake City. Mitchell was found guilty in the June 5, 2002, kidnapping of Elizabeth Smart.
(Colin E. Braley / Associated Press)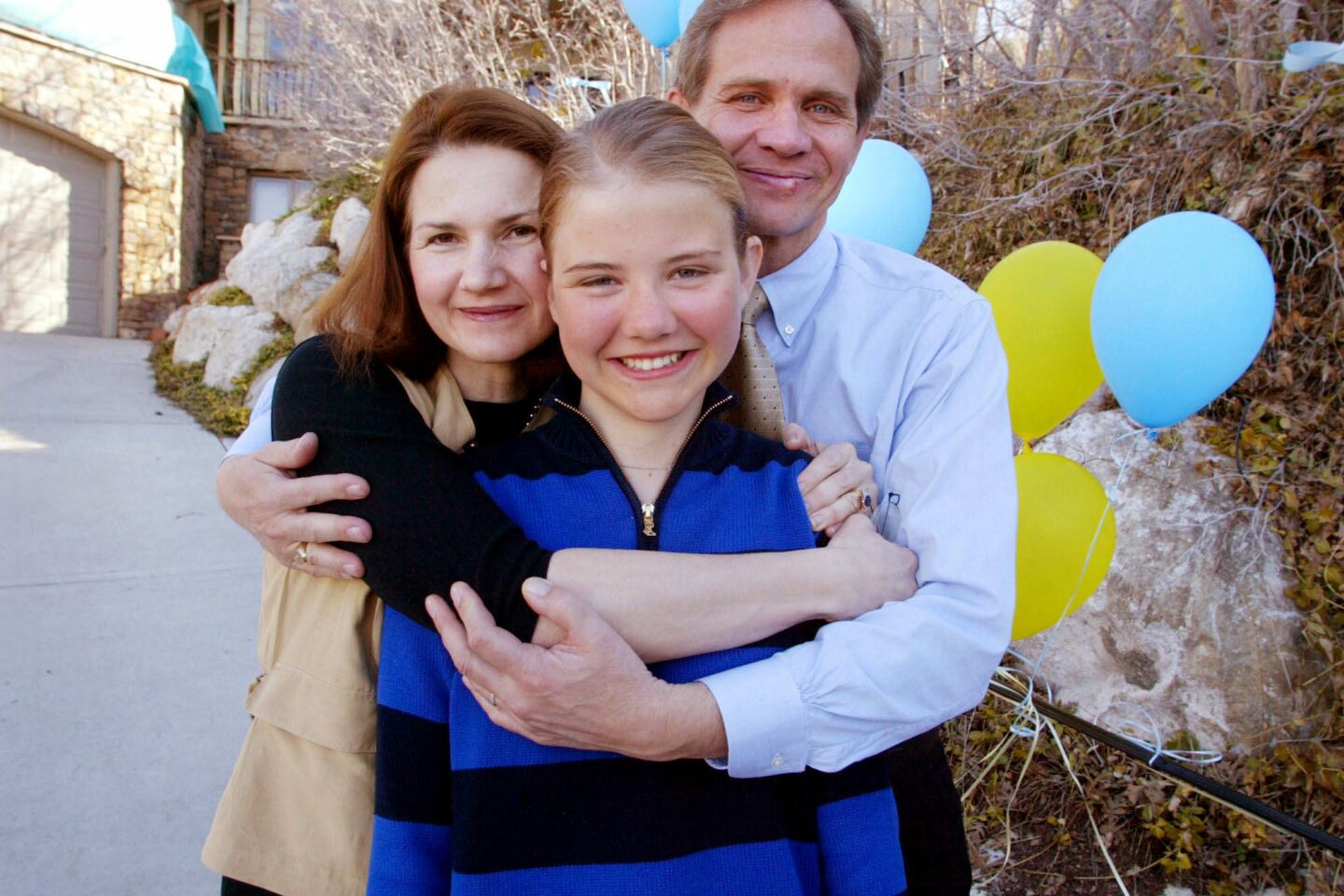 Elizabeth Smart poses with her parents, Lois and Ed, outside their home in 2003. Smart was abducted from her Salt Lake City bedroom in 2002
(Tom Smart / Associated Press)
Brian David Mitchell, Elizabeth Smart's kidnapper, is escorted into the Frank E. Moss Federal Courthouse in Salt Lake City in 2010.
(Jim Urquhart / Associated Press)
Katie Beers, whose kidnapping attracted nationwide headlines in 1992, poses for a photo in Old Westbury, N.Y. The 30-year-old mother of two co-wrote a new book about her ordeal.
(Frank Eltman / Associated Press)
John Esposito sits handcuffed in a van in Hauppauge, N.Y., as he is about to be taken to court for arraignment on charges of kidnapping Katie Beers.
(Michael Albans / Associated Press)
Shawn Hornbeck, 15, watches as his parents Craig and Pam Akers talk to the media in Richwoods, Mo. Shawn, who was missing since Oct. 2002, was recovered in 2007 with another missing boy.
(Tom Gannam / Associated Press)
Michael Devlin is escorted out of the Franklin County Courthouse in Union, Mo. Devlin pleaded guilty in Franklin County to one charge of child kidnapping and one count of armed criminal action in the 2007 abduction of 13-year-old William "Ben" Ownby.
(Tom Gannam / Associated Press)
Steven Stayner, right, and and his brother Delbert Stayner walk toward their Merced County home as Steven was reunited with his family following a 7-year kidnap ordeal.
(Ted Benson / Associated Press)
Convicted kidnapper Kenneth Eugene Parnell during a court appearance in Oakland in 2003. Parnell was convicted in the kidnappings of Steven Stayner in 1972 and Timothy White in 1980.
(Nick Lammers / Associated Press)
SAN DIEGO — For six days, Hannah Anderson was at the mercy of her kidnapper, a family friend who spirited her away to the Idaho backcountry in a blue Nissan Versa. He carried a rifle. He made threats. But he never told her about the gruesome scene he left in San Diego County.
Not until FBI agents gunned down James DiMaggio, whisked Hannah to safety and began to interview her did she learn the fate of her mother and younger brother, authorities said. DiMaggio, they said, killed them on his sprawling property near the Mexican border before setting off with Hannah, 16, and his gray cat.
Although authorities have released few details of Hannah's ordeal, they said Monday that the girl played no part in the murders and search that captivated the nation. Earlier in the search, they had been uncertain whether she went with DiMaggio willingly.
"I want to emphasize that during our law enforcement interviews with Hannah, it became very clear to us that she is a victim in every sense of the word in this horrific crime. She was not a willing participant," San Diego County Sheriff Bill Gore told reporters.
Although the investigation is ongoing, he said, authorities may never be able to piece together the reason for DiMaggio's crime rampage.
"When you get a completely irrational act like we've seen here with two murders and a kidnapping, sometimes you might not be able to come up with a rational explanation," Gore said, adding that when FBI agents cornered DiMaggio, he fired at least one shot.
Hannah has returned to San Diego County, where she will receive counseling, Gore said. Her father, Brett Anderson, who lives in Tennessee, told reporters his daughter needed privacy to deal with her grief.
"The healing process will be slow," he said, wearing a T-shirt with a photo of his blond, blue-eyed daughter. "She has been through a tremendous, horrific ordeal."
DiMaggio, a 40-year-old telecommunications technician at the Scripps Research Institute, was close enough with the Andersons that the children called him Uncle Jim. At least one of Hannah's friends said DiMaggio told the teenager he had a crush on her, which made her uneasy.
On the night of Aug. 4, investigators said, he asked the family to come to his home in Boulevard, about 50 miles east of San Diego, so he could say goodbye before he moved to Texas. It was a ruse, authorities said.
DiMaggio killed Christina Anderson, 44, possibly by striking her with a crowbar; authorities discovered her body in his detached garage. They also found DiMaggio's two-story log home engulfed in flames, with the body of 8-year-old Ethan Anderson inside.
Apparently, Hannah had been elsewhere on the large, weed-choked property, which is at the end of a two-road neighborhood.
"There was just no way that she would have been aware that her mother and little brother were dead," Gore said in an interview.
Late on Aug. 5, the case became the first in California to trigger an Amber Alert of a suspected child abduction through the state's cellphone network. Within days, the hunt for DiMaggio's Nissan had spread to much of the West.
An avid outdoorsman who had recently purchased backpacking equipment, DiMaggio sought refuge in Idaho's Frank Church River of No Return Wilderness, a daunting stretch of rocky, pine-dotted terrain. Two couples on horseback stumbled across DiMaggio and Hannah near Morehead Lake on Wednesday and rode away thinking something was amiss.
The girl was wearing what looked like pajama bottoms. The man was petting a cat. "They just didn't fit," said Mark John, one of the horsemen, who called authorities after returning home and seeing the girl's photo on TV.
"I seen a lot of fear in her eyes and I didn't like what I seen in his eyes," John said on "Good Morning America."
Authorities scoured that patch of wilderness, and on Friday, they unearthed DiMaggio's Nissan from a tangle of logs and branches near a remote trail head. The car's license plates had been removed, but authorities linked it to him via its vehicle identification number.
The next day, about six miles away, U.S. marshals circling the area in a plane spotted DiMaggio's tent. Two FBI hostage rescue teams hiked to the campsite and waited. When DiMaggio and the girl separated, they moved in.
When DiMaggio saw the FBI agents, he fired once, possibly twice, with his rifle. They returned fire, killing him.
ALSO:
Hannah Anderson 'a victim in every sense,' sheriff says
LAPD's vehicle-impound rules violate state law, judge rules
Councilman Jose Huizar denies allegations in employee complaint
tony.perry@latimes.com
kate.mather@latimes.com
ashley.powers@latimes.com
Perry reported from San Diego and Mather from Boise, Idaho. Times staff writers Powers and Samantha Schaefer in Los Angeles contributed to this report.
The stories shaping California
Get up to speed with our Essential California newsletter, sent six days a week.
You may occasionally receive promotional content from the Los Angeles Times.