Body camera video appears to show 17-year-old pointing replica gun at officer before she is shot, police say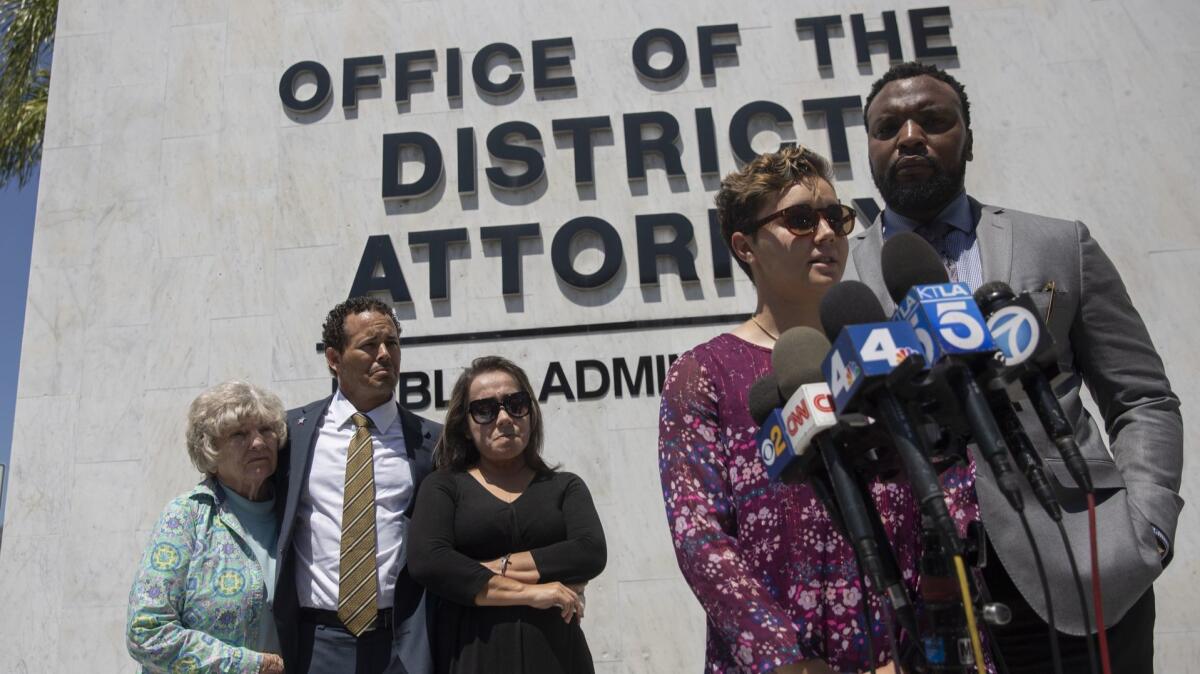 A 17-year-old girl killed by a Fullerton police officer last week appears to have been pointing a replica handgun at the officer when she was shot, according to body camera footage released by the Police Department on Friday.
The graphic 15-minute video, which also features emergency radio transmissions and statements from Fullerton police officials, provides the most complete account yet of the events leading up to the shooting of Hannah Williams along the 91 Freeway in Anaheim.
The on-duty K-9 officer was driving east on the 91 Freeway when he noticed an SUV speeding past him shortly after 7 p.m., according to a videotaped statement by Fullerton Police Lt. Jon Radus introducing the footage.
As the officer attempts to stop the vehicle for a possible speeding violation, it appears to intentionally collide with his patrol car before making an abrupt U-turn into oncoming traffic and coming to a stop facing the wrong way, Radus said.
When the officer approached the driver's side door, Williams exited and pointed the replica gun at him, Radus said. She can be seen in the video walking toward the officer with her arms outstretched.
The officer opened fire, striking her. The video shows a still-conscious Williams crying out for help as the officer and a responding Los Angeles Police Department officer handcuff her and provide medical aid.
Williams died at a hospital.
Together with the body camera video, police also released a 911 call from Williams' father in which he reported that his daughter had taken the family's rental car without permission three hours earlier and said he was afraid she might harm herself.
The call was received by Anaheim police about an hour and a half after Williams was shot, according to investigators.
"The information provided today gives the family a certain amount of closure," said S. Lee Merritt, a civil rights attorney who's been assisting Williams' family. "It's been frustrating for the past week that the family was given no narrative to explain why their 17-year-old daughter was shot."
Investigators had initially said that the replica handgun was found next to Williams but could not say whether she was holding it when she was shot, nor could they describe the nature of her encounter with the officer.
Williams' family had expressed frustration with the pace and transparency of the investigation.
The Orange County district attorney's office said in a statement that it is reviewing how its team investigates shootings by law enforcement officers in an effort to identify how to more quickly release information to family members and the public.
Merritt said he met Friday with Dist. Atty. Todd Spitzer and Fullerton Police Chief Robert Dunn to view the body camera video. He described the footage to Williams' family members because they were not mentally prepared to watch it.
"We understand that when an officer encounters someone in a shooting stance it may be appropriate to respond with the use of deadly force, given the scenario," Merritt said.
He said that it appears as though Williams was suffering a mental health crisis during the confrontation.
"She was not a danger to [the officer]; she was a danger to herself," Merritt said. "He couldn't have known that at the time, however."
Sign up for Essential California for news, features and recommendations from the L.A. Times and beyond in your inbox six days a week.
You may occasionally receive promotional content from the Los Angeles Times.