From 122 degrees in Death Valley to 100 in Sacramento, heat wave to plague California this week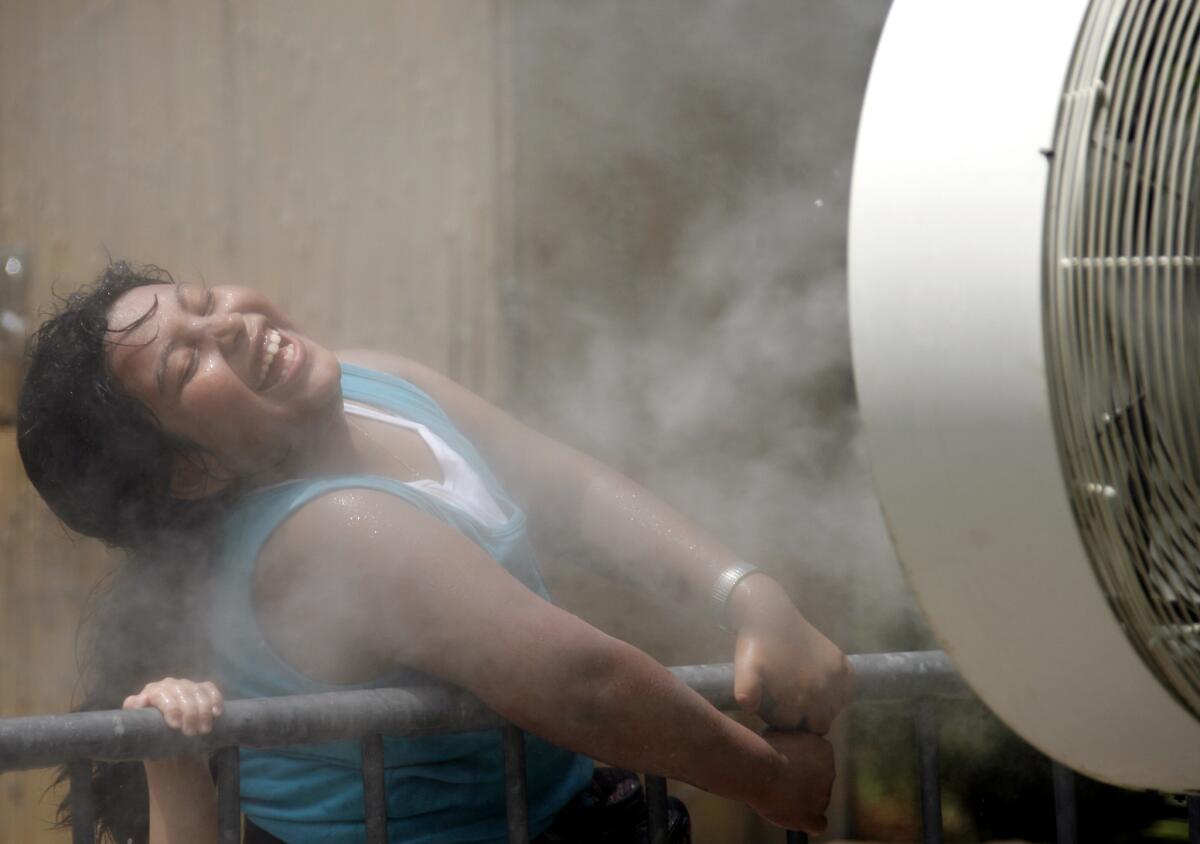 Sweltering heat will plague much of California this week and increase snowmelt along the Sierra Nevada, forecasters said.
Starting Thursday, a heat wave will grip the mountains, deserts, valleys and major cities for several days as temperatures soar into the 90s and 100s.
Because temperatures will be 15 degrees above normal across the state, forecasters urged Californians to stay indoors and keep cool to prevent any heat-related illnesses.
So far, the warm weather hasn't triggered any heat advisories or warnings.
Northern California: Bay Area, mountains and rivers
As the mercury climbs in Sacramento County, much of the area will remain dry, according to the National Weather Service in Sacramento.
Temperatures could reach 105 in Redding and Marysville, and 104 in Chico, Stockton and Sacramento on Saturday.
Along the Sierra Nevada, the weather has been a bit topsy-turvy.
On Monday, a late-season storm dropped snow flurries in Truckee and the Lake Tahoe area. But by the end of this week, temperatures were expected to jump 40 degrees and swing into the 80s, forecasters said.
The warmer weather will also increase snowmelt and likely cause flows to surge in creeks, rivers and streams, according to meteorologist Dawn Johnson of the weather service's office in Reno.
"Of greatest concern is the Walker River Basin and streams originating in the high terrain of Mono County, where plenty of high-elevation snowpack remains," she said in a forecast statement. "For those living along waterways, keep all flood mitigation measures in place and for those with recreation plans in the back country next weekend, prepare accordingly."
Showers and thunderstorms may move over the Sierra Nevada on Sunday and Monday, forecasters said.
In the San Francisco Bay Area, a high-pressure system will force temperatures to soar into the 90s.
Temperatures in Northern California for Friday and Saturday
Sacramento: 100 degrees Friday
Redding: 98 degrees Friday
Fairfield: 96 degrees Friday
San Rafael: 95 degrees Saturday
Santa Rosa: 98 degrees Saturday
Napa: 97 degrees Saturday
Livermore: 100 degrees Saturday
Merced: 101 degrees Saturday
Central California
Triple-digit temperatures will bake the San Joaquin Valley and Kern County desert, according to Carlos Molina, a meteorologist for the weather service in Hanford.
Highs could peak at 107 degrees during the weekend and drop into the 70s overnight.
"This difference of around 40 [degrees Fahrenheit] will keep the threat at lower levels, but heat is still a concern for outdoor interest," Molina said in a forecast statement.
Temperatures in Central California for Friday and Saturday
Visalia: 97 degrees Friday and 102 degrees Saturday
Fresno: 98 degrees Friday and 102 degrees Saturday
Bakersfield: 99 degrees Friday and 106 degrees Saturday
Southern California: the valleys, deserts and beaches
A heat wave will scorch Southern California for at least seven days, said Stuart Seto, a weather specialist at the weather service's office in Oxnard.
Seto attributed the extended heat to the lack of an onshore flow, which would normally help cool the valleys.
Although the warm weather isn't expected to shatter any records in Los Angeles County, it could elsewhere.
A 46-year-old heat record could be broken Saturday in Paso Robles, according to the weather service. Temperatures are expected to reach 105 degrees in Paso Robles – a degree higher than the record of 104 set in 1971.
Farther south, temperatures could hit 100 degrees in the Inland Empire and parts of Orange County, the weather service said.
The worst heat will be felt in the deserts, where temperatures will hover between 105 degrees and 115 degrees. But none will be hotter than Death Valley.
Temperatures will reach 118 degrees by Friday in Death Valley, and then hit the sizzling 122-degree mark on Saturday.
The last time it reached 122 degrees in Death Valley was on June 17, 1917, said meteorologist Brandt Maxwell of the weather service's office in San Diego. That means this week's high could either tie or break the record if temperatures increase.
"If you want to sizzle, the deserts are where you want to go," Maxwell said.
But if you are seeking relief from the heat, forecasters said, the beaches will be much cooler, with temperatures hovering in the 60s and 70s.
Temperatures in Southern California for Friday and Saturday
Woodland Hills: 101 degrees Friday
Sandberg: 90 degrees Friday
Los Angeles: 88 degrees Friday
Palmdale: 102 degrees Friday and Saturday
Lancaster: 104 degrees Saturday
Paso Robles: 105 degrees Saturday
Riverside: 96 degrees Saturday
San Bernardino: 102 degrees Friday and 100 degrees Saturday
Indio: 112 degrees Saturday
Palm Springs: 112 degrees Saturday
Death Valley: 118 degrees Friday and 122 degrees Saturday
ALSO
June gloom will give way to near-record heat later this week, forecasters say
Opinion: Using Aliso Canyon is about keeping Southern California safe during a heat wave
Sign up for Essential California for news, features and recommendations from the L.A. Times and beyond in your inbox six days a week.
You may occasionally receive promotional content from the Los Angeles Times.