Man suspected of arson arrested after 'massive fireball' tears through home in Hermosa Beach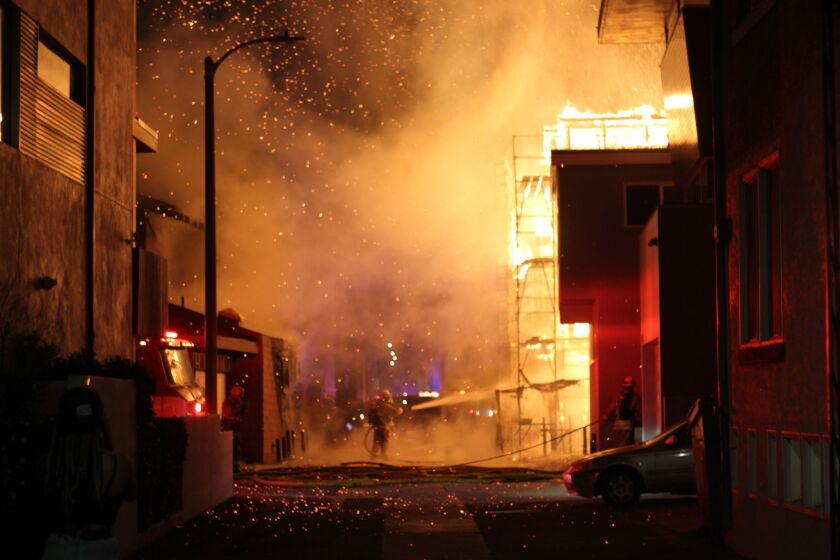 Amanda Sains stood at her window in shock as roaring flames chewed through the wooden frame of a three-story home overlooking the sand in Hermosa Beach early Thursday.
The orange glow of the inferno lighted up the darkened beach. Thick smoke billowing from the burning home, which was in the process of being rebuilt, filled the salty ocean air.
The beachfront homes are packed tightly along the Strand, which meant the fiery inferno was just a few feet from homes where some neighbors were sleeping soundly. Firefighters and police walked from house to house, pounding on doors to wake residents and tell them to evacuate.
"I thought I was watching 'Chernobyl' again," Sains said. "It felt like the whole neighborhood was on fire."
The home where authorities believed the fire started was destroyed, and four others near 8th Street and Hermosa Avenue were damaged in the blaze. Video from the scene shows flames licking up the frame of one of the houses. The roaring blaze, at its peak, extended several feet past the roof.
Hermosa Beach police, who responded with fire crews at about 2 a.m., arrested Christopher Kotva, 27, on suspicion of arson after investigators questioned him about the blaze. Kotva was initially spotted by officers running from the scene. He is being held in lieu of $75,000 bail.
It is not clear how the fire started.
By the time firefighters arrived at her door to rouse her, Sains, 29, had put in her contact lenses, grabbed her shoes and a few personal items and was starting to head outside. Minutes earlier she had been jolted awake by the repeated screams of a woman: "Get out! Get out!"
The fire grew to enormous size in just a few minutes.
Initial calls to firefighters reported a possible small fire in a building under construction. But in the short time it took for fire crews to respond, the blaze — fueled in part by the piles of lumber on the property — had exploded into an inferno, said Los Angeles County fire Inspector Brian Stevens.
Given the close proximity of the homes to one another, firefighters quickly realized they needed more resources and declared it a second-alarm fire.
"It was a massive fireball," Stevens said. "It's amazing the houses next to it didn't burn down."
It took roughly 75 firefighters about an hour to knock down the flames. One firefighter sustained minor injuries and was taken to a hospital for treatment, Stevens said.
Neighbors who were concerned that the wind might blow burning embers onto their homes pulled out hoses to spray down their properties.
"It was just a roaring, roaring blaze," Sains said. "I honestly thought my house was going to catch on fire."
Twitter: @Hannahnfry
---
For reporting and exclusive analysis from bureau chief John Myers, get our California Politics newsletter.
You may occasionally receive promotional content from the Los Angeles Times.