Woman killed by hit-and-run driver was bride in fairy tale skid row marriage
Cynthia Szukala endured hardship and homelessness before she was killed by a hit-and-run driver. But family and friends say her life was defined more by a bright outlook and generosity.
The 69-year-old also achieved brief notoriety as a skid row bride.
Szukala died when a tractor-trailer struck her outside her motor home in Boyle Heights. This week, detectives asked for the public's help in finding the driver, who sped from the scene.
"You could give her 20 bucks and she would give it to someone else," said Richard Ilizaliturri, a leader at a Mormon church Szukala attended in Monterey Park. "She would always welcome you at church and always had a smile on her face."
Szukala, who embraced the nickname "Granny," worked three eight-hour shifts a week as a volunteer at her church thrift store and pantry, where she often helped people who had more than she.
"She's very outgoing," said daughter Marie Tavis, a Garden Grove resident who found it difficult to speak of her mother in the past tense. "She loves to talk. She likes to talk to you no matter who you are or what color or nationality you are."
In 1989, the skid row wedding of Cynthia Arellano and Raymond Szukala became a bright spot amid despair and was reported in the Los Angeles Times.
The pair had become friends eight years earlier, when both worked as security guards downtown. They were refugees from imperfect lives. He'd had a failed marriage. She had four daughters but never married.
Unable to work because of health problems, they struggled through a period of homelessness before getting married. The couple had managed to move into a $240-a-month room at the Harold Hotel by the time they tied the knot.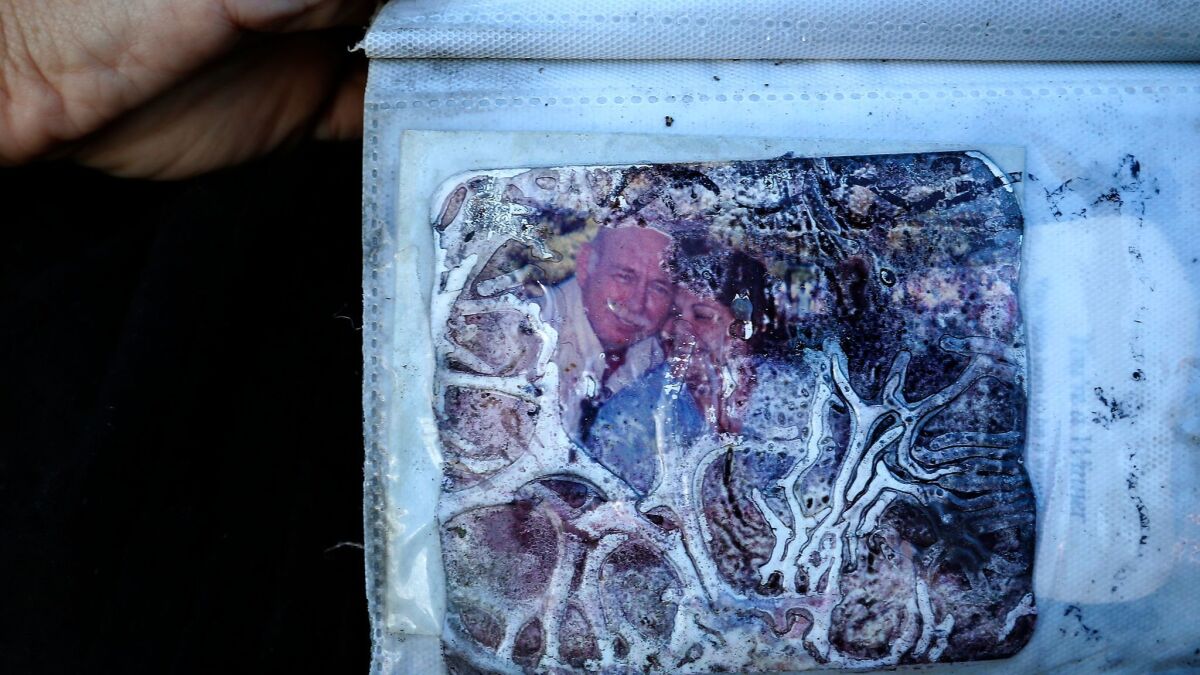 The wedding ceremony was a $300 bash across from the hotel in San Julian Park — a hangout for the people on the streets. The bride was resplendent in a bridal gown fashioned with care for $25. Two gold rings sat upon wedding pillows made from leftover material.
The Szukalas thrived with little. Public records show that they bought a small house in East Los Angeles for $98,000 in 1997.
A thick, snapshot-size photo album brims with photos from a later ceremony where they renewed vows with a proper wedding cake.
As Raymond Szukala's health declined, the property fell into foreclosure. Cynthia Szukala and daughter Aileen Kemper were evicted shortly after Raymond's death in 2007.
"They got the house, saved up for it," Kemper said. "They were very happy. After Mom lost the house, we became homeless again."
That odyssey lasted the better part of a year. They squatted in a carport for about four months. Then in a vacant house. Szukala had recently become a Mormon, and the local church helped get them into an apartment.
A fire in July 2015 destroyed nearly everything they had. From the ashes they pulled the water-damaged album from the second ceremony.
Szukala, Kemper and her boyfriend joined the city's thousands who dwell in RVs.
City laws require RVs to be moved every 72 hours, but Kemper said that police have been lenient along the industrial stretch where they are parked.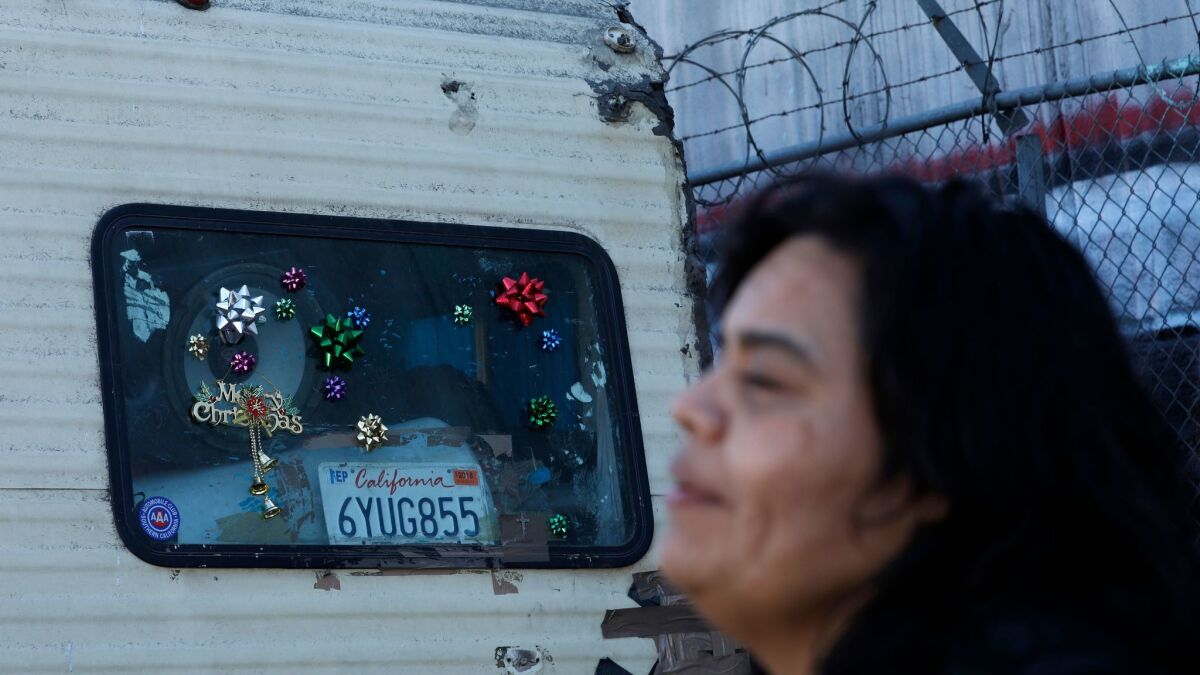 They'd been forced to move twice before, once after residents complained about RVs and a second time when officers cleared out an industrial area near high-voltage lines.
Szukala had paid $1,400 for the old Rockwood RV and she might have overpaid. The vehicle won't move on its own; church members helped tow it to its current location.
In that unlikely place, Szukala pursued a rich life.
She made friends all over, even at the bank where she kept an account. She splurged on orange chicken and fried rice at a nearby steam table and just last week set up a feeding station for stray cats about a block from her RV.
She could walk surprisingly long distances for a woman with diabetes and a heart defibrillator, and who sometimes needed a cane because of bad knees. And she skillfully navigated the bus system for trips to Target and church facilities, where she showered.
"The bus drivers all knew her," Tavis said. "When it was cold, they would let her sit in the bus to stay warm during their breaks."
Some relatives urged Szukala to move out of the RV and into their home, but she treasured her independence, they said. She refused to leave East L.A., where she grew up, and insisted on remaining with Kemper.
Their stretch of Union Pacific Avenue looks like a wide alley, but it carries constant traffic to and from warehouses and factories.
The noise of trucks and industrial activity can be close to deafening during the day. While at night, trucks speed through the pitch-black darkness.
Kemper is certain her mother was sweeping the pavement around the camper — another daily ritual — when the 18-wheeler struck her sometime after 9:30 p.m. on Dec. 21. A broom lay near her mother's body.
Hoping for leads, investigators this week released images from a security camera that may have photographed the tractor-trailer. The incident may have been an accident, but the driver committed a crime by leaving the scene and making no attempt to render or summon aid, authorities say.
Late Friday, the LAPD said on Twitter that the trucking company and big rig had been identified thanks to help from the public, but that no additional details would be released because of the ongoing investigation.
Szukala's church friend, Ilizaliturri, said he saw her the Saturday before her death.
"She was saying the trucks are driving down that street really fast and someday they're going to hit somebody," he said.
Times library director Cary A. Schneider contributed to this report.
---
UPDATES:
9:55 p.m.: This article was updated with the LAPD identifying the trucking company and big rig involved.
This article was originally published at 3 a.m.
---
The stories shaping California
Get up to speed with our Essential California newsletter, sent six days a week.
You may occasionally receive promotional content from the Los Angeles Times.