Beachwood Drive gate will soon be off-limits if you're trekking to Hollywood sign
Los Angeles will soon stop hikers and tourists from using a Beachwood Drive gate to reach a popular trail near the Hollywood sign, city officials said Tuesday.
Parks department spokeswoman Rose Watson said the city will begin redirecting pedestrians to Canyon Drive and other access points to the Griffith Park trails, including the Hollyridge Trail, in the next few weeks. The decision follows a legal battle that a Griffith Park horseback riding facility waged against the city over hikers trekking near its Beachwood Drive ranch.

For the record:
10:35 p.m. March 14, 2017
A previous photo caption with this article referred to Canyon Lake Drive as Lake Canyon Drive.
"This was one of the easiest and shortest routes to good views of the Hollywood sign," which made it especially popular with tourists who don't want a lengthy hike during a brief trip to L.A., said Casey Schreiner, author of "Day Hiking Los Angeles."
The plan has divided Beachwood Canyon residents, who have been at odds over whether the residential street should be a gateway to Griffith Park.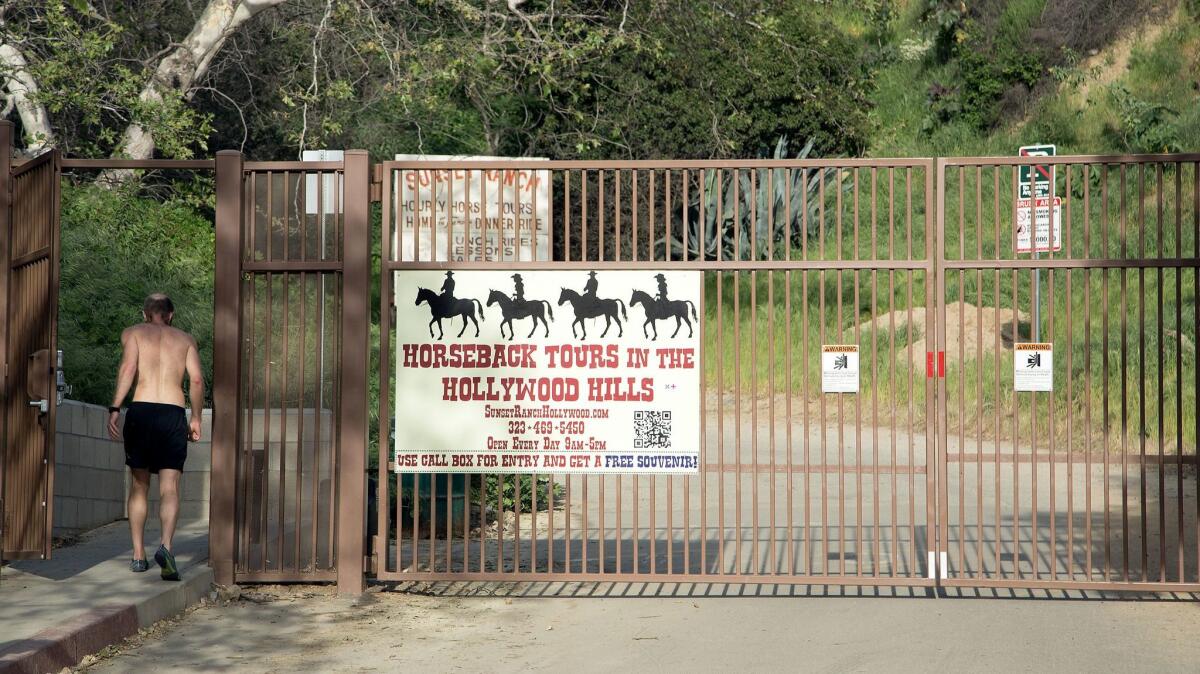 Although some have argued that the path should be easily accessible to hikers and tourists wanting a closer look at the famous sign, others have pushed to shut down public access to the trails from Beachwood Drive, complaining of traffic and safety risks from a crush of tourists.
The Sunset Ranch Hollywood Stables had its own concerns.
The ranch has long had a legal agreement allowing people to come and go through a 20-foot-wide strip of land. In their lawsuit, the ranch owners complained that the city began funneling hikers onto its "exclusive easement road" two years ago by advertising that pedestrians could safely access the area using a new gate.
In February, a Los Angeles County Superior Court judge found that that hikers could not be barred from using the easement. However, she also concluded that the city had channeled thousands of pedestrians toward the ranch every month, blocking access to the property and interfering with its use.
The judge said L.A. could allow hikers to access Hollyridge Trail as close as possible to either the beginning of the Sunset Ranch easement — near the gate at the end of Beachwood Drive — or another access point that was previously used but is currently blocked.
Watson, the parks department spokeswoman, said the city would begin directing pedestrians away from the Beachwood gate to comply with the court ruling. The change will occur "sometime in the next few weeks as we put in place enforcement to redirect and to effectively serve tourists, hikers and residents," Watson said in a statement Tuesday.
The decision saddened some hikers, including neighbors who had prized having a short walk to the wilderness through the Beachwood Drive gate. Beachwood Canyon resident Ben Sheffner, who opposes closing the Beachwood Drive access point, argued that the move would merely push problems to other areas.
Kris Sullivan, another resident of the area, said the city should have explored other ways to satisfy the court order instead of redirecting people to Canyon Drive.
"There are other solutions that are definitely possible," Sullivan said. "But do they have the will?"
Other residents who have agitated to stop tourists from heading up Beachwood Drive to the trails were pleased. Sarajane Schwartz was among a group of residents who sued the city in a separate case, contending that Los Angeles needed to halt access to the trails there while it properly analyzed fire risks and other hazards.
Canyon Drive is a much safer route for tourists, Schwartz said. Unlike on Beachwood Drive, she said, "no one has to walk in the street.… It's a dangerous situation up here."
Attorney Michael Angel, who represented Sunset Ranch in the lawsuit, said his client did not take sides in the broader battles over access to Griffith Park. However, he said it had been dangerous for hikers to mingle with hay delivery trucks and horse trailers on the steep and winding road to the ranch.
Turning hikers away from the Beachwood Drive gate was "a very reasonable solution," Angel said.
City Councilman David Ryu, who represents the area, has faced pressure from the warring groups of Beachwood Canyon residents over how to handle the issue. Ryu said Tuesday that with the Sunset Ranch lawsuit over, "we can focus on the work at hand," including long-term strategies to improve experiences for tourists and protect neighborhoods around the Hollywood sign.
Schreiner, editor in chief of the website Modern Hiker, said he sympathized with Beachwood Canyon residents concerned about the number of people walking up their street, but he had hoped the city would reach "more of a compromise" between the feuding groups.
"This is such a complicated issue — and it's been going on for years," he said.
To read the article in Spanish, click here
Twitter: @LATimesEmily
---
UPDATES:
March 14, 5:05 p.m.: This article was updated with additional context and reaction.
March 14, 2:15 p.m.: This article was updated with city officials confirming plans to block access from Beachwood Drive to the trail leading to the Hollywood sign.
This article was originally published at 9:40 p.m. on March 13.
Sign up for Essential California for news, features and recommendations from the L.A. Times and beyond in your inbox six days a week.
You may occasionally receive promotional content from the Los Angeles Times.