Hollywood Ghost Ship: Dozens found living in squalid conditions at abandoned building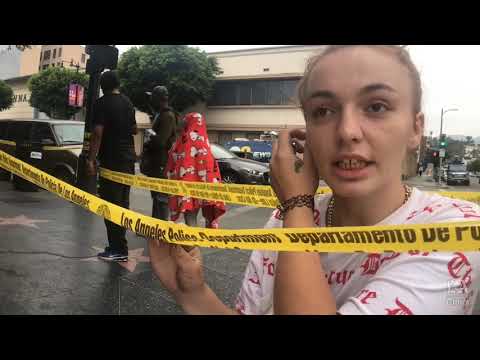 More than 60 people who were living illegally in a vacant building without electricity on Hollywood Boulevard were removed by police early Wednesday morning. (Video by Irfan Khan / Los Angeles Times)
More than 60 people who were living illegally in a vacant building without electricity on Hollywood Boulevard were removed by police early Wednesday morning.
Los Angeles Police Department investigators and SWAT officers in tactical gear arrived at the four-story building on the corner of Cosmo Street and Hollywood Boulevard about 3 a.m. Armed with a search warrant and supported by at least one armored vehicle, police ordered the building's occupants to leave at once. Eight people walked out of the building on their own, but dozens more left only when officers began combing through the building, room by room, over the course of several hours.
By the end of the search, 62 adults, four teens and three large dogs were removed from the building. Most of the occupants were released after being cited for trespassing. Those who had warrants for their arrest remained in custody, said Det. Meghan Aguilar.
Police seized drugs and two firearms — a shotgun and a rifle — during the raid.
It was immediately clear to authorities on Wednesday that the occupants had taken up residence in a building that was supposed to be vacant. Its most recent tenant, the iO West improvisational comedy theater, left the building in February.
The building was not supposed to have electric service, but Aguilar said residents had tapped wires to draw their own power, which could have led to a potentially hazardous situation.
"It could have been an absolute disaster. It could have been a fatal situation for these people," Aguilar said. "It's not like we're trying to put people out on the street, but buildings like this one are havens for all kinds of criminal activity. We can't have buildings like this in Los Angeles."
The stench of human waste overwhelmed the space, according to police, and more than a dozen makeshift rooms had been constructed in the basement area. Air mattresses, blankets and pillows were scattered on the floor of apartments upstairs. Some rooms had microwaves and coffee makers. Trash was piled on the floor.
Some residents said they paid rent — roughly $400 a month — for a room above the former comedy club. Aguilar said detectives have not confirmed whether people were giving money to the landlord or someone who had designated themselves — legally or not — as a property manager of the space.
Los Angeles City Atty. Mike Feuer filed 25 criminal charges against the building's owner, Mehdi Boulour, last week, according to Rob Wilcox, a spokesman for the City Attorney's office. The chargers were for various building and fire code violations. In a statement, Feuer evoked the memory of a fire at an Oakland artists collective which claimed 36 lives in 2016 after a blaze broke out in a warehouse that had been illegally converted into an artists collective.
"Our office continues to work to prevent a tragedy like the Oakland Ghost Ship fire from happening here," the statement read. "Our actions at this location are just part of our sustained effort to target properties we allege pose a public safety threat."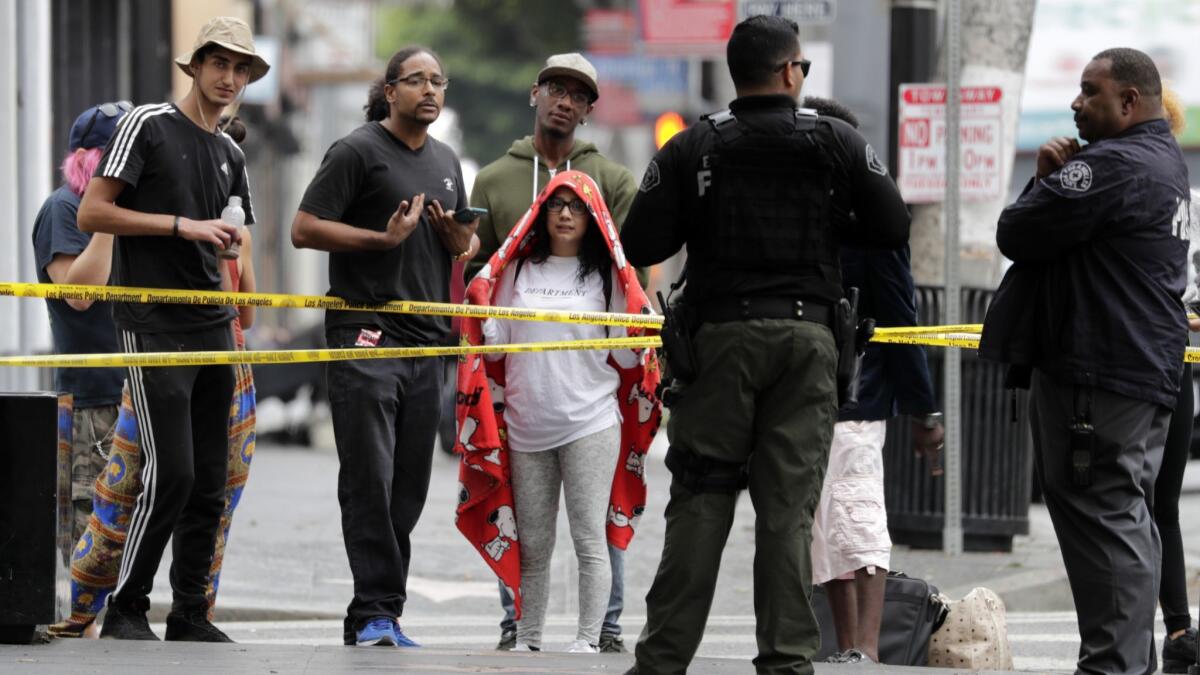 Andre Bergerren, a former resident of the building who moved to Los Angeles from Houston in 2016, said some residents had begun staying at the property after being evicted from a nearby artists' collective. Many of the residents feared the LAPD would lose or destroy their possessions after the raid, while others expressed concern about where they would sleep for the night.
"These people are gonna be on the street," Bergerren said.
The space had been on the LAPD's radar since the beginning of summer, when authorities say community members began complaining about increased drug use along that stretch of Hollywood Boulevard. In June, police focused on the building and removed 20 people who had been living there. Authorities also told the property owner to secure his business.
It wasn't long before people started moving back in, however.
Investigators said they gathered information about drugs and guns being sold from the building and used those details to secure a search warrant.
At about 9 a.m. Wednesday, several residents of the building could be seen arguing with police about getting access to their belongings or pets still inside.
Jasmine Acosta, 25, said officers entered the building around 4:30 a.m., rousting those who live in the structure. Some residents said they heard a helicopter buzzing overhead.
Acosta, who was pleading with officers to be allowed to get her three pit bulls out of the building after the raid, said the space had been turned into an artists' community.
"It's just like a safe home that we made on the boulevard," she said, adding that many of the people inside had moved to Los Angeles to follow their creative pursuits.
Acosta said she had been living in the space "on and off" for several months and that some of the residents had been trying to put up lights and repaint walls.
Several residents could be heard desperately asking police for access to the building so they could get their wallets or identification. Acosta said she believed that authorities could have warned residents before forcing them into the streets.
"Even if we are squatters, there should be an eviction notice," she said.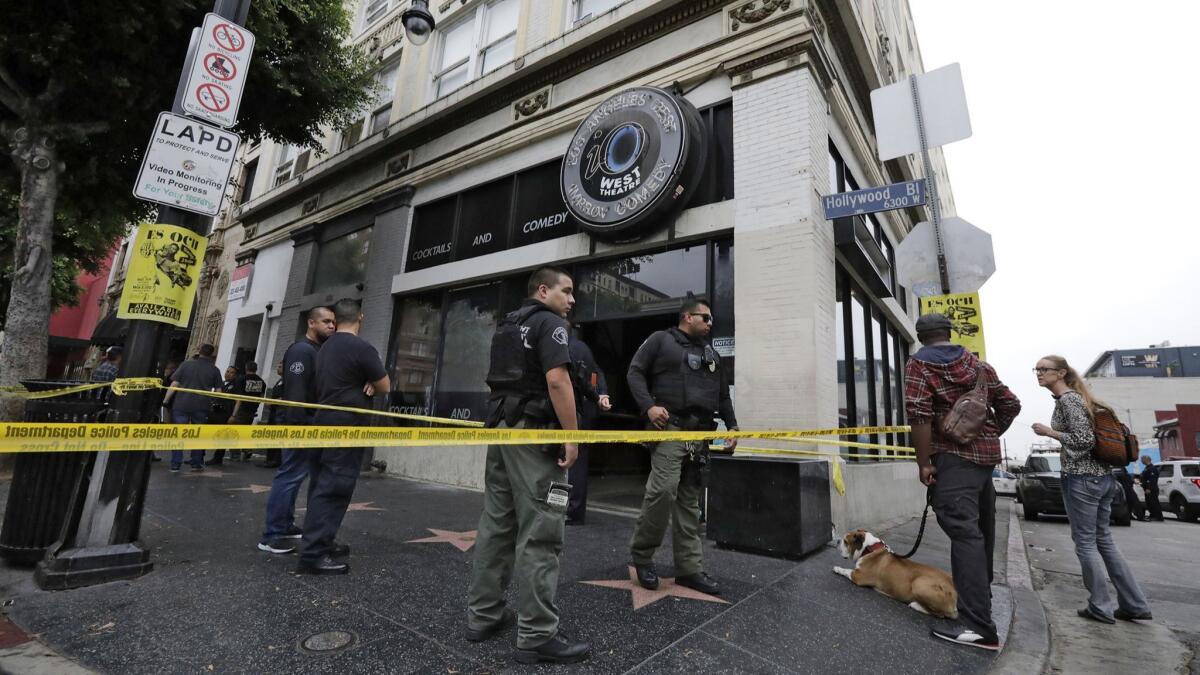 Twitter: @Hannahnfry
---
UPDATES:
5:05 p.m.: This article was updated with information from the Los Angeles city attorney's office.
1:10 p.m.: This article was updated with comments from police.
10:25 a.m.: This article was updated with comments from building resident Jasmine Acosta and former resident Andre Bergerren.
7:50 a.m.: This article was updated with the number of people detained.
This article was originally published at 6:20 a.m.
Sign up for Essential California for news, features and recommendations from the L.A. Times and beyond in your inbox six days a week.
You may occasionally receive promotional content from the Los Angeles Times.