It took more than a decade to open public bathrooms on skid row. After three months, they're already gone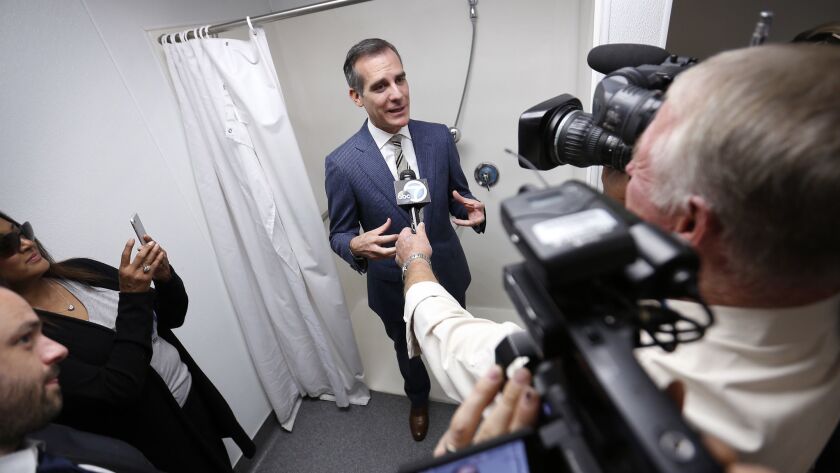 Los Angeles Mayor Eric Garcetti's unveiling of the first new public bathrooms on skid row in more than a decade was seen as a possible turning point for the homeless enclave, which remains mired in misery even as downtown development closes in around it.
But after more than three months of operation, the trailers with toilets and showers shut down in late March for a planned expansion and now are gone. Across town, bathroom access for Venice's homeless people is hung up over approvals from other agencies.
The slow and faltering bathroom rollouts raise questions about whether logistical problems and red tape are contributing to Los Angeles' homelessness crisis, despite the hundreds of millions of dollars that have started to flow for new programs.
"If we can't get something as simple as mobile restrooms up and running, that doesn't give me a lot of faith the city can produce the leadership needed to produce housing units," said Pete White of the Los Angeles Community Action Network, a skid row anti-poverty group.
No one expected the city's $1.2-billion housing construction program — designed to produce 10,000 units for poor and homeless people in 10 years — to be a quick fix for the county's 55,000 homeless people. And the mayor's new, $20-million shelter plan has run into a wall of resistance in Koreatown and elsewhere, although the first of what he hopes will be 15 temporary housing facilities is set to open in mid- to late summer.
Both the city and county envisioned expanding bathroom access to reduce homeless people's isolation and to ready them for housing and jobs. Officials also wanted to eliminate the human waste and stench of urine that have appalled businesses and residents, as homeless encampments spread far from their downtown origins.
The hepatitis A outbreak among homeless people gave the effort a push, although Los Angeles' 12 cases were dwarfed by San Diego's rash, which included 20 deaths and 402 hospitalizations.
A grass-roots group called the Skid Row Community Improvement Coalition worked with the mayor's office to open the ReFresh Spot in December in temporary trailers. The understanding was the showers and bathrooms would be expanded and laundry facilities added when permanent trailers arrived.
The transition and state approvals are taking longer than expected, and several tentative dates to reopen have come and gone, organizers said.
"It was kind of a premature grand opening, but there was a sense of urgency to respond to the need," said Charles Porter of Social Model Recovery Systems, a skid row nonprofit substance abuse prevention program.
"While I am disappointed that the expansion of the ReFresh Spot is taking longer than anticipated, I remain encouraged that it will help meet the basic human needs of far more people, and will offer services that were not previously available," Garcetti said in an email. "My team is working to reopen the site as quickly as possible."
Venice's homeless bathroom saga began two years ago, when Westside City Councilman Mike Bonin pushed for comprehensive services including toilets and showers as part of a "street strategy" while housing was prepared and under construction.
At Bonin's instigation, the city had the independent Board of Recreation and Parks approve keeping beach restroom stalls open overnight at the Ocean Front Walk, one of the city's top tourist attractions.
The City Council passed an ordinance to enable the change, and approved funding for custodial and security staff.
The project awaits approval by the California Coastal Commission, which wrote the city April 2, asking for more information, including a rationale for adding beach restroom access.
The city also approved overnight mobile toilets and wash stations at the Rose Avenue beach parking lot, which the county must green-light before they go before the Coastal Commission.
"Councilmember Bonin is eager to get these bathrooms open and has managed to remove all the obstacles at the city level. Unfortunately, at Venice Beach the city does not have unilateral authority to do what it wants," said Bonin's spokesman, David Caso-Graham.
The county's Department of Beaches & Harbors is working with Supervisor Sheila Kuehl's office on placing the portable toilets on a temporary basis, spokeswoman Carol Baker said.
While Venice waits, Lava Mae, a nonprofit showers-on-wheels operation from San Francisco, is due this week in the beach town.
What really bothers skid row advocates about their stalled bathrooms is that the initial response was so enthusiastic, said Porter. About 3,400 showers were taken, and 150 people showed up to use facilities on their final day, he said.
The guests enjoyed the minimal security, attendants who included formerly homeless people and a culturally sensitive music playlist, which ranged from classic R&B to soft rock and jazz, Porter said.
"The key is having people involved with lived experience, in a community-designed facility with a sense of dignity and respect," Porter said.
On Friday, Porter said one of the new skid row trailers had arrived and pending installation and inspection, should open in early June. The others, to include washer-dryers, are expected later in the summer.
Meanwhile, Lava Mae has also stepped up its downtown presence.
The increased service is welcome, but doesn't make up for the loss of the ReFresh Spot, organizers said.
"Folks on the street are now cursing [outreach workers] out because they are tired of hearing things like 'in a couple more weeks,'" said Tom Grode, another community organizer.
"This is something that should be emulated in other parts of the city," Porter said.
Twitter: @geholland
---