Mayor Eric Garcetti kicks off annual L.A. homeless count: 'Counting is the beginning of caring'
Mayor Eric Garcetti kicks off the annual count of the homeless living on Los Angeles' streets, telling volunteers, "Counting is the beginning of caring."
On a night when temperatures dipped into the 40s in Los Angeles, Mayor Eric Garcetti joined thousands of volunteers documenting the area's homeless population.
At a news conference Tuesday evening to open the yearly count, which helps the city and county gauge the area's unsheltered population, Garcetti noted that people should be frustrated by homelessness because "if not, you don't have a heart."
The mayor was joined by other government officials at a permanent supportive housing facility in North Hollywood run by L.A. Family Housing. More than 7,000 volunteers are expected to participate in the annual documentation, which continues through Thursday.
Before he spoke, Councilwoman Nury Martinez gave the mayor a big hug and said, "Good job" — an apparent reference to the new union contract agreement with the Los Angeles Unified School District.
Garcetti applauded the "courage" of the school district and teachers for coming together and hashing out an agreement as volunteers and elected officials, including Martinez and Los Angeles County Supervisor Mark Ridley-Thomas, stood behind him.
"Homelessness is like public education — something that for far too long we haven't put the resources or love or attention to," Garcetti said. "But that's also changing in this city."
He expressed some frustration that the night would not include outreach, only data collection. Last year's count documented 52,765 homeless people in Los Angeles County. The numbers help determine how money is disbursed throughout the region, including $350 million in sales tax revenue generated annually from the Measure H homelessness tax, which was passed in 2017.
Homelessness declined 4% in the county and 6% in the city in the city of Los Angeles in 2018 over the previous year, but the number of tents, vehicles and makeshift shelters increased.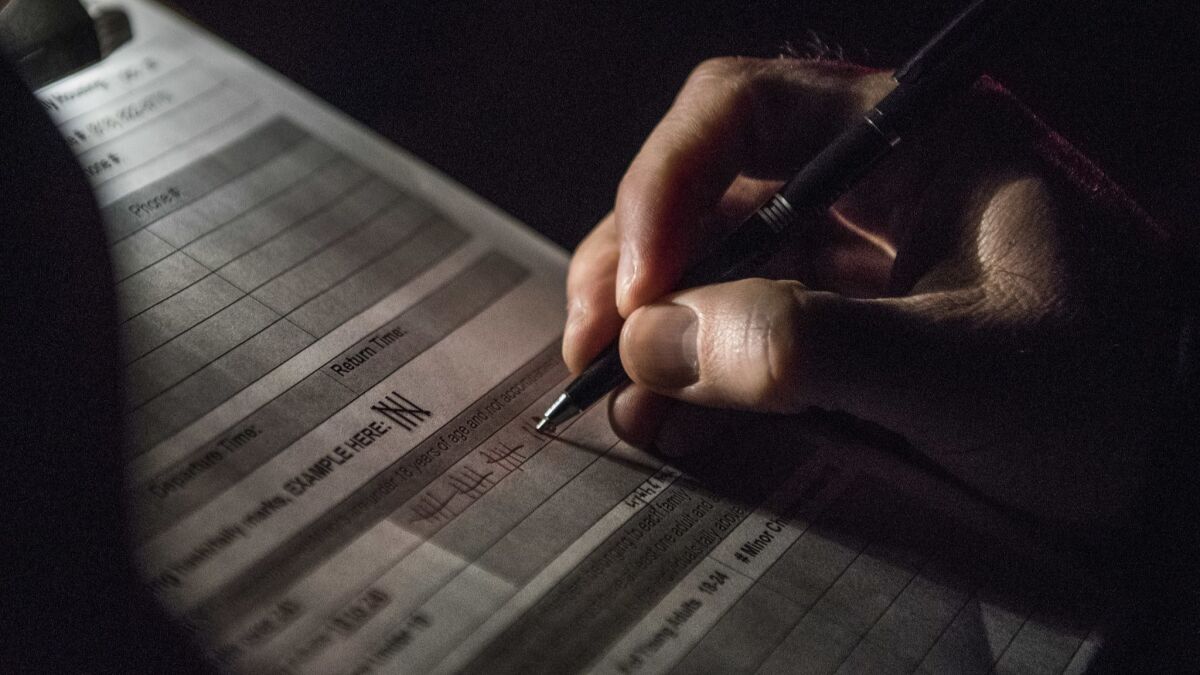 For Tuesday's launch of the count, volunteers began inspecting 2,160 census tracts in the San Fernando, Santa Clarita and San Gabriel valleys. They will continue in other parts of the county over the next two days.
Stephanie Klasky-Gamer, president and chief executive of L.A. Family Housing, said 410 families are supported by the organization, but many could lose their housing next month if the government shutdown doesn't end soon.
"More than 1,600 children, moms and dads could become homeless, and that number only represents who we are serving," she said. "Imagine the impact of the federal shutdown on all of Los Angeles."
Garcetti, who is considering a run for president, heads to Washington on Wednesday for a meeting of the U.S. Conference of Mayors. He said the homeless crisis is not only a localized problem.
"It's time for the federal government to step up too," he said, noting that there are more homeless people per capita in the nation's capital than in Los Angeles.
They're "right next to the White House, right next to city hall," Garcetti said. "This is something where every government leader needs to put down partisanship and produce results."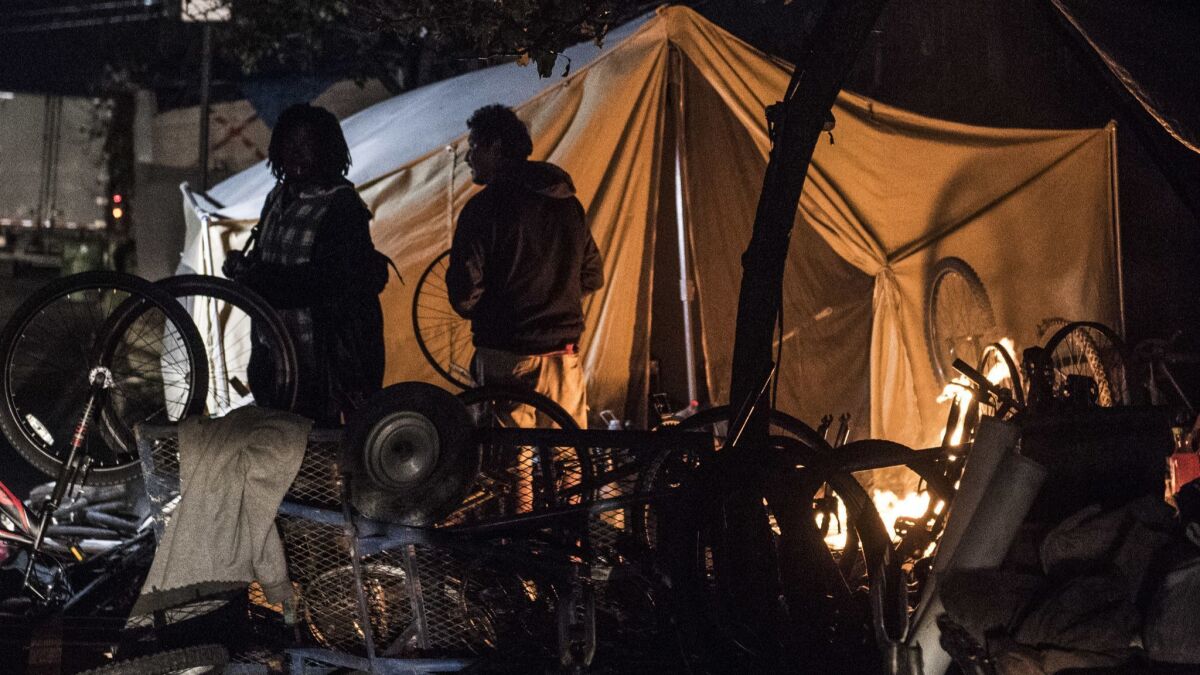 After addressing the crowd, the mayor and other dignitaries were taken to a nearby encampment on Webb Avenue in North Hollywood. Garcetti walked the block, trying to count tents and people where he saw them. He noted 17 homeless people in the half-block there.
He spoke with several men who were standing around a fire and fixing bikes. They told him it would be great if their trash was picked up regularly and a street light was installed nearby.
"Counting is the beginning of caring, and caring is the beginning of acting, and acting is the beginning of solving, and solving is the beginning of ending this crisis," Garcetti said.
---
UPDATES:
9:22 p.m.: This article was updated with the correct numbers from the 2018 homeless count, which had previously been revised.
---
The stories shaping California
Get up to speed with our Essential California newsletter, sent six days a week.
You may occasionally receive promotional content from the Los Angeles Times.