L.A. County supervisors call for a state emergency declaration on homelessness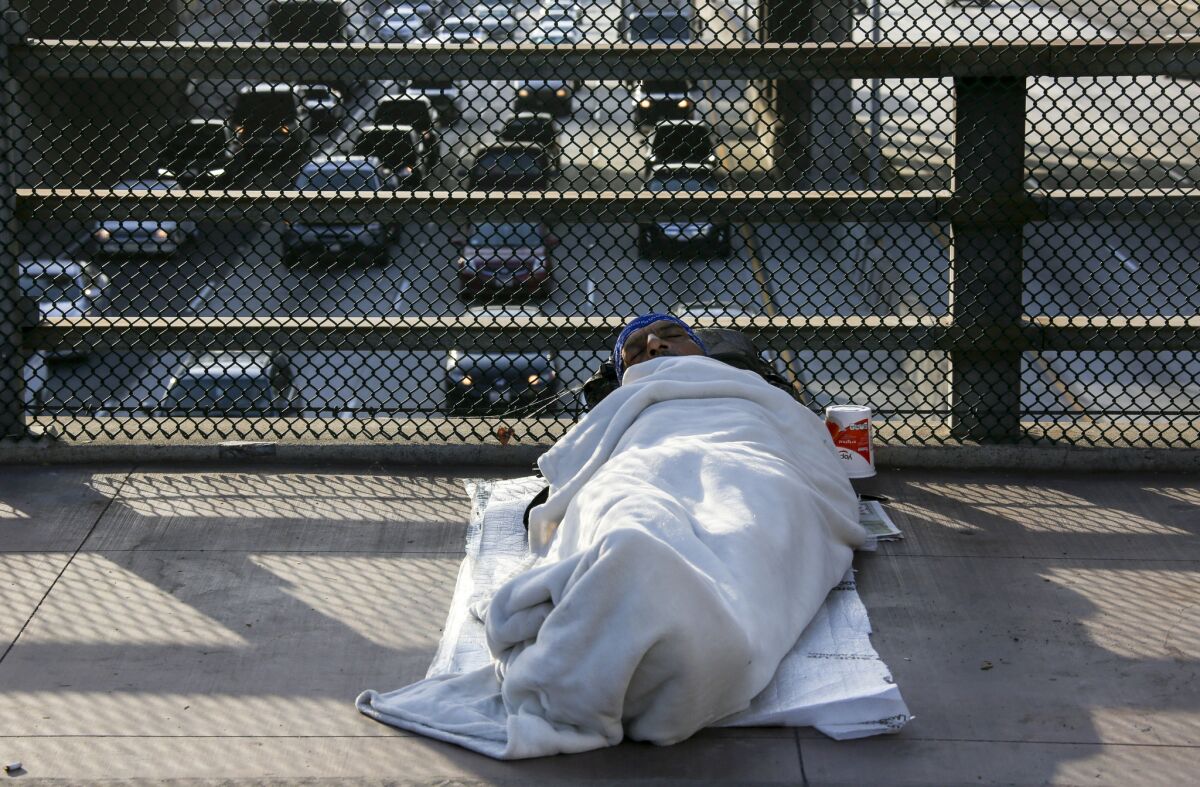 Los Angeles County supervisors voted unanimously Tuesday to call for a state declaration of emergency on California's homeless crisis.
The county's homeless population was about 47,000 as of this year's count by the Los Angeles Homeless Services Authority. There were an estimated 115,738 people homeless statewide in 2015.
County officials have been lobbying, so far without success, for a change in state law that would grant the county authority to seek a special tax on incomes over $1 million to pay for programs to address homelessness.
The county resolution introduced by Supervisors Mark Ridley-Thomas and Sheila Kuehl passed Tuesday asks state legislative leaders to pass a resolution calling on the governor to make an emergency declaration that would open the door for more state money and resources to be directed to the problem.
"If an earthquake or flood suddenly left tens of thousands of individuals homeless, the county and state would not hesitate to act swiftly and decisively," the supervisors wrote. "Although the causes may be different, the impact is the same."
That declaration, they said, should include access to $500 million from a state fund to implement "statewide re-housing efforts," including street outreach, crisis housing, rental subsidies and case management.
They called for the state to deploy staff to "homeless camp hotspots" to give housing assistance and to assemble a public-private team to develop a short- and long-term plan for combating homelessness statewide. They also urged the state to find "streams of ongoing funding" for local governments to deal with the issue.
The concept of a homelessness state of emergency is not new. Los Angeles officials last year held a news conference in which they announced plans to declare a state of emergency over homelessness. The declaration never materialized.
But behind the scenes, Mayor Eric Garcetti wrote to Gov. Jerry Brown in December asking for a similar declaration at the state level, and pointing to the anticipated El Niño rains. Brown rejected the request at the time, arguing it would be unwise to declare a state of emergency before the rains arrived.
A spokeswoman for Garcetti could not be immediately reached for comment on the county's action Tuesday.
Ridley-Thomas said the new attempt by the county was an effort to "underscore the urgency of the matter" and he expected the city would join in support.
"This message has to be made clear to Sacramento," Ridley-Thomas said. "My conversations with the governor make it clear to me that it needs to be moved higher on his agenda, and we seek to engage our legislative leaders to help to accomplish that."
Since the beginning of the year, local and state leaders have proposed several methods to pay for increased housing and services to get people off the streets.
Though the county's attempt to get state authority for a millionaire's tax appears to be running out of time for a measure to appear on the November ballot, city officials are considering placing a bond measure of their own on the ballot to pay to build more housing for the homeless.
And state officials are considering issuing $2 billion in bonds, to be paid back with mental health services money, to build permanent supportive housing for homeless people with mental illness.
The bond money could only be used for construction, not for ongoing services such as mental health and substance abuse treatment.
Twitter: @sewella
---
The stories shaping California
Get up to speed with our Essential California newsletter, sent six days a week.
You may occasionally receive promotional content from the Los Angeles Times.