Advocates and county close to settlement to help O.C. homeless get housing and services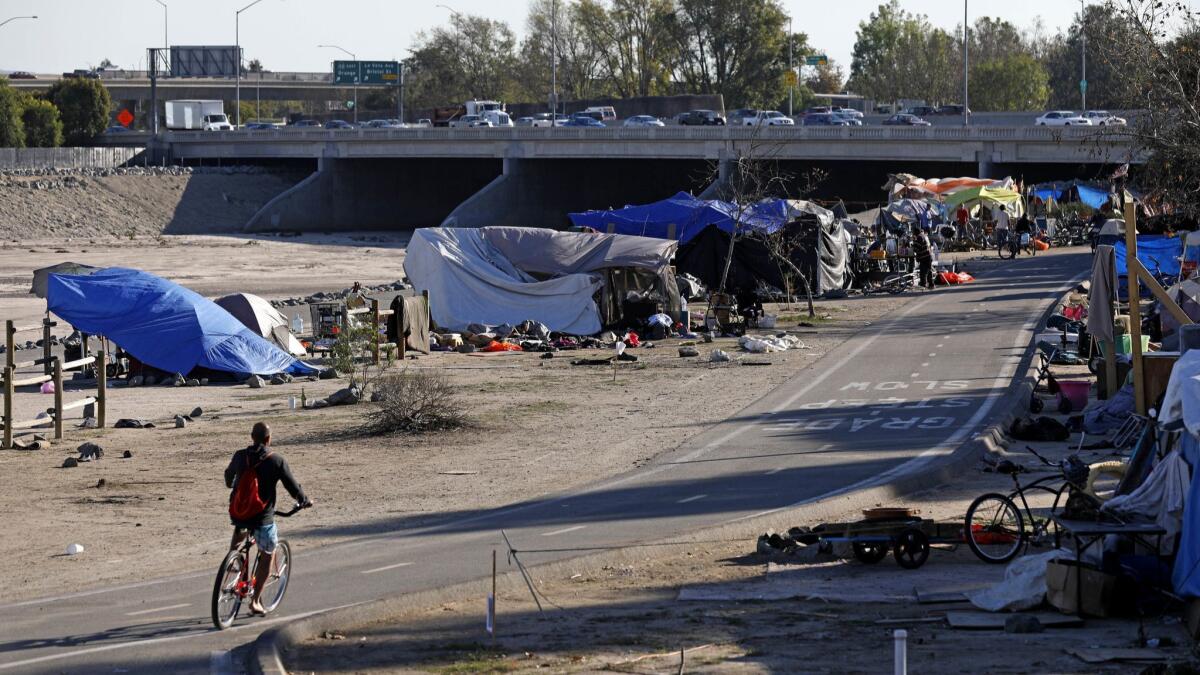 After the high-profile removal of an illegal tent city in February followed by months of legal drama, advocates and Orange County officials are close to a settlement in civil rights lawsuits that could help homeless people obtain easier access to housing and services.
The proposed agreement follows lengthy negotiations between the county and lawyers representing people who once lived in an encampment along the Santa Ana River trail.
Part of the goal of the agreement is to provide compassionate treatment for the poor — a top priority for U.S. District Judge David O. Carter, who is overseeing the cases — while allowing authorities to resolve matters affecting public health and safety.
Highlights of the plan include:
Pushing healthcare workers to do active outreach to the homeless.
Developing procedures to guarantee due process for the indigent.
Agreeing to standards of care that are consistent from shelter to shelter.
Storing personal property seized from individuals and couples properly.
Creating guidelines to respond to those asking for accommodation under the Americans with Disabilities Act.
"This lays out the plan to make the county accountable for paying attention to people who really need help — and to get them help that's common-sense and strategic as they go through the rebuilding process," said Brooke Weitzman, a lawyer representing seven homeless adults in a case filed in January against the county and the cities of Anaheim, Orange and Costa Mesa. The lawsuit sought to prevent their evictions from the encampment next to Angel Stadium.
In a separate case filed in February, the Legal Aid Society of Orange County, working on behalf of the People's Homeless Task Force and seven disabled adults who lived on the riverbed, maintained that evictions are discriminatory and that officials didn't have adequate services in place for their clients with special needs.
Plaintiffs in both cases accused officials of trying to criminalize homelessness — threatening individuals with arrests and citations for trespassing despite the lack of shelters and other options for the displaced population that, at its peak, totaled more than 1,000.
"There was nowhere for people to go when you order their removal. If you told them to pack up, they would just move to the next city or street," Weitzman added. "People shouldn't have to separate from their family, their emotional support animals or their belongings when they're driven off."
Eventually, county staff helped move more than 700 people into motels before placing some of them temporarily at shelters in Anaheim and Santa Ana this spring and early summer. Carter, meanwhile, pressed other cities to shoulder some of the burden for shelter beds.
At least 600 new beds will be available in the county — in Anaheim, Costa Mesa, Santa Ana, Tustin and two unnamed locations — by year's end, according to Weitzman.
The proposed settlement — if approved by Carter at a hearing next week and by the Orange County Board of Supervisors after that — would help prevent another riverbed "situation," said County Counsel Leon Page.
"There will never be encampments in the county — at least on county property. This plan preserves and retains our ability to tackle such encampments through outreach and shelter options," Page said. "I hope our county will be a leader for other jurisdictions to follow.
Twitter: @newsterrier
Sign up for Essential California for news, features and recommendations from the L.A. Times and beyond in your inbox six days a week.
You may occasionally receive promotional content from the Los Angeles Times.