Think it's hot now? Just wait: Southern California's heat wave is just getting started
A girl walks by the Michelle Obama Neighborhood Library in Long Beach on a warm day Friday.
(Wally Skalij / Los Angeles Times)
A man relaxes in the stands at Long Beach Poly High School on a warm Friday.
(Wally Skalij / Los Angeles Times)
Luis Estrella works out at Genesee Avenue Park in Los Angeles' Mid-City neighborhood.
(Christian K. Lee / Los Angeles Times)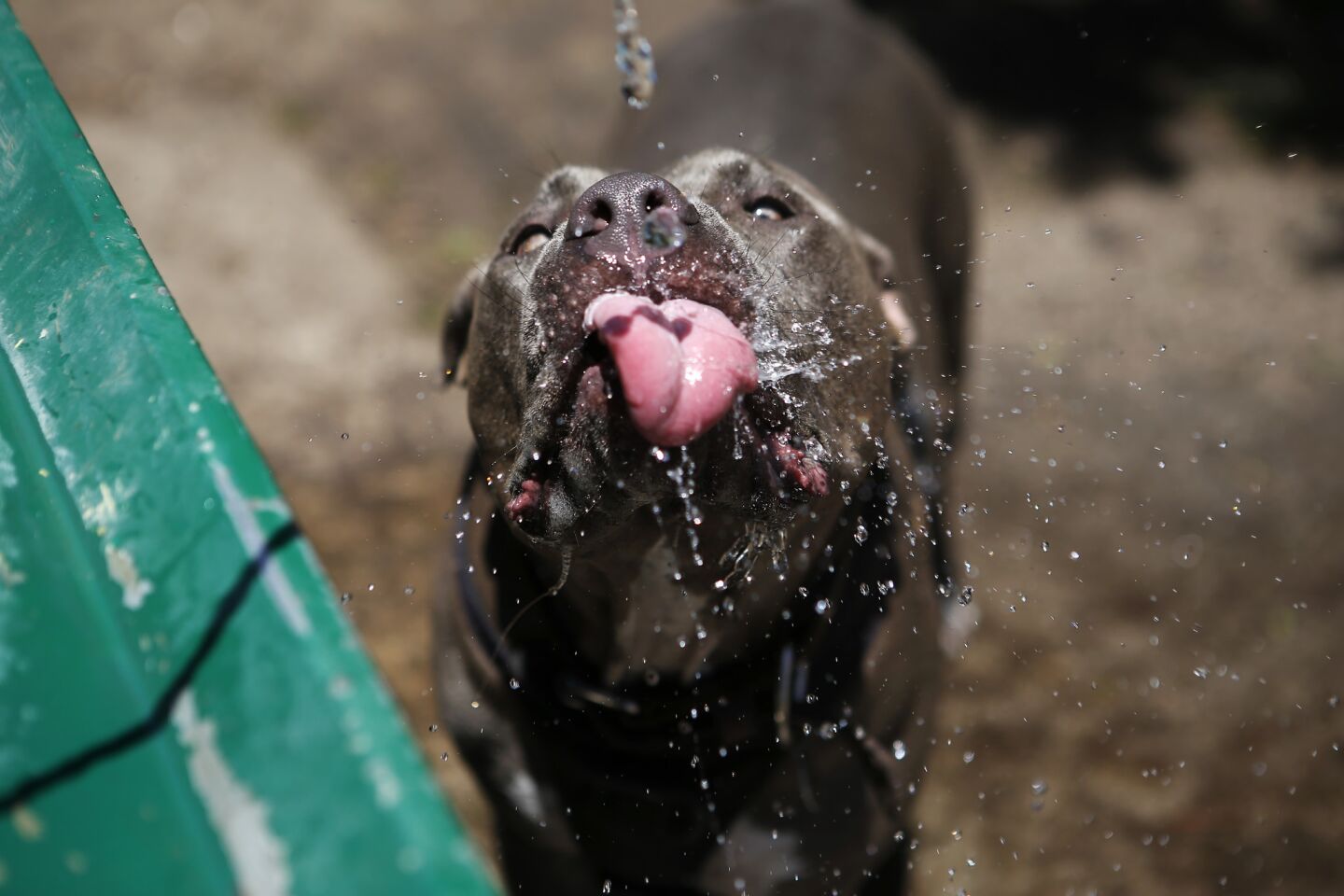 Luigi, a pit bull, cools down at Genesee Avenue Park in Los Angeles.
(Christian K. Lee / Los Angeles Times)
Children play in the water at Mother's Beach in Marina del Rey as the first heat wave of the season revs up in earnest.
(Wally Skalij / Los Angeles Times)
A rock outcropping creates shade at Table Rock in Laguna Beach as the first heat wave of the season revs up in earnest.
(Allen J. Schaben / Los Angeles Times)
Swimmers cool off in the surf at Table Rock in Laguna Beach.
(Allen J. Schaben / Los Angeles Times)
Fernando Ruiz tries to maintain his balance while he practices walking on a slackline in Venice.
(Genaro Molina / Los Angeles Times)
Newport resident Jeff Swegles beats the heat by paddling around Upper Newport Bay with his son Caleb in a kayak.
(Mark Boster / Los Angeles Times)
Get ready, Southern California. Things are about to get hot.
The National Weather Service issued excessive heat warnings for the Southland on Thursday, saying a prolonged heat wave will gather steam over the weekend and last through the end of next week.
While the mercury has already begun its climb, forecasters say the hottest temperatures will arrive next week.
Inland areas will see triple-digit temperatures arrive on Monday and last through Wednesday. In some cases, records are likely to be broken.
"The longevity of this heat wave is going to be the most dangerous aspect," said James Brotherton, a meteorologist for the weather service in San Diego. "For the human body, it's repeated exposure to the heat."
A dry, high-pressure system centered over Arizona and the Southwest is to blame for the hot days ahead, forecasters say. Temperatures will soar 15 degrees above average in inland communities.
Desert and mountain communities will bear the brunt of the heat.
Temperatures will hover between 120 and 122 degrees early next week in the Coachella Valley and deserts in San Diego County. The hottest day will be Tuesday, when temperatures could reach 127 degrees in Death Valley, Brotherton said.
If you plan to seek relief in Palm Springs, think again. The mercury will reach a record-breaking 123 degrees and probably remain in the 120s next week, he said.
"The coast is going to be the only place to go to get relief," Brotherton said.
Sunscreen is highly recommended before hitting the beach, and forecasters say temperatures there will remain in the 70s, 80s and 90s.
Triple-digit temperatures will keep things sizzling across the Sacramento Valley and the Central Valley.
Sweltering heat will also increase snowmelt in the Sierra Nevada in Mono and Inyo counties, forecasters said. The melting snow has led to unpredictable river conditions. At least 17 people have died this year in California rivers.
"Lengthy days and very warm temperatures will create conditions necessary for very high snowmelt rates," said Tim Bardsley, a hydrologist for the weather service in Reno.
Rivers along higher-elevation areas will experience high flows and could pose a risk to mountain and park visitors.
In Los Angeles County, most cities will get 90-degree weather, said Jayme Laber, a hydrologist at the weather service's office in Oxnard.
The desert communities in the Antelope Valley could see temperatures reach the low 100s to 110 degrees, he said.
As for the heat blanket gripping Southern California, Laber said, "it's not going to budge for a while."
The absence of wind is the only saving grace from the heat, he said.
Although the fire danger will be high, Laber said, the lack of wind could allow firefighters to quickly tackle a blaze.
Another danger for firefighters is overgrown brush and vegetation along Los Angeles County highways, hillsides and foothills.
With the recent heat, the brush has become bone-dry.
The parched vegetation has already fueled numerous small fires in recent weeks, said Inspector Joey Marron, a spokesman for the Los Angeles County Fire Department.
In preparation for the heat wave, the Fire Department staffed water tenders (tankers that carry water) in the Antelope Valley, Marron said. Although the department is prepared for any large blaze, he said, firefighters also rely on people to be their eyes and ears.
"If they see smoke, just call us right away," he said.
As with most heat waves in Los Angeles County, the most common medical emergency call is heat exposure, he said. Firefighters and paramedics often find seniors and children severely dehydrated from exposure to heat.
Marron said most heat exposure patients simply don't know their limits.
In downtown Los Angeles on Friday, Amad Jackson and Ceci Bastida took cover from the sun under a shady tree at Grand Park.
"This heat is too much," Jackson said. "Being an L.A. native, I like warm weather but I mean 90, 100 degrees? That's too much. Especially for the kids."
Bastida wasn't looking forward to the heat either.
"I have not prepared, not at all," she said. "I like a little bit of warmth but I don't like crazy heat waves."
Dolores McAllister, 76, visited the Santa Monica Pier for the first time in 30 years on Friday.
"We took a bus trip," she said. "I haven't done this since I was a teenager. I just haven't had time. This has been amazing sitting out here."
McAllister, a Pasadena resident who grew up in New York, sat on a bench overlooking the beach as she waited for her friends to rejoin her.
"I love California weather," she said. "Even though we have hot weather, it's nothing like back east. The last year I was there, I kept unplugging the fan to make sure the blades were moving. I couldn't feel nothing. I was like, 'I'm outta here!'"
At the pier, Devon Kisgen and her 4-year-old daughter, Ryan, were basking in the sun's rays. The toasty weather was so welcoming, Kisgen said she is considering making a second trip to the pier on Saturday.
"We're loving that it's finally sunny because we've had such terrible May gray and June gloom this year," she said. "So we're just thrilled that it's finally getting warmer."
---
Stay cool with tips from the National Weather Service
Drink plenty of water and avoid strenuous activity between 10 a.m. and 4 p.m.
Wear light clothing and dress for the heat.
Stay cool indoors. Look for an air-conditioned facility. Here's a list of cooling centers in Los Angeles County.
Never leave kids, seniors and pets alone in a locked vehicle.
---
Here's what you can do to stop a fire from starting
Make sure if you're pulling any cargo, you are not dragging any chains or metal through dry brush. That can spark a fire.
Remove overgrown brush from your property.
Extinguish any fires left at recreational sites.
---
---
UPDATES:
4:15 p.m.: This article was updated with comments from Dolores McAllister.
3:25 p.m.: This article was updated with comments from Devon Kisgen.
This article was originally published at 1:55 p.m.
---
The stories shaping California
Get up to speed with our Essential California newsletter, sent six days a week.
You may occasionally receive promotional content from the Los Angeles Times.