L.A. to spend more than $200 million to settle suit on housing for disabled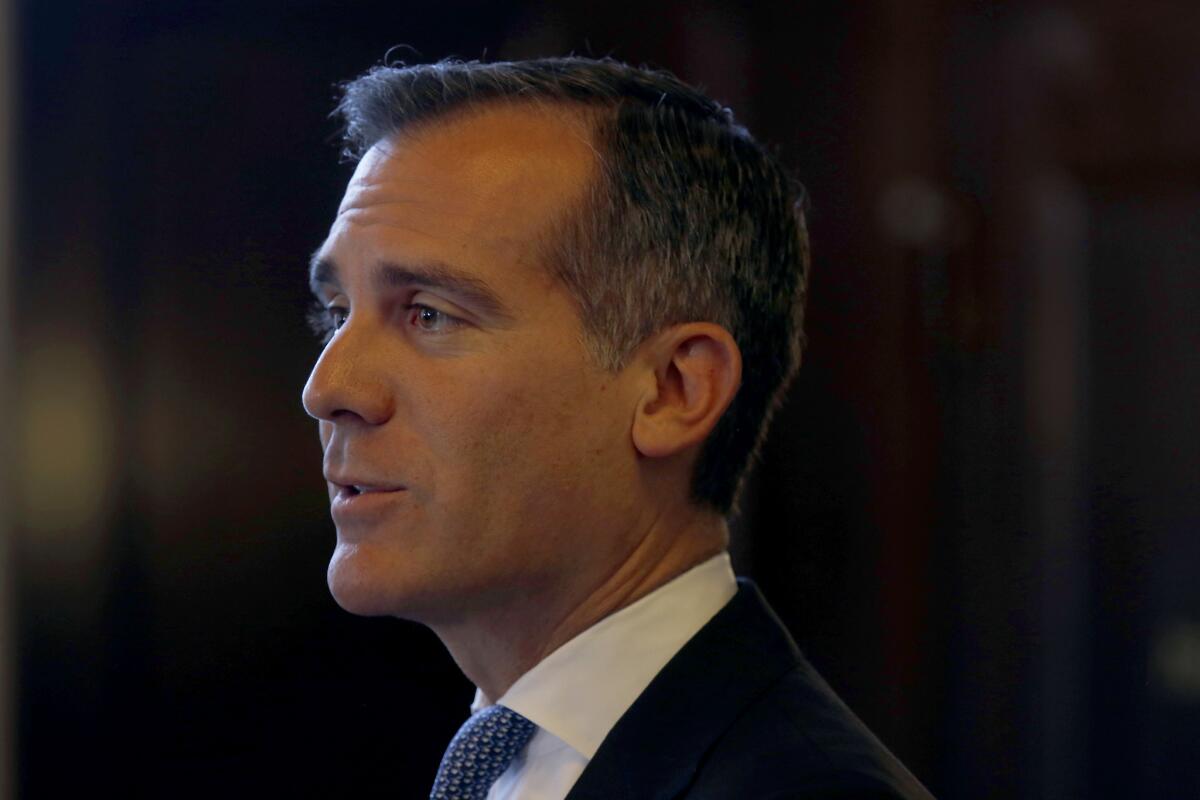 Los Angeles will spend more than $200 million over the next decade to settle a federal lawsuit alleging that the city failed to provide enough apartments for people with disabilities in its publicly funded housing developments.
Under a deal approved Tuesday by the City Council, city officials will be required to ensure that 4,000 units are accessible to people who use wheelchairs, have hearing impairments or live with other disabilities. The city could reach that goal by building additional apartments, redesigning existing ones or demonstrating that units already built are, in fact, accessible.
Michael Allen, a lawyer for three nonprofit groups that sued the city, called the agreement "the largest accessibility settlement ever reached involving affordable housing."
"It will send a strong, positive message to cities all over the country that their housing programs must be accessible," he said.
Los Angeles Mayor Eric Garcetti endorsed the settlement, saying in a statement that the city "stands for inclusiveness and access for all."
"If we have fallen short of that commitment, we need to fix it as quickly as possible," he said. "This settlement allows us to resolve a long-standing legal issue with a predictable level of investment. More importantly, we are working to meet the needs of our disabled community now and for decades to come."
The settlement puts Los Angeles on the hook for another costly, multi-year legal payout centering on facilities for the disabled. Last year, city lawmakers agreed to spend $1.3 billion over 30 years on sidewalk repairs — ending a lawsuit that argued broken walkways were a nightmare for wheelchair users.
Tuesday's vote will end a legal challenge filed in 2012 by Independent Living Center of Southern California, Fair Housing Council of San Fernando Valley, and Communities Actively Living Independent and Free. The dispute focused on apartments that were supposed to be built for the disabled in more than 700 affordable housing projects — buildings with nearly 47,000 units — approved over nearly three decades, city officials said.
The three nonprofits argued that the city and its redevelopment agency had flouted state and federal anti-discrimination laws as they provided public money to affordable housing developments. Such buildings were typically constructed by private developers or nonprofit groups and financed or otherwise assisted by the city and its redevelopment agency.
Disabled residents reported going to apartment buildings that were advertised as accessible, only to find they weren't. In some locations, apartments had doorways that were too narrow to accommodate wheelchairs, the lawsuit states. Bathrooms and kitchens lacked the room to accommodate wheelchair users.
Allen said that many apartments did not meet the higher accessibility standards established for housing built with government assistance, which require additional features such as lower countertops and grab bars in bathrooms.
"They were not merely technical violations," Allen said. "They were, in every instance that we studied, significant barriers to people with disabilities using those units, and in some cases the common areas leading to them."
Sharon Kinlaw, executive director of Fair Housing Council of San Fernando Valley, said her group's clients encountered apartments that were "absolutely unusable" by people with serious disabilities as early as 2007. Neither the city nor the redevelopment agency took action after they complained, advocates said.
Advocates for the disabled also said the accessible apartments that did exist were frequently occupied by people without disabilities.
Under the settlement, the city is not admitting wrongdoing or conceding that it violated anti-discrimination laws.
City Administrative Officer Miguel Santana, who helped negotiate the deal, said housing officials, among others, were responsible for ensuring that publicly financed housing complied with federal disability laws. Los Angeles is taking steps to prevent any such problems in the future, he said.
"This is a settlement where the biggest investment is going to go back to the community -- back to the disabled community, back to those who need affordable housing," Santana said. "So Angelenos are really the biggest beneficiaries."
Santana said the settlement could also set the stage for a separate agreement ending a federal investigation over housing for disabled Angelenos, initiated five years ago by the federal Department of Housing and Urban Development.
Under the agreement, city officials will need to go into hundreds of buildings to determine whether the required number of units for the disabled were built — and if so, whether those units comply with the correct standards.
At this point, officials do not know to what extent the city fell short.
"Until we actually go in and evaluate every unit and make that determination, we really can't tell you," Santana said.
The city must spend an average of $20 million annually on the program and ensure that at least 2,655 of the 4,000 units are designed for wheelchair users. The settlement will also require new affordable housing supported by the city to include a larger percentage of units for people with disabilities than is currently required.
In addition to the $200 million, L.A. will also pay $4.5 million to the nonprofits that sued the city, plus up to $1 million in court costs and up to $20 million in attorneys' fees.
The deal does not resolve outstanding legal claims against the redevelopment agency, which is now separate from city government.
The agreement is one in a string of major settlements that will saddle Los Angeles with financial obligations lasting for years. The council voted in March to spend up to $30 million over four years on job training and other programs to conclude a class-action suit over curfews in city gang injunctions. A year earlier, city lawmakers agreed to spend at least $31 million per year on sidewalk repairs.
In addition, the city has faced large onetime payouts, including a legal deal unveiled last year to pay up to $92.5 million to end a lawsuit over allegations that the city was improperly collecting telephone taxes. Santana said the ultimate amount is anticipated to be closer to $50 million.
Councilman Gil Cedillo said he isn't worried about the price tag for the latest settlement. The city, he said, has a "solid surplus" and can absorb the added cost.
"It's our responsibility" to ensure that disabled Angelenos have access to affordable housing, Cedillo said. "So it's the least we could do."
Twitter: @LATimesEmily
Twitter: @davidzahniser
---
UPDATES:
6 p.m.: This article with updated with reactions to the settlement and other details.
This article was originally published at 1:10 p.m.
Sign up for Essential California for news, features and recommendations from the L.A. Times and beyond in your inbox six days a week.
You may occasionally receive promotional content from the Los Angeles Times.