Jail informant scandal: O.C. sheriff apologizes but says any misconduct was limited to 'a few' deputies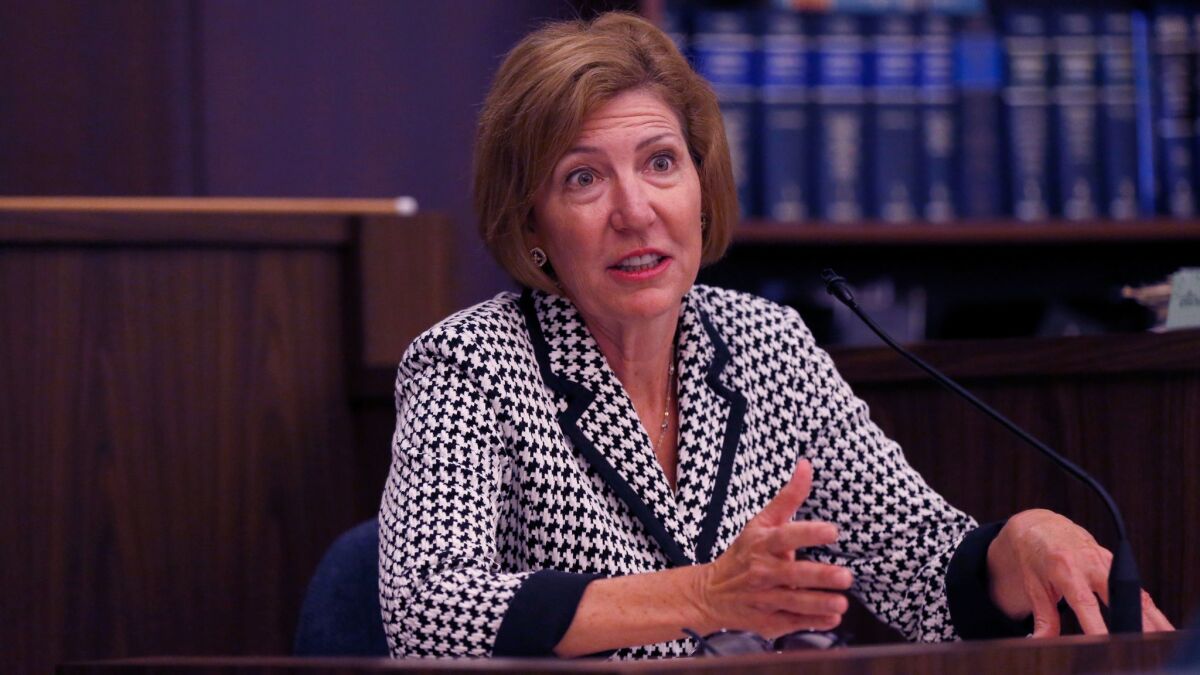 For years, Orange County sheriff's officials have assured — and reassured — Superior Court Judge Thomas Goethals that they have been searching diligently for jailhouse records he demanded.
Again and again, they sat in his courtroom and swore there was nothing more to be found — claims followed by the discovery of multiple troves of hidden material.
"How does this happen?" Goethals asked Sheriff Sandra Hutchens on Wednesday. "They were dead wrong."
"They possibly did not look hard enough," Hutchens replied.
The exchange came in a hearing meant to look into the Sheriff's Department's repeated failure to turn over evidence in the case of Scott Dekraai, the former tugboat captain who pleaded guilty to the murders of eight people at a Seal Beach salon in 2011.
To bolster its chances of sending Dekraai to death row, the prosecution originally sought to use evidence against him obtained by a veteran jailhouse informant.
The penalty phase of Dekraai's trial — in which he will get the death penalty or life in prison — has been delayed indefinitely as the hearings drag on. Goethals must decide whether the Sheriff's Department can be trusted to turn over evidence, a question that may determine whether the judge tosses out the death penalty.
The judge reminded Hutchens that he issued his order for informant-related evidence four and a half years ago, and only weeks ago a sheriff's supervisor testified there were 68 boxes of potentially relevant material that still had not been examined.
"What's your reaction to that?" Goethals asked.
"I cannot explain why the boxes were not discovered before," Hutchens said. "I apologize that we apparently did not know where those items were being kept."
The judge added: "You're Harry Truman. The buck stops with you."
Goethals expressed incredulity regarding sheriff's supervisors' claims that they were in the dark for years about the existence of a so-called special handling log. The log documented the movements of informants and was accessible on a shared computer drive.
"It was right there for anybody to see," Goethals said. "How could they not know it existed? I'm having a problem with that." If there had been "competent supervision," wouldn't the sergeants and lieutenants have known of it?
"I would agree," Hutchens said.
Hutchens' explanations for her department's failure to find evidence varied. She cited inadequate training that has since been improved, an old record-keeping system and the possibility that supervisors may have deferred to jailers' perceived expertise.
At one point, Hutchens told the judge, "I know you've been frustrated."
"My frustration has nothing to do with it, I can assure you," Goethals said. "I just expect compliance."
Hutchens acknowledged that informants had been placed near targeted inmates in the Orange County jail for years, with the aim of eliciting incriminating statements.
There may have been a few deputies who took their duties to different levels than were authorized.
— Orange County Sheriff Sandra Hutchens, testifying about the jailhouse informant scandal
Hutchens spent much of the day being questioned by Assistant Public Defender Scott Sanders, who represents Dekraai and alleges that the Sheriff's Department has engaged in an elaborate, decades-long operation that violated the rights of criminal defendants by using jailhouse informants to elicit confessions from them.
Hutchens acknowledged that the snitch scandal in which her department has been embroiled has been "embarrassing." She testified that some of her deputies may have flouted rules regarding jailhouse informants, but that such conduct was committed only "by a few."
Asked to elaborate, Hutchens pointed to Seth Tunstall, William Grover and Ben Garcia, who worked as jailers in the unit that dealt with informers. "They are still under criminal investigation" by the California attorney general's office, Hutchens said.
Hutchens added: "There may have been a few deputies who took their duties to different levels than were authorized."
The judge has criticized Hutchens for taking "inconsistent positions" on the withholding of evidence, and has at times threatened to hold her in contempt.
The scandal exploded in 2015 when Goethals barred the district attorney's office from prosecuting the case, ruling that authorities failed to turn over key information about the use of informants. The California attorney general's office, which is now prosecuting the Dekraai case, continues to pursue the death penalty.
So far, despite weeks of testimony in the current hearing, no one seems able to answer one of Sanders' key questions — what accounts for a gap between April and October 2011 in the special handling log?
Called to testify, some sheriff's jailers have invoked their 5th Amendment right against self-incrimination.
Some former supervisors in the jail's special handling unit have blamed lower-level jailers for any misuse of snitches — a narrative echoed in a heavily criticized recent report from the Orange County grand jury, which blames "rogue deputies."
In court Wednesday, Sanders questioned Hutchens about public statements she has made that her deputies "don't work informants in the jail," and confronted her with internal Sheriff's Department memos — including a memo that hung on a jailhouse office wall — that showed jailers cultivated snitches as part of their duties.
What she meant, Hutchens replied, is that jailers dealt with informants but did not initiate snitch-involved investigations into targeted inmates in the widespread way Sanders has alleged.
Instead, she said, jailers responded to requests from outside law enforcement agencies who wished to use informants.
Sanders confronted her with an email from a former special handling deputy — written in June 2014, as the current litigation was underway — which showed the department had decided to relabel informants as "sources of information."
Hutchens said she had never seen the email before but that she was not troubled by it.
"It appears that [the deputy] is trying to get best practices out there," Hutchens said.
She said the department had ramped up its training and taken pains to classify informants carefully so that deputies better know what information requires disclosure to defense attorneys.
"We could have done a better job of responding to discovery requests," Hutchens said.
Sanders contends the relabeling was part of a concerted effort to deceive and deter defendants who are seeking jailhouse records.
You're Harry Truman. The buck stops with you.
— Judge Thomas Goethals to Orange County Sheriff Sandra Hutchens
Hutchens testified that she believed much of the confusion surrounding her agency's work with informants involved "terminology."
Hutchens said that information from so-called TRED records, which dealt with the classification of inmates, including informants, had been turned over to defense attorneys in numerous cases before the Dekraai case.
She said she had not known the records were called TREDs when she took over as sheriff in 2008, nor did she know where the term originated. But she disputed Sanders' characterization of the records as "some secret database."
Sanders asked for the cases in which such information had been turned over.
"I can't go through and enumerate every case," Hutchens said.
Hutchens said she agreed with the recent Orange County grand jury report that characterized the misuse of informants as the work of rogue deputies.
Sanders presented a memo in which a jailer spoke openly of his role in cultivating informants, suggesting supervisors clearly knew of the work.
"That doesn't sound too rogue, right?" Sanders said. "Sounds like the people above him know what he's doing."
Hutchens said that what jail supervisors may have known is part of the criminal and internal investigations now underway.
Last week, Hutchens, who has been sheriff since 2008, announced she will not run for reelection next year. Both the Department of Justice and the California attorney general's office are investigating her department's handling of informants.
christopher.goffard@latimes.com
Twitter: @LATchrisgoffard
ALSO:
Twice-convicted O.C. killer will receive new trial in latest fallout from jailhouse snitch scandal
Despite grand jury findings, fallout from O.C. jailhouse snitch scandal is far from over
O.C. grand jury says claims of an illegal jailhouse informant program are a 'myth'
---
UPDATES:
7:05 p.m.: This article was updated with more testimony from Hutchens and questions by Judge Thomas Goethals.
2:55 p.m.: This article was updated with more testimony from Hutchens.
12:35 p.m.: This article was updated with more testimony from Hutchens.
11:25 a.m.: This article was updated with testimony from Orange County Sheriff Sandra Hutchens.
This article was originally published at 4 a.m.
The stories shaping California
Get up to speed with our Essential California newsletter, sent six days a week.
You may occasionally receive promotional content from the Los Angeles Times.