A California desert town sees surge in migrants as border crisis worsens
As the border crisis spreads in Riverside County, a Seventh-day Adventist Church in Blythe lends a hand to those transitioning to a new life in the United States.
Reporting from Blythe, Calif. —
The little boy playing in the parking lot of a Seventh-day Adventist Church here was startled when three U.S. Customs and Border Protection vehicles pulled in.
Favio Ferreira, a 7-year-old from Guatemala, ran inside to tell the others.
"Come, come, la migra!" he said.
But the agents weren't there to round up people who were in the country illegally. They were dropping immigrants off.
The scene that unfolded recently in this desert city about 100 miles from the U.S.-Mexico border exemplifies how the immigration crisis has spilled over into communities farther north.
With a historic flow of Central American families fleeing poverty and violence, federal officials earlier this spring began releasing migrants on their own recognizance from inundated detention centers in growing numbers. About 175,000 have left custody since Dec. 21.
Nonprofit and faith-based organizations in Riverside and San Bernardino counties are among those that have stepped in to help the asylum seekers. But the mounting costs have raised doubts — among local officials and advocates alike — about how long they can keep doing so.
Many of the drop-offs have taken place in Blythe, a city of about 20,000 along the Colorado River across from Arizona. Since March, said Riverside County spokeswoman Brooke Federico, 2,600 migrants have arrived here.
Luis Macario, 38, left, and his 17-year-old daughter Yenifer Macario Lopez relax at Blythe Central Seventh-Day Adventist Church after they were dropped off by U.S. Border Patrol agents.
(Irfan Khan / Los Angeles Times)
Guatemalan migrant Jose Botzoc, 42, right, and others offer prayers after arriving at Blythe Central Seventh-Day Adventist Church in Blythe. U.S. Border Patrol from the Yuma sector have been dropping off asylum seekers at the church, which is west of the California-Arizona border.
(Irfan Khan / Los Angeles Times)
Dr. Nickolas Lind treats 7-year-old Favio Ferreira, 7, who was suffering from fever and cold symptoms. Ferreira and his mother were dropped off at Blythe Central Seventh-Day Adventist Church by U.S. Border Patrol agents.
(Irfan Khan / Los Angeles Times)
Ingrid Sanchez Villalta, 39, a Guatemalan migrant, with her 5-year-old daughter Yeslin Sanchez, checks her Greyhound bus ticket to Louisville, Ky.
(Irfan Khan / Los Angeles Times)
Karen Chinchilla, 24, and Helber Chinchilla, 28, relax at Blythe Central Seventh-Day Adventist Church after being dropped off by U.S. Border Patrol agents.
(Irfan Khan / Los Angeles Times)
Ashley Galicia, 6, at the Blythe Central Seventh-Day Adventist Church, where she and her father were dropped off by U.S. Border Patrol agents.
(Irfan Khan / Los Angeles Times)
Luis Reyes, 27, from Guatemala, carries his sick 6-year-old daughter, Ashley Galicia, after being dropped off at Blythe Central Seventh-Day Adventist Church by U.S. Border Patrol agents.
(Irfan Khan / Los Angeles Times)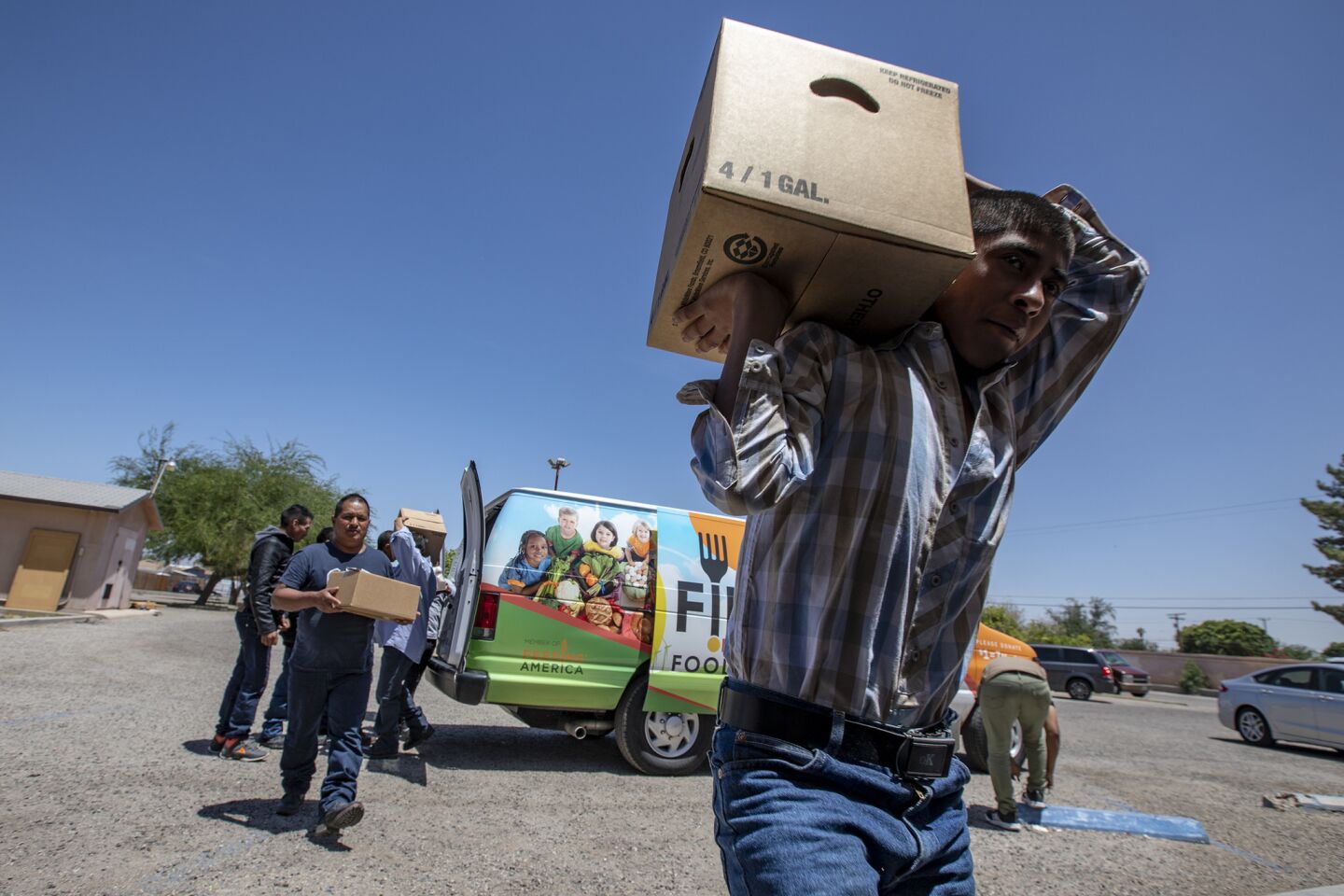 Migrants help carry food donated by a food bank for them at Blythe Central Seventh-Day Adventist Church.
(Irfan Khan / Los Angeles Times)
Nikole Chinchilla, 6, on a swing, and other migrant children in the play yard of Blythe Central Seventh-Day Adventist Church.
(Irfan Khan / Los Angeles Times)
Maria Lind, left, welcomes migrants dropped off at Blythe Central Seventh-Day Adventist Church by U.S. Border Patrol.
(Irfan Khan / Los Angeles Times)
In the parking lot of the Adventist church, men and women exited two trucks and a van, clutching documents in one hand and gathering children with the other. One man carried his daughter on his back.
The arriving families were to join 40 migrants who already had been processed, bringing the total number at the shelter to 74.
Maria Crespo-Lind, who manages the church with her husband, welcomed the newcomers in Spanish and directed them to 14 folding tables stationed in the center of a gym. The men and women sat quietly. They looked fatigued, many with bags under their eyes and unwashed hair.
A large U.S. map hung on a whiteboard. Volunteers in the kitchen made small talk as they prepared breakfast: scrambled eggs, beans and country potatoes. Crespo-Lind began counting how many mouths there were to feed.
"We'd like to know, how many of you are coming from Guatemala," she said.
Almost everyone raised their hands, including their children.
"How many of you are from Nicaragua?"
No one responded.
"Honduras?"
The man who had carried his daughter on his back raised his hand.
Before the migrants were offered a meal, clean clothes and showers, Crespo-Lind led them in prayer. A little girl with black hair stared at her juice box, resting her chin on her hands, whispering amen at the conclusion.
The surge in migrant families along the southwestern border began to put a strain on holding facilities in March.
During a news conference that month in El Paso, Kevin K. McAleenan, commissioner of U.S. Customs and Border Protection, said that the immigration system had reached its breaking point. Since October, Border Patrol agents have apprehended more than 610,000 people trying to enter the U.S.
"We are going to continue to do everything we can to manage this crisis," McAleenan said.
Peter Schey, president of the Center for Human Rights and Constitutional Law, said the chaos at the border has been largely created by the Trump Administration's limiting space at some detention centers and the delayed releases of unaccompanied minors. Under federal law, migrant children cannot be held in detention for more than 20 days.
"All in all, President Trump's policies at the border are causing the Border Patrol to be overwhelmed," Schey said.
According to Federico, Riverside County is spending about $75,000 a month on staff who conduct health screenings, transport migrants and provide other services.
Supervisor V. Manual Perez — whose district includes Blythe and Coachella, where there is another shelter caring for recent arrivals — worries that resources will be stretched thin as the crisis continues.
"I don't know how we can keep this up," he said. "This is a new phenomenon, and it's an unfortunate situation we're in."
When the number of migrants coming to Riverside County surged in April, local officials reached out to the state for financial help. About $521,000 was awarded to Catholic Charities, a faith-based nonprofit that operates shelters. The group has taken in 4,500 migrants since October.
Most of the assistance work in San Bernardino County, according to spokesman David Wert, also has been done by nonprofits.
Leading that charge with the help of the Roman Catholic Diocese of San Bernardino has been the Inland Coalition for Immigrant Justice, which is made up of 45 nonprofit organizations.
Anthony Victoria, a spokesman for the Center for Community Action and Environmental Justice, said his group began transporting and feeding migrants last month.
"The first few days were hectic," he said. "There were people and children suffering from colds, fevers and malnutrition."
When Riverside County reached out to Crespo-Lind, the church didn't hesitate. She said members took in families at first, then the effort shifted to the church's gym.
"We thought it was a big amount when we reached 55, but the numbers kept increasing: 89, 100, 120," she said. March "was the highest: 160."
Sometimes she gets warnings from county officials. Other times, she'll get a a text from Border Patrol agents:
"34 on their way now."
"Drop 2, 12 individuals in 15 mins. Drop 3, 10 individuals in 30-45 for a total of 22."
At the church, Riverside County staff meet with each migrant and try to connect them with relatives in the U.S. who can take them in. They also move people from shelter to shelter to prevent overcrowding.
Crespo-Lind said the church can take in up to 150 migrants, but at times has managed to squeeze in more. It's been costing about $60,000 a month.
Sitting on a cot, Helber Estrada, 28; his wife, Karen, 24, and 6-year-old daughter were waiting to leave for the Palm Springs International Airport.
Estrada said they were on their way to stay with his in-laws in Virginia, where they hoped to start a new life. He wants a better education for his daughter and to have opportunities that were out of reach in Guatemala.
"In our country there's a lot of crime and there's just no future there," Estrada said.
They said deciding to leave wasn't easy. Along the way they were forced to pay kidnappers.
"We were left without money, they robbed our belongings," he said. "We had to endure being hungry, cold; we slept on the floor several times and we hadn't showered in about four days."
Estrada said he worked at a car wash in Mexico to earn money so they could cross the border in Arizona.
As the family walked out of the church, they each hugged Crespo-Lind. She said she's lost count of how many goodbyes she has given.
Nearby, Reina Guerra, 39, sat with her 8-year-old son Tomas. A small plastic bag lay flat on the table, with 88 pesos inside of it.
"It's all we have," she said.
Guerra said she came to the U.S. with a group of about 60 people to escape the poverty in Guatemala. At the border, the coyote who was guiding them made them throw out their suitcases and other belongings.
In a remote area, she and her son were forced to crawl through a culvert. She said the water was neck high.
"It was at that moment I felt a sense of regret," she said. "He could have drowned."
Guerra said her final destination was Maryland, where her uncle lives.
Outside, children ran around in the small playground next to the parking lot. Some migrants were getting settled in rooms. Others showered. A few were speaking with case managers from the county.
But Guerra sat quietly with her son. They still weren't sure which shelter they were going to end up at. All they could do was wait.
For more Southern California news, follow @latvives on Twitter.
---
The stories shaping California
Get up to speed with our Essential California newsletter, sent six days a week.
You may occasionally receive promotional content from the Los Angeles Times.