Invasive beetles devastating old-growth oak trees in San Diego County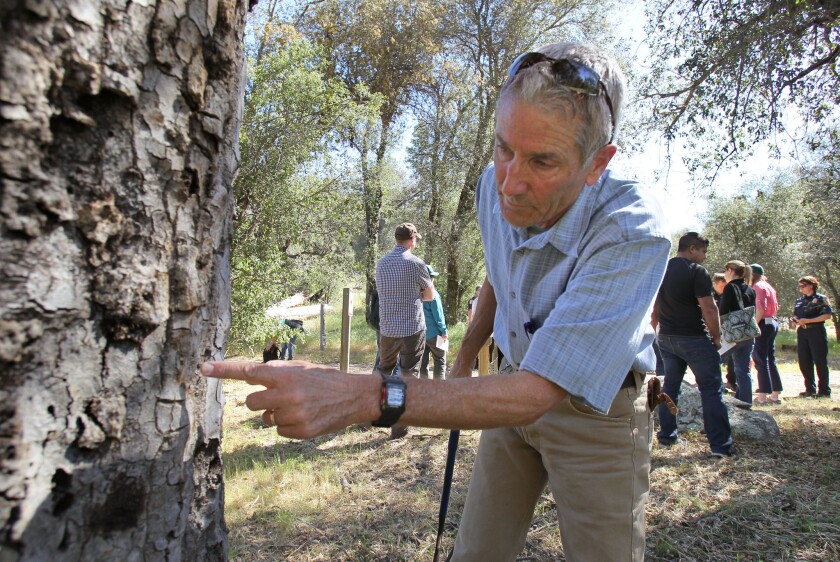 Reporting from Julian, Calif. —
Invasive beetles are continuing to decimate old-growth trees across Southern California, according to state forest and fire officials who pointed out some of the damage during a grim tour of San Diego County's backcountry.
Their message hit home at Cuyamaca Rancho State Park near Julian, where a once-lush canopy of tall oak trees has been reduced to a barren sea of stumps. The dozens of 100-foot oaks that have already been felled are surrounded by dozens more that are dead or dying.
"I started coming to this campground with my folks 60 years ago," said Tom Scott, a natural resource specialist at UC Berkeley, and one of a group of researchers, forestry officials and Cal-Fire naturalists who surveyed the forlorn scene Wednesday. "Understand that this was once a closed canopy forest, a place where you could get out of the sun and that's why this picnic area was set up here. That's what we've lost."
See the most-read stories this hour >>
The campground was infested by the tiny goldspotted oak borer beetle roughly a decade ago, and since then the pest has spread to a huge swath of San Diego County as well as small pockets of oaks farther north in Idyllwild and Orange and Los Angeles counties.
Directors of the California State Board of Forestry and Fire Protection were on hand for the tour, which included a stop at Lake Morena County Park. There, officials talked about two other invasive pests — the polyphagous and Kuroshio shot hole borers and their associated fungi, which have already killed more than 100,000 trees throughout six Southern California counties.
More than 200 tree species, including avocado, olive and persimmon, are susceptible to the two beetles, officials said.
Join the conversation on Facebook >>
In San Diego County alone, roughly 75,000 acres have been infested by the goldspotted borer and officials estimate at least 100,000 trees have died — though the number could be 10 times that many.
Officials have said it's impossible to know the exact scope of the damage, but Scott, the UC Berkeley specialist, said the numbers based on their models are so big that they don't release them to the public "because nobody would believe it."
"The horse is out of the barn in San Diego County," said Kevin Turner, the goldspotted borer program coordinator at UC Riverside.
jharry.jones@sduniontribune.com
Jones writes for the San Diego Union-Tribune.
ALSO
World War I-era cannon stolen from veterans hall returns home
Woman raped by car mechanic claims dealership gave him access to her address
---
For reporting and exclusive analysis from bureau chief John Myers, get our California Politics newsletter.
You may occasionally receive promotional content from the Los Angeles Times.