Teen driver in fatal O.C. crash may have been going 100 mph
Cypress High School students, from left, Ramond Bada, 19; Josh Ong, 18; Alex Jamili, 17; Ian Song, 17; and Austin Milam, 17, mourn the loss of their friend, Irvine High School senior Robin Cabrera, 17. Robin was one of five teens killed in a fiery single-vehicle crash with a tree on a downhill stretch of Jamboree Road near Island Lagoon Drive on Memorial Day in Newport Beach.
(Allen J. Schaben / Los Angeles Times)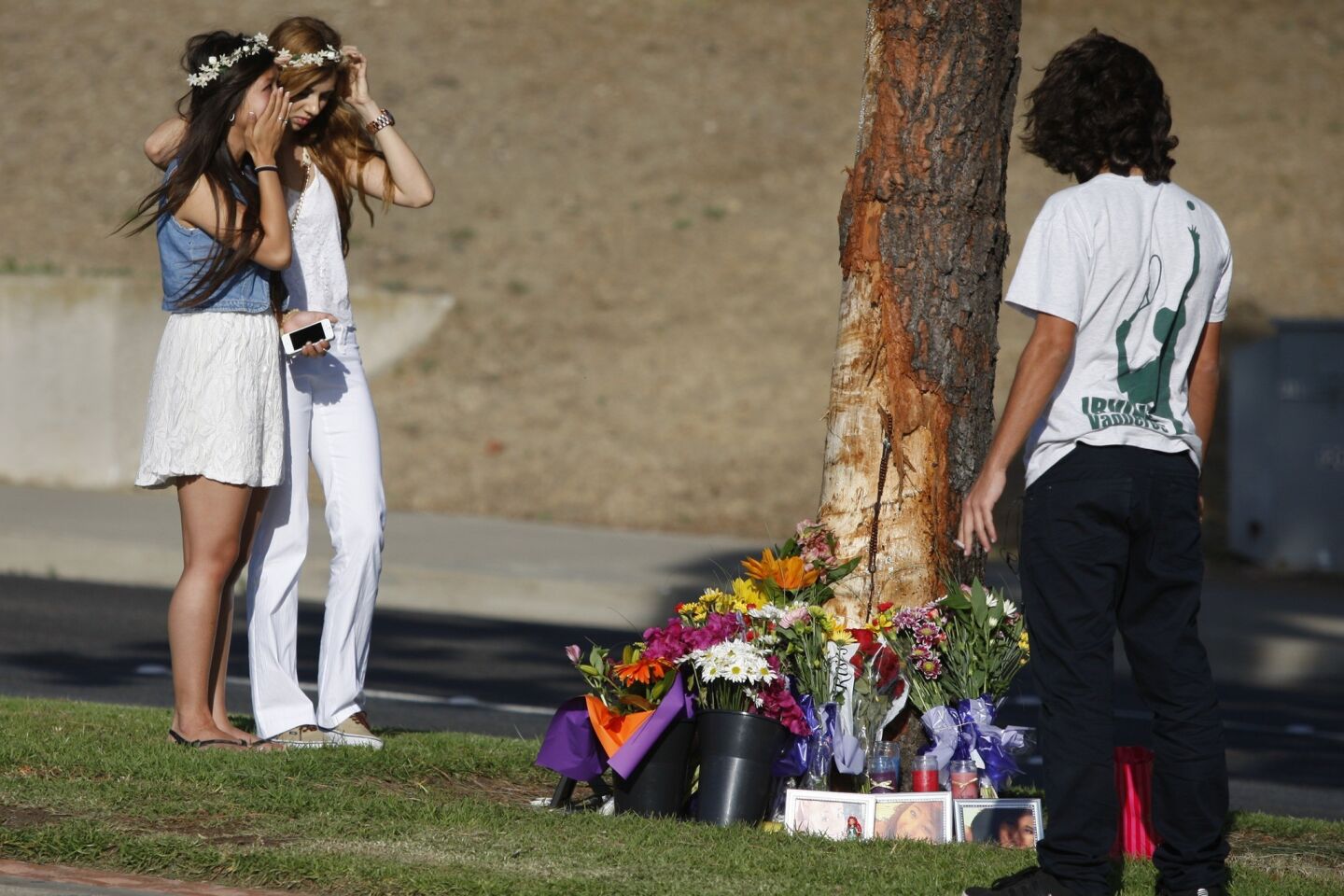 Irvine High School students, from left, Gina Nguyen, 17; Delaram Danesh, 18; and Haider Al Hamawendi, 18, gather near a memorial set up at the site of a car wreck in which five teens were killed. Al Hamawendi's younger brother, Nozad, was among the casualties.
(Allen J. Schaben / Los Angeles Times)
Friends of the killed teenagers write messages on the tree at the crash site.
(Allen J. Schaben / Los Angeles Times)
Flowers, candles, letters and photos are left at the crash site in Newport Beach. From left in the framed photographs are crash victims Robin Cabrera, Aurora "Christine" Cabrera and Cecilia D. Zamora. All three attended Irvine High School.
(Allen J. Schaben / Los Angeles Times)
Crime scene investigators measure the girth of the tree into which the teenagers' vehicle crashed.
(Don Bartletti / Los Angeles Times)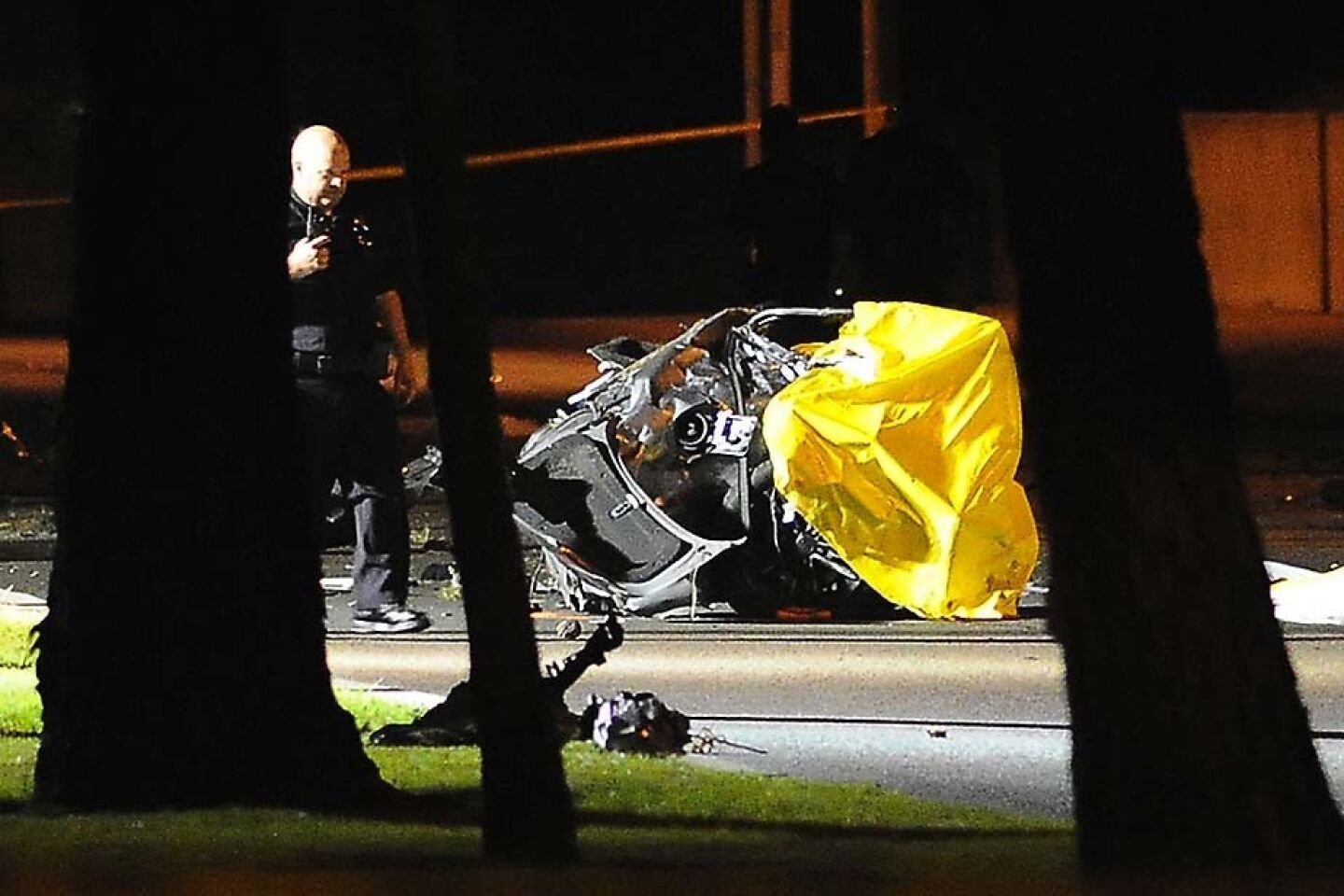 A police officer walks by a crumpled vehicle on Jamboree Road north of Island Lagoon Drive on Monday evening.
(Kent Treptow / Special to the Daily Pilot)
Police officers inspect the crumpled wreckage of an Infiniti in which five Irvine teenagers were killed.
(Kent Treptow / Special to the Daily Pilot)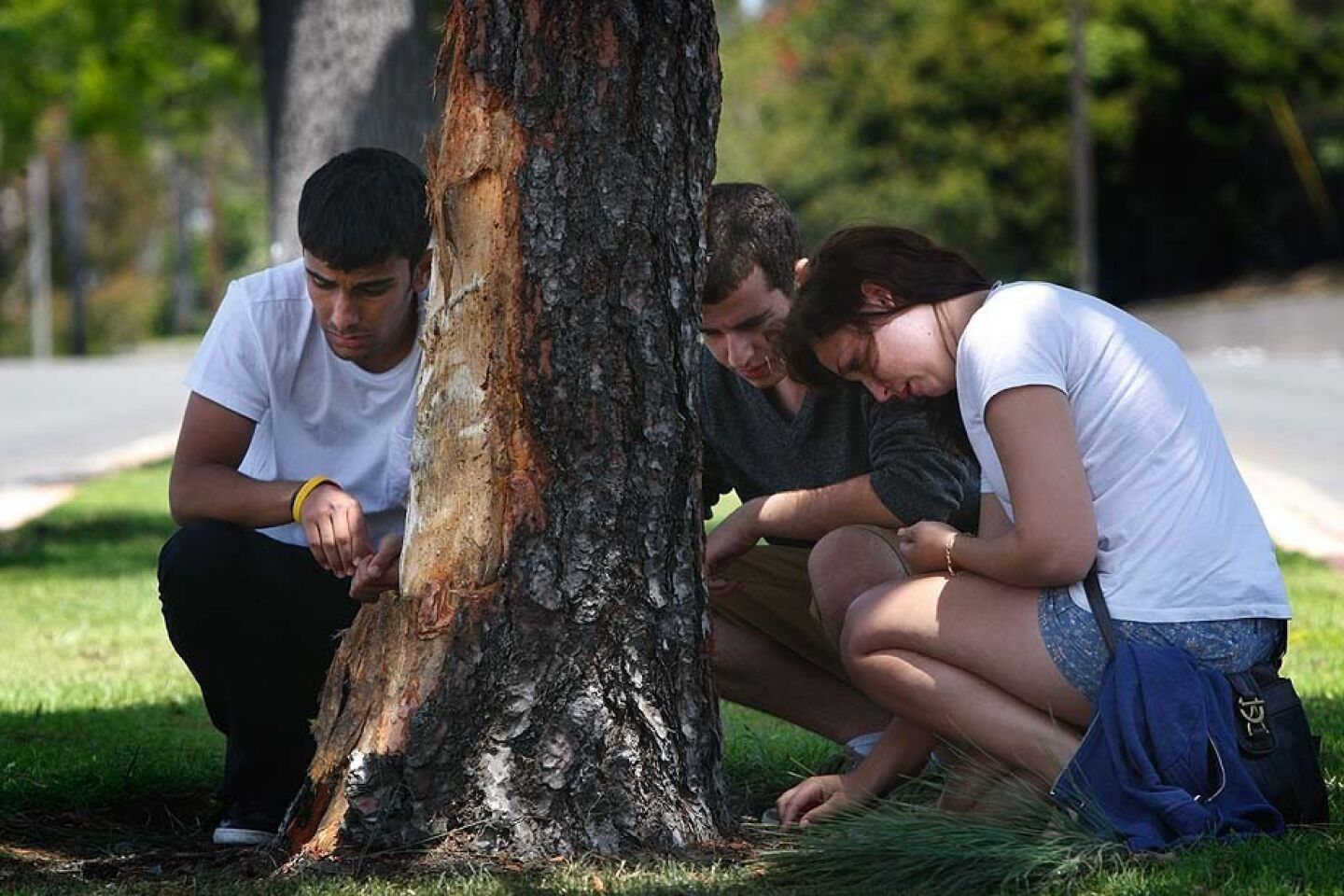 Irvine High School classmates, from left, Shadi Masoud, 16, Aram Yaco, 17, and Kelly Dunkle, 17, crouch at the base of a pine tree in the median of Jamboree Road, where the crash occurred.
(Don Bartletti / Los Angeles Times)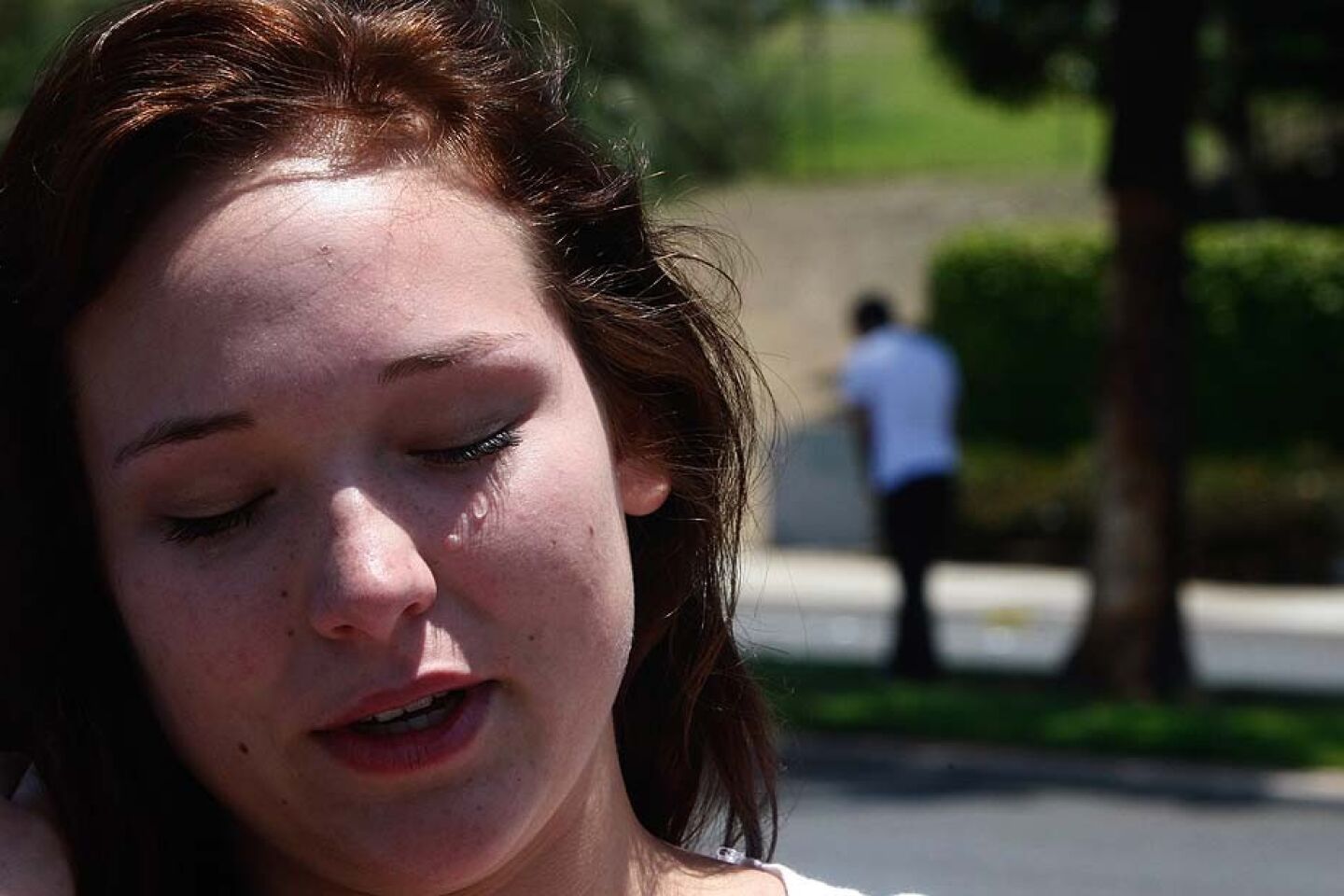 Kelly Dunkle, 17, cries as she talks about her friend Cecilia D. Zamora, who died in the crash.
(Don Bartletti / Los Angeles Times)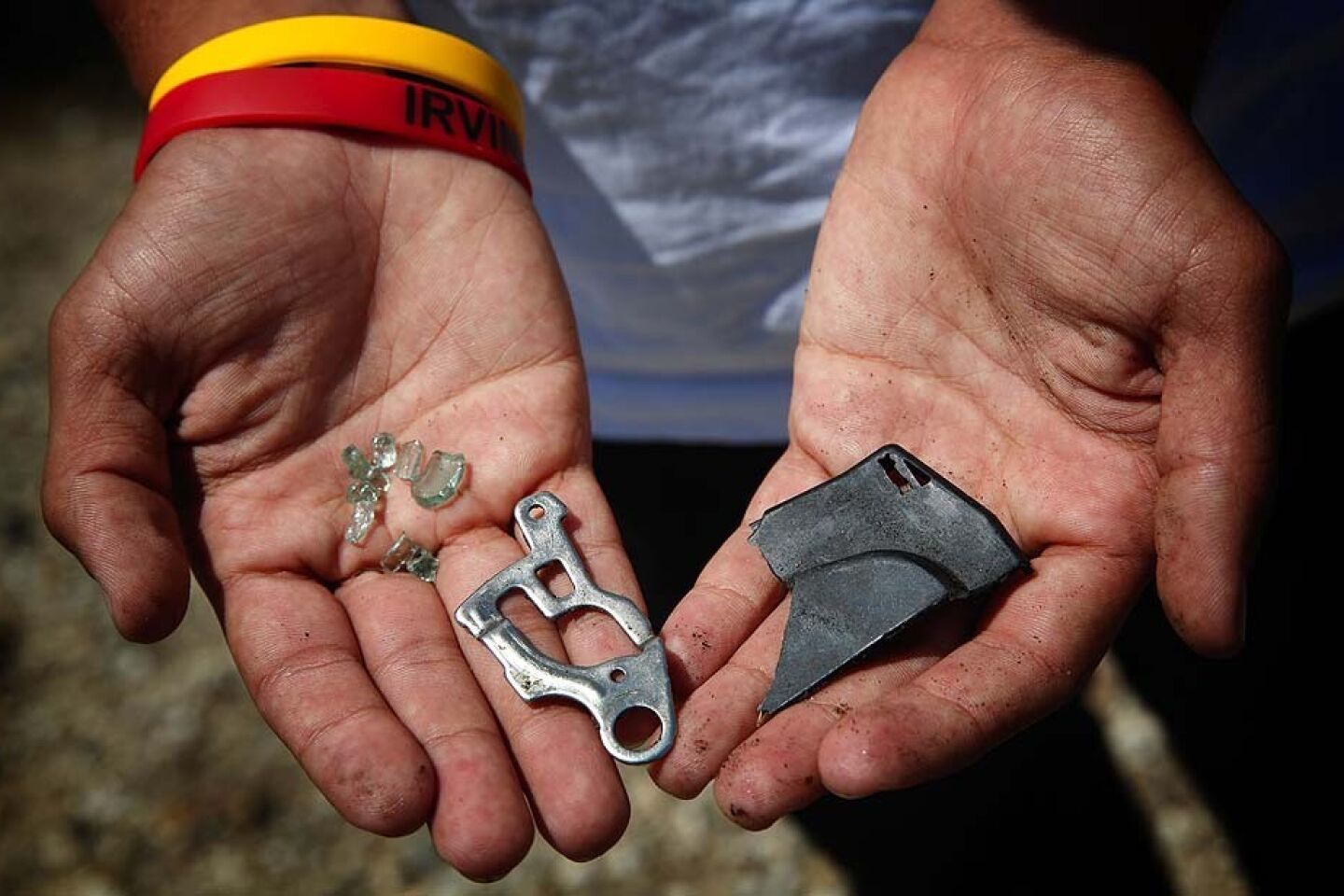 Shadi Masoud, 16, holds bits of shattered glass and car parts that he found at the base of a tree where his friends died.
(Don Bartletti / Los Angeles Times)
An Irvine teenager who lost control of his car and crashed into a tree in Newport Beach, killing himself and four passengers, may have been going as fast as 100 mph, a Newport Beach city official said.
While the investigation into the Monday evening collision continues, Newport Beach police have said speed was definitely a factor in the fiery wreck.
Adulrahman M. Alyahyan, 17, was driving his 2008 Infiniti down Jamboree Road toward Newport Harbor at a high rate of speed about 5:20 p.m., police said. The stretch of road where he crashed is a downhill straightaway with a 55 mph speed limit.
Photos: Five killed in Newport Beach crash
Alyahyan lost control and the Infiniti drove head-on into a tree in the road's median, splitting the car in two and killing Alyahyan and his four passengers: Irvine High School 11th-graders Nozad Al Hamawendi and Cecilia D. Zamora, both 17; and sisters Robin A. Cabrera, 17, a 12th-grader, and Aurora "Christine" Cabrera, 16.
Police said they have not determined how fast the vehicle was going at the time, but Newport Beach Mayor Keith Curry told the Daily Pilot he heard it may have been upward of 100 mph.
Unfortunately, Curry and other city officials said, the city has little to do with setting speed limits on city streets.
"We can't simply change the speed limits because we believe they're unsafe," Curry said in a phone message Wednesday. "We have to set them in accordance with state law. Otherwise, we can't write enforceable tickets."
The high school junior, records show, was pulled over last month just blocks from his Irvine home and cited for making a prohibited modification to the exhaust system of his gray 2008 Infiniti—which bore the personalized license plate "KHASONA"—and having tinted windows that obstructed the driver's view.
Although the citation lists a driver's license number, a DMV official said that number actually corresponded with Alyahyan's application for a license.
Friends said all five were headed to the beach to celebrate the holiday and that a sixth student was to have joined them but chose not to go at the last minute.
ALSO:
Disneyland vendor linked to Toontown blast due in court
Weekend weather should be hot, dry and sunny, forecasters say
69-year-old missing Orange County woman found in Compton unharmed
jill.cowan@latimes.com
lauren.williams@latimes.com
The stories shaping California
Get up to speed with our Essential California newsletter, sent six days a week.
You may occasionally receive promotional content from the Los Angeles Times.