L.A. City Hall East building renamed for former Mayor James K. Hahn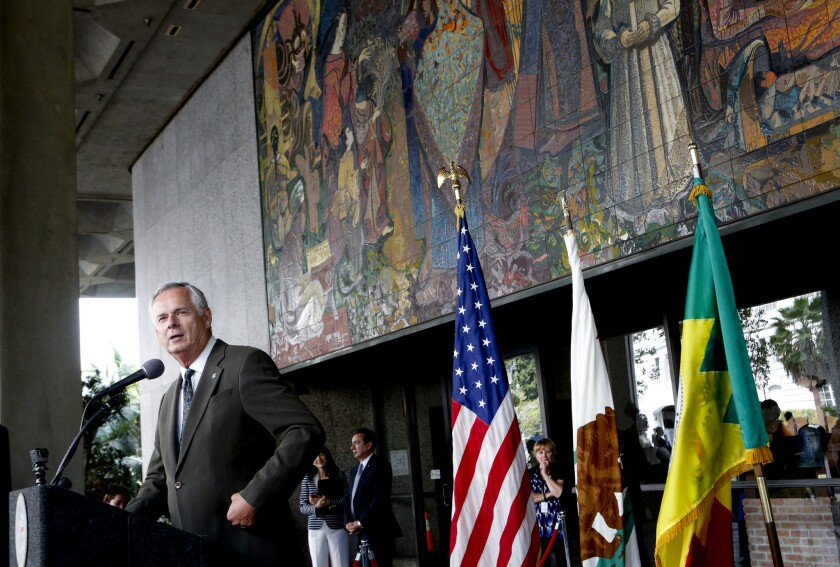 A Los Angeles City Hall building was renamed Thursday for Superior Court Judge James K. Hahn, who served as mayor between 2001 and 2005.
Hahn, who presides over traffic court, said Thursday that his years in political office were "a distinct honor and privilege." Hahn is the only person who has been elected as L.A. city controller, city attorney and mayor.
The renamed James K. Hahn City Hall East building is a few blocks away from the Kenneth Hahn Hall of Administration, which houses L.A. county government offices and was named after James Hahn's father. Kenneth Hahn was a county supervisor for 40 years.
The resolution to rename the city building was submitted in 2011 by then-City Councilwoman Janice Hahn, who is James Hahn's younger sister. She is now a Democratic congresswoman.
Follow @skarlamangla on Twitter for more local government news.
---
The perils of parenting through a pandemic
What's going on with school? What do kids need? Get 8 to 3, a newsletter dedicated to the questions that keep California families up at night.
You may occasionally receive promotional content from the Los Angeles Times.