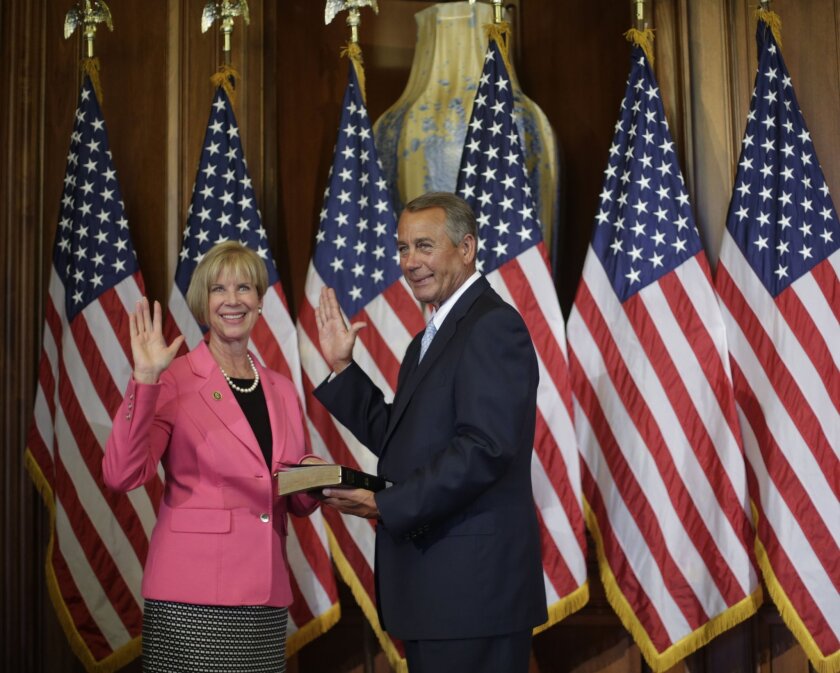 Rep. Janice Hahn (D-San Pedro) is weighing a run for the Los Angeles County Board of Supervisors, among the most powerful local elected jobs in the nation on a body where her father held a seat for four decades.
"In recent months, Rep. Hahn has received a tremendous outpouring of support and words of encouragement to run for L.A. County Supervisor from leaders across L.A. County," said David R. Jacobson, a Hahn advisor. "She plans to make public her 2016 intentions sometime in the near future."
Rumors have long been swirling about Hahn running for the seat that is being vacated by Supervisor Don Knabe due to term limits. With Republicans controlling Congress, Hahn serves in the minority.
Jacobson said that while Hahn, a Democrat, has grown "frustrated with the relentless gridlock in Washington," she has sought to work across the aisle during her four years in Congress.
L.A. County supervisors oversee services such as law enforcement, healthcare delivery and land development for 10 million people. The five-member board spends $26-billion a year in public money, often with little oversight.
"There's really no checks and balances," Hahn told the Los Angeles Times in 2013 about the board's power. "They create laws, they execute laws and sometimes they even sit in judgment of their own laws."
Hahn's father, the legendary Kenneth Hahn, served on the county board from 1952 to 1992. The downtown Los Angeles building where the panel meets is named after him. Among his accomplishments were helping bring the Dodgers to Los Angeles and putting emergency call boxes along the freeways.
Janice Hahn, 62, served on the Los Angeles City Council for a decade before being elected to Congress.
Follow @LATSeema for the latest in California politics news.
---