MMA fighter 'Mayhem' Miller surrenders after hours-long SWAT standoff
After they fired a flash-bang grenade into the Mission Viejo home, Orange County Sheriff SWAT team members arrest Jason "Mayhem" Miller on Oct. 9.
(Mark Boster / Los Angeles Times)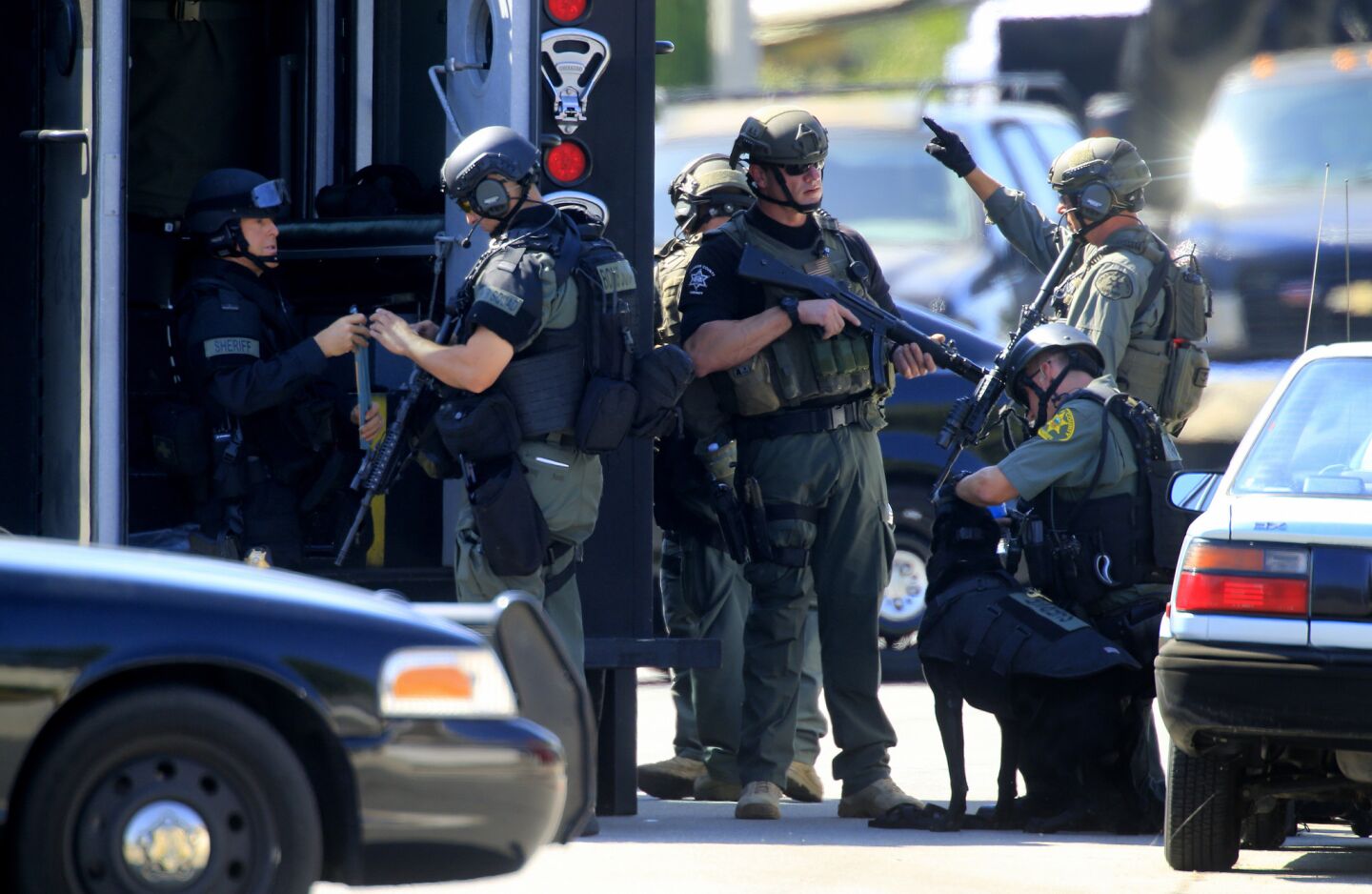 Orange County SWAT officers gather outside the home of mixed martial arts fighter Jason "Mayhem" Miller.
(Mark Boster / Los Angeles Times)
Orange County Sheriff SWAT officers watch the Mission Viejo home that mixed martial arts fighter Jason "Mayhem" Miller barricaded himself in.
(Mark Boster / Los Angeles Times)
Orange County Sheriff SWAT team members approach the home in Mission Viejo.
(Mark Boster / Los Angeles Times)
In October 2014, Jason "Mayhem" Miller was taken into custody after an hours-long standoff with police in Mission Viejo.
(Mark Boster / Los Angeles Times)
Mixed martial arts fighter and former MTV reality show host Jason "Mayhem" Miller was arrested Thursday after barricading himself inside his Orange County home and tweeting the SWAT developments from his verified Twitter account during the hours-long incident.
Orange County sheriff's deputies say they went to Miller's home in Mission Viejo around 9:50 a.m. Thursday to arrest him on warrants in connection with domestic violence and stalking allegations.
When officers showed up, Miller ran inside the home and refused to come out, said Lt. Mark Kiernan of the Sheriff's Department.
Shortly after 2 p.m., SWAT members broke through the front door and Miller surrendered, according to the Sheriff's Department. He was led out a short time later in handcuffs, sporting a magenta mohawk.
Miller was booked into the Orange County jail on an outstanding warrant and block/obstructing a peace officer, according to authorities.
Miller is being held on a $200,000 bond and is expected in court Tuesday, according to Orange County authorities.
RELATED: MMA fighter 'Mayhem' Miller remains in jail after SWAT standoff
Miller's verified Twitter account included numerous updates about the incident as it happened, telling followers "If you would like to see this drama unfold, please come" to the address.
In a tweet to the L.A. Times, he said, "It is despicable. They are gearing up like the Bin Laden raid"
Other tweets said he was due in court this morning but woke up late.
"I WISH YOU NO HARM," said one of the tweets. "I respect the police, but this is overkill, for something that would be settled with one piece of paperwork from OCBAIL."
The tweets called the police presence an "absolute waste of resources," and said deputies told Miller they were there to arrest him. "I have not committed any crime," said another tweet. "Just don't let them shoot me," said yet another message.
Neighbors and tattooed fighters who said they were Miller's friends stood on the police lines, some urging the MMA fighter to surrender.
In the warm afternoon sun, several joked that it might be a good idea to set up a margarita machine. One neighbor feared how the ordeal might end.
"He's gonna come out in cuffs or a bag, unfortunately," said Jessica Bokkes, a neighbor.
Ayat Shafizadeh, who said he trained with Miller, stood on the sidewalk outside the tract home and tried to reach Miller with a Facebook message.
"He's a real caring, good guy," Shafizadeh said. "I don't understand all of this."
He greeted another of Miller's friends who showed up on the police lines.
"Man, we gotta get this guy out of there," Shafizadeh said.
There are three warrants for a Jason Miller's arrest, according to records with the Orange County Sheriff's Department, for suspicion of domestic violence, criminal contempt, and stalking.
Miller was arrested in 2012 on suspicion of burglary after a pastor at the Mission Viejo Mission Hills Church discovered a break-in and found him sleeping naked on a couch.
The first floor of the church had been ransacked, authorities said, with broken pictures and books everywhere, and spray paint on the walls.
He was evaluated in a hospital ward before being arrested, and was later charged with misdemeanor vandalism.
Miller is a former fighter for UFC, and his profile on the organization's website lists his last fight as May 26, 2012.
Times Staff Writers Kate Mather and Ryan Parker contributed to this report.
Here are the tweets from Miller's account about the ongoing incident:
UPDATES
8:11 p.m.: This story has been updated with what Miller was booked on and his bond amount.
This story was originally published at 2:50 p.m.
---
The stories shaping California
Get up to speed with our Essential California newsletter, sent six days a week.
You may occasionally receive promotional content from the Los Angeles Times.